Meet Martha Orellana aka Mrs. Steam, VP Marketing for Mr.Steam
---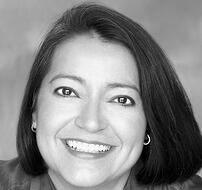 If you ever meet Martha Orellana, vice president of marketing for Mr.Steam, you'll understand immediately why she is referred to as "Mrs. Steam."
Martha figuratively and literally lives and breathes steam and the benefits of steam. She is infinitely patient and passionate in her willingness to help people find a path to wellness and feeling good.
We recently caught up with Martha to ask her a few questions of our own.
Meet Mr.Steam's Martha Orellana
Q: Martha, tell us about yourself and your background. How did you get started at Mr.Steam.
Martha: During college, I was working with a freight forwarder at the World Trade Center (on the 96th floor) and one of their customers was Sussman Automatic, Mr.Steam's parent company. When Sussman's import/export manager was leaving, he insisted that I go work for them.
So I started with Sussman as an import/export manager for the garment industry and dealt with Europe (Italy, Belgium, England) and China for heavy duty pressing equipment. (Learn how Sussman's pioneering steam irons changed the garment industry in the early 20th century, eventually leading to the world best steam shower generators: The History of Steam and Steam Showers in New York City)
In 1985 I was tapped to spearhead the very infant Mr.Steam division. By 1987 I had assembled over 20 national rep agencies and had our very first National Sales Meeting. Mr.Steam was expanding rapidly and I was able to get Dan Reinert (who was working in our LA office) to move to New York to help me expand this division.
I got promoted to Vice President and charged with running the West Coast office for Sussman in 1988. I became a partner in 1997.
Currently, I'm in charge of marketing and oversee West Coast sales and still administer the West Coast office.
Q: How have things changed in the steam world in that time?
Martha: We were very high tech back then with an air switch which delivered a puff of air to operate an electric switch without danger of an electric shock to the user.
Now we can dial in the time, the temperature, as well as program chroma and aroma from an app! Pretty cool stuff! (See How to Customize the iSteam Control For Your Home Steam Shower and Bring 5 Steam Shower Benefits Home With iSteam® 2.0.)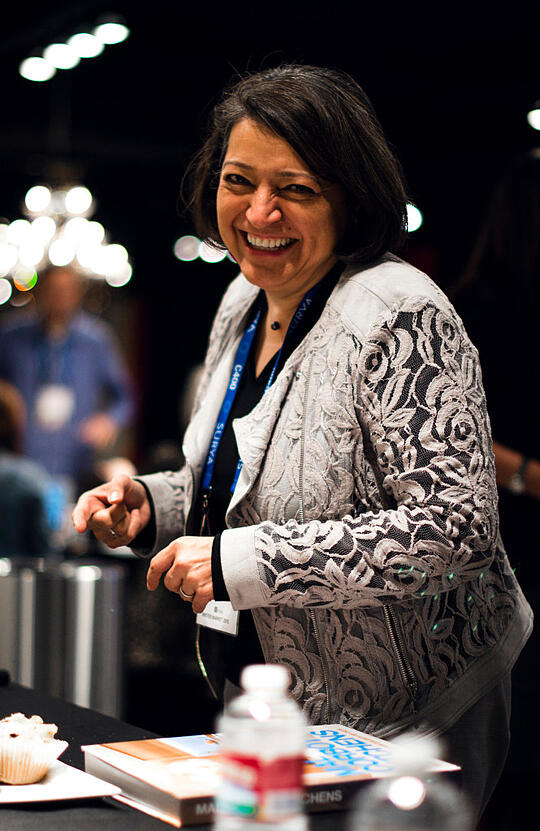 Martha at BlogTour Las Vegas 2015 explaining the benefits of Steam and TALA.
Q: How have things changed at Mr.Steam?
Martha: Mike Pinkus, an industrial designer, became president a few years ago and our product development and offerings exploded! (See Home Steam Showers Evolve with iSteam Home Wellness Solution, New Shower Music System Brings Rich Sound Through Bluetooth Sync and Mr.Steam Unveils Next Generation of Award-Winning Home Steam Shower Control.)
Q: What do you like most about steam?

Martha: Its warmth! I wake up and first thing I do is take a steam. What a great, slow way to wake up- then I follow it with a nice cold shower and I'm ready to face the world. (See Steam Bathing 101: Seven Steps For an Effective Steam Bath.)
Q: What do you like most about Mr.Steam?
Martha: I love the fact that I love to go to work every day! This is a company that has been around for almost 100 years (see Making Wellness a Way of Life: The History of Mr.Steam) and has a great moral compass. We do things right and we do the right things. We treat people with respect - everyone- whether they are our customers, our employees and our vendors.
Q: What do you do in your spare time? How does steam fit in?
Martha: I love to go to spas! Steam and Spas - what a perfect fit.
Q: Mr.Steam is active socially and online. What do you like most about the online world?
Martha: I love the immediacy of the message. If I want something broadcasted, social media is the new megaphone. Mr.Steam has an active Facebook Fan Page where designers and dealers visit. You can find us on Twitter and Houzz, as well as Pinterest and Instagram.
Q: Martha, are you on social media?
Martha: Yes! Please follow me on Twitter @Mrs_Steam.
Q: What are your 5 favorite wellness tips for SteamTherapy readers?
Martha: Here are my five tips:
Eating right- Mother was right, you are what you eat.
Playing games- Keeps your mind sharp
What questions do you have for Martha? Let us know in the comments!