Steam Bathing 101: Seven Steps For an Effective Steam Bath
---
With all the talk going on about steam and steam bathing, have you wondered what makes for a truly effective steam bath? You know, the kind that does body and soul lots of good?
(And the kind described in A Day at the Spa at Aria for BlogTour Las Vegas With MrSteam.)
We caught up with Martha Orellana aka Mrs. Steam, Vice President of Marketing and Steaming for MrSteam, to discuss Steam Bathing 101. The result is this article about the seven steps for an effective steam bath so that, whether at home or at a spa, you're able to consistently create a perfect SteamTherapy experience every time you want a steam bath.
>> Top 10 Steam Bath Benefits You May Not Have Considered
The Seven Steps for an Effective Steam Bath
Step 1. What to wear for a steam bath?
Martha says,
"No attire is good attire when you are in a spa with no restrictions. Less is definitely more for an effective steam bath."
According to What to Wear in the Sauna: Advice for Public and Private Saunas, nothing is the best choice of all, just as long as you're clean and dry upon entrance. "Let your exposed skin sweat freely." Consider a cotton towel to wrap around yourself.
By the way, nothing means no jewelry or glasses, too.
Step 2. Should you eat or drink before a steam bathing session?
Martha says, "Water and also natural tea. Best not to eat right before steam bathing."
In Steam Room Rules, Livestrong.com discusses food and water consumption while steaming as follows:
"You should wait at least one hour after eating a big meal before going into the steam room. While in the steam room, the circulation in your blood changes and can affect the way food is digested."
LiveStrong states it's really important to drink plenty of water before and after steaming to avoid dehydration.
Saunascape.com says about hydration, "You can definitely bring in a water bottle with you into the steam room or even place it next to the hot tub."
Step 3. What is the most effective steam bathing process?
Martha says, "Shower first, steam, cool down, then steam, then cool down".
Step 4. What is the best sequence of pool temperatures to follow for an effective steam bath?
Martha says, "Start with the warm pool, hot pool then cold pool."
Step 5. How long should you steam and bathe for?
Martha says, "Steam 10-15 minutes, the more seasoned you become with steaming, the longer you may able to stay, but certainly not longer than 20 minutes. Bathe for 5 minutes."
Saunascape.com discusses the importance of listening to your body whilst steaming.
"When you have had enough or if you aren't comfortable, listen to your body and leave."
"As you sit in the heat, you will feel the heat of your body rising, then you should break out into a full body sweat. Try to stay in the room until this happens. Most people find it takes about 5-20 minutes before this happens."
>> Fitting Steam Therapy into Your Morning Wellness Routine
Step 6. Do you recommend a dry sauna along with a steam sauna if available?

Martha says, "Yes, follow the same procedures: steam, cool, sauna then cool."
Diffen.com explains what's different about a steam sauna vs. the dry sauna: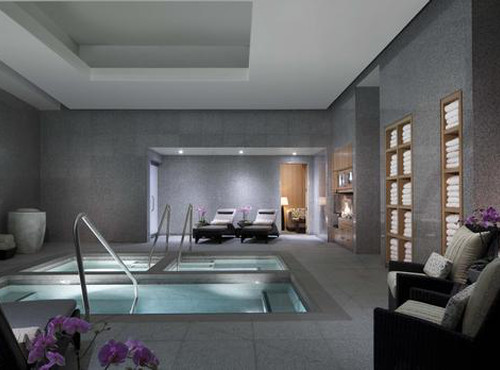 Walls: The dry sauna is typically adorned with wooden walls whereas the steam sauna is built with glass walls or tile.
Heat Generation: The dry sauna contains a stove to create heat whereas the steam sauna has an external steam generator.
Benefits: Dry sauna helps in muscle stimulation, while steam sauna provides detoxification through perspiration.
(Be sure to explore the SteamTherapy blog for more about the benefits of steam showers - which range from respiratory health, well being, and holisitic health, to skin care and physical wellness.)
Step 7. Is it a good idea to shower post steam sauna and whirlpool use?
Martha says, "Absolutely, you will feel like jello."
Steam Bathing 101: Recapping the Seven Steps for a Truly Effective Steam Bath
1. Wear as little as possible.
2. Don't eat beforehand; drink plenty of water.
3. Process: Shower first, steam, cool down, then steam, then cool down.
4. Pool temperature sequence: Warm, hot, cool.
5. Steam for 10 to 15 minutes; bathe for 5 minutes.
6. For dry sauna + steam bath: steam, cool, sauna, cool
7. Finish off with a shower.
There you have it, the seven steps to ensure you have a truly effectve steam bathing experience and feel relaxed and rejuvenated, and ready to take on the world!
If you have questions about how to take a steam bath, please don't hesitate to ask. Happy Steaming!
(Image Source via The Spa at Aria Las Vegas
)