The History of Steam and Steam Showers in New York City
---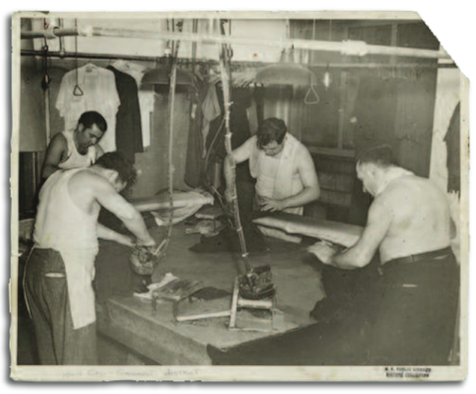 When we dream of a home steam shower, we envision relaxing and escaping from work. Ironically, though, the best technology behind today's modern steam showers was born in the work place. Specifically, in the steamy garment factories on Manhattan's lower East Side in 1917.
That's when Arthur Sussman, a young electrical contractor, invented the industrial steam iron and subsequently founded Sussman Automatic, the parent company of Mr. Steam which today produces the world's most sophisticated home steam showers.
From the drudgery of ironing came the luxury of today's ultimate home spa.
Up until the early 20th century, factory workers in the burgeoning New York City garment industry had two ungainly options for removing wrinkles from new clothing. One, a heavy piece of metal or stone aptly called a "sad iron," that constantly needed to be reheated in a fire or stove. The other, a "charcoal iron" with a small box inside, held burning coals to keep the iron hot. The first electric models for commercial use did not become available until 1905 and were not totally satisfactory.
A few years later Sussman Automatic revolutionized the industry, debuting the first electrostatically-powered steam irons from its headquarters in midtown Manhattan.
Sussman Automatic continued to grow, manufacturing a variety of steam generating equipment to suit the demands of a rapidly developing city. Soon the company was supplying steam power in shipyards, and producing innovative new steam boilers and generators for commercial heating. By the mid 50s, the New York-based company had expanded around the world.
Its trailblazing continued when in 1960 Mr. Steam was created to meet the demand for technologically advanced boilers for both commercial and residential steam showers.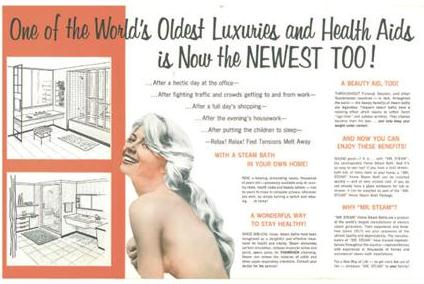 Bucking the trend to off-shore manufacturing, in 1969 Mr. Steam relocated from Manhattan to a new 65,000-sq.-ft. factory in Queens, New York. Today the complete line of Mr. Steam commercial and residential steam spas, as well as boilers for hospital operating rooms and the Kennedy Space Center, is still made there.
What's more, in addition to the many health and wellness benefits of a home steam shower, owners today find them perfect for removing wrinkles from their clothes.
Want to read more about the history of steam in New York City? We recommend these blog posts: