Meet Dan Reinert, Mr.Steam Vice President
---
If you have asked questions about steam showers and steam shower generators on the SteamTherapy Blog, chances are that Dan Reinert shared his advice with you in response.
We recently caught up with Dan to ask him a few questions of our own.
Meet Mr.Steam's Dan Reinert
Mr.Steam: Dan, tell us about yourself, your background and your role at Mr.Steam.
Dan: I started at Sussman (Sussman Automatic is the parent company of Mr. Steam) in our California location in Customer service. That was 1982.
Over time I was transferred to our corporate headquarters in New York and have evolved from handling service issues to working in sales management and product development, eventually becoming Vice President, where I now concentrate on sales for the Eastern United States and the export market. I also work closely with Martha Orellana to roll out the marketing goals and objectives for the division.
Mr.Steam: How have things changed in the steam world in that time?
Dan: When bathrooms started to get bigger a few decades ago, we initially installed commercial steam generator units in homes with large showers. Now, of course, we have residential generators for bathrooms and budgets large and small.
Controls and accessories have also grown very sophisticated since the initial days when many people installed a wind up mechanical timer on the outside of the shower to control their steam bath. Today you have in-shower touch screen controls such as iSteam that operate not only your steam bath, but allow you to experience aromatherapy, chromatherapy and play music with the swipe of your finger.
(See Home Steam Showers Evolve with iSteam Home Wellness Solution.)
In turn, the industry has also changed the master bath focus to the shower when at one time it used to be on the tub. Because of this, according to the NKBA, more designers are specifying steam on their projects than even just last year.
(See Steam Showers Heat Up Bathroom Design Trends.)
Mr.Steam: How have things changed at Mr.Steam?
Dan: When I first started we had a relatively strong presence on the West Coast, but were unknown in the rest of the country. That sure has changed!
We have always been a engineering-driven company, but over the last five years our marketing and design teams have enabled us to leapfrog our competitors and that is truly exciting.
Mr.Steam: What do you like most about steam?
Dan: There are significant benefits you get when you use steam. It is fun to go out and sell steam. I get my greatest satisfaction seeing customers and end users becoming so relaxed and happy when they experience steam themselves.
Steam is the one product that if you install it you will continue to have it in your home for the rest of your life.
(See Steam Bathing 101: Seven Steps For an Effective Steam Bath.)
Mr.Steam: Dan, what do you like most about Mr.Steam?
Dan: Mr.Steam is a company that has been on the cutting edge of product development and design. It's a company that treats employees like family with many of our employees both in the factory and the office having been with us for well over 10 to 20 years at some points.
It is a place I look forward to going to work for every day.
Mr.Steam: What do you do in your spare time? How does steam fit in?
Dan: I enjoy watching soccer and have developed a love for playing golf. Steam is great after a round of golf to relax sore muscles and help speed up recovery.
I also love traveling. I recently returned from a wonderful time in Brazil during the World Cup.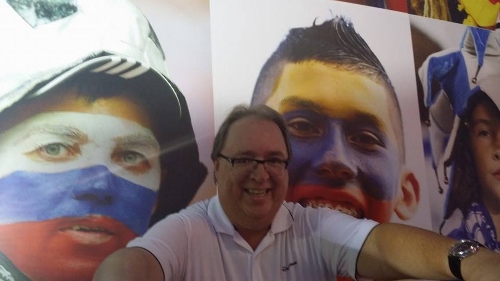 Dan Reinert at the 2014 World Cup in Brazil.
I started following soccer when I was young and happened to be in Mexico in 1986 while the World Cup was being held and got to go to three of the games. At that point I knew what I wanted to do every four years for the rest of my life. I always make it a point to follow the United States and love watching Brazil even when they lose.
There really is nothing like the World Cup. You meet people from all over the world and you have one thing that unites all of us and that is soccer. I think someday a great travel novel will come out of all these experiences.
I am also a big fan of all types of music and love attending concerts when location and time permit. My music goes across the spectrum and is quite diverse. My favorite radio stations can play anything from Outlaw Country to Underground Garage to old new wave from the 80s. My favorite all time performers are tough to narrow down, but some of the best are Nick Cave, Peter Gabriel, Talking Heads, Siouxsie Sioux and Ryan Bingham, Arcade Fire, Black Rebel Motorcycle Club, PJ Harvey, Jenny Lewis, and MIA to name a few.
Mr.Steam: Mr.Steam is active socially and online. What do you like most about the online world?
Dan: The instant communication aspect. The fact that ideas and news can be sent to your peers immediately. It has certainly helped us to build more brand awareness for Mr.Steam and the fact that you can create your own brand advocates for the products is simply amazing.
Mr.Steam: Dan, what are your 5 favorite relaxation tips for readers?
Dan:
1. Have a massage
2. Take a steam bath
3. Go to the ocean, put a chair on the beach, pour a glass of wine at sunset and close your eyes and listen to the sound of the waves.
4. Go watch a movie in a air-conditioned dark room and forget about life for a few hours.
5. Walk and leave your phone and iPad home and get in touch with your environment
Mr.Steam: How can you be reached online?
Dan: You can find me on Twitter, LinkedIn or email me.
Mr.Steam: Thank you, Dan!
What questions do you have for Dan? Let us know in the comments!