WiFi-enabled iSteam 2.0 delivers an unprecedented range of functions at your fingertips
Long Island City, New York (OCTOBER 14, 2014) — Mr. Steam is changing the game again in steam shower controls with the latest release from its category-defining iSteam platform. iSteam 2.0 with WiFi is feature-rich, user-friendly and now includes a helpful companion app.

With the touch of a finger, users can pre-program the start time for an invigorating wake-up steam or a calming evening steam ritual. iSteam enables precise temperature and timing control, delivering the ultimate in customized luxury by storing settings for up to two users.

Winner of multiple product design awards, including a 2013 GOOD DESIGN™ award for its stunning graphic interface and design, iSteam is simple and intuitive to use while offering unrivaled functionality and options for personalization. The first brand to perfect swipe-touch simplicity in hot and humid environments, iSteam 2.0 effortlessly controls a wide array of features, including temperature, duration, aromatherapy, chromatherapy and music.

"With the touch of a finger, iSteam 2.0 puts you in a different dimension with your own custom blend of steam, light, scent and music, said Martha Orellana, vice president of marketing and sales for Mr. Steam. "There is nothing like this on the market."

This release of the iSteam control also has a corresponding app – available for free download through the App Store or Google® Play – providing access to many exclusive features, including: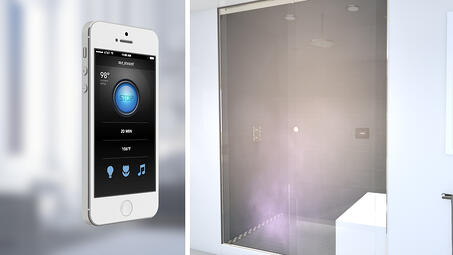 Wi-Fi connectivity, allowing users to control functions of the steam shower remotely through the smartphone app.
Setting the desired steam room temperature and monitoring the ambient temperature. Use the app to dial in the preferred temperature, and iSteam 2.0 maintains that setting within one degree of accuracy.
Controlling ChromaTherapy and AromaTherapy functions to enhance the rejuvenating qualities of steam with mood lighting and fragrance.
Adding favorite tunes to the steam shower experience with access to streaming music libraries, album artwork and Internet radio – as well as the ability to select tracks and adjust volume – when used with the Mr. Steam AudioWizard™ System.
No generator replacement is needed to upgrade to iSteam 2.0, giving designers and dealers a chance to reconnect with existing steam shower customers. iSteam 2.0 comes complete, without the need for additional add-ons to attain full functionality.
Sitting nearly flush with the wall, just one-eighth of an inch thick, iSteam 2.0 effortlessly blends into the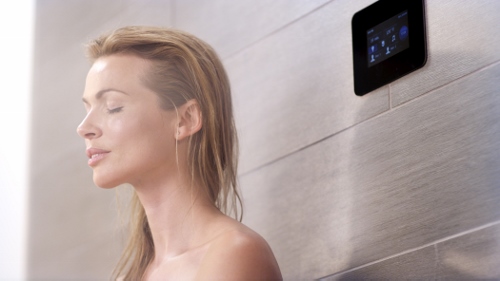 shower environment and delivers flawless performance. It is so impervious to water, it is capable of full water immersion up to three feet. This incredible moisture protection rating ensures a lifetime of top performance in the moist shower environment.
In addition to the GOOD DESIGN award, iSteam was also recognized by Better Homes & Gardens Kitchen & Bath Ideas as one of its 30 Most Innovative Products for 2014. David Farrage, the award-winning industrial designer for Lamborghini and Movado, served as the iSteam senior designer under the direction of industrial designer Mike Pinkus, Mr. Steam CEO.
"Quite simply, product design is what differentiates Mr. Steam," Pinkus said. "We are committed to being the clear leader in advanced functionality and personalization for steam showers. You'll see much more to come from us with this platform."
Available in black and white finishes, iSteam 2.0 is design-matched to the high-grade, cool-to-the-touch new iSteam steamheads. It is designed for use with Mr. Steam's industry-leading E series made-in-America residential steam generators.
The iSteam 2.0 has a suggested retail price of $1,300. Locate an authorized iSteam dealer at mrsteam.com/isteam.
# # #
About Mr. Steam
Mr. Steam® provides the finest quality steam showers and towel warmers for residential and commercial use. Mr. Steam products such as iSteam® help support a healthy lifestyle with innovative accessories, including AromaSteam™ aromatic oils system, ChromaSteam™ mood lighting system, in-shower MusicTherapy® speakers, and in-shower seating to enhance the steam bathing experience. For more information, please visit www.mrsteam.com or call toll-free: 1-800-76-STEAM.
IMAGE GALLERY
To download an image file, click on the desired resolution shown below. For hi-res images, a zip archive automatically downloads to your computer. Due to how various browsers handle downloads, you may have to expand the zip archive manually. Low-res images open in a separate window and can be saved to your computer (either through the "Save As..." command or with a right-click). Larger sizes may be available upon special request.

---

WiFi-enabled iSteam 2.0 home steam shower has with swipe touch simplicity, as easy to use as a smartphone.

Sitting nearly flush with the wall, just one-eighth of an inch thick, iSteam 2.0 effortlessly blends into the shower environment and delivers flawless performance.

---

---

Wi-Fi connectivity allows users to control functions of the steam shower remotely through the iSteam 2.0 smartphone app.

Download Lo-Res

iSteam 2.0 delivers an unprecedented range of functions at your fingertips. Available in white or black finish.

Download Lo-Res