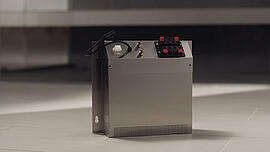 LONG ISLAND CITY, NEW YORK (JULY 24, 2013) — Add a new sync to your bathroom with the new AudioWizard® shower music system from Mr. Steam.
Engineered for music lovers who demand high-quality sound throughout their homes, AudioWizard introduces immersive sound quality to your shower experience in less time than it takes to get the right water temperature.
With the touch of a button, wireless AudioWizard seamlessly connects to nearly any smart phone or other audio device via Bluetooth®, retaining up to eight devices in memory. Set it once, and then whenever one of eight devices is in range, it will automatically sync with the AudioWizard.
"If music is your passion and sound moves your life, today's shower music products can't touch the high-quality sound and ease-of-use from the exquisitely engineered AudioWizard," said Martha Orellana, vice president of sales and marketing for Mr. Steam and a self-professed music aficionado.
Among the unique benefits of AudioWizard is the ability to select tracks and control volume from inside the shower, safely and reliably. Customizable for up to four speakers, AudioWizard delivers 40 watts per channel (up to four channels) with significantly less sound distortion than a typical 1.5 watt mono shower speaker. AudioWizard is available with or without a Mr. Steam steam shower system.


Mr. Steam MusicTherapy In-Room Speakers
Offering a clean, flush mount design, MusicTherapy® speakers from Mr. Steam can be installed inside or outside the shower enclosure. The speakers offer crystal clear, full-range sound with a powerful bass.
Moisture-resistant MusicTherapy speakers feature marine-grade, powder-coated grills and polypropylene cones for lasting good looks and durability in a wet environment. The speakers are sold as a matched pair with a choice of two shapes: 7.06" squares or round speakers with a 6.5" diameter. Rated 60W peak power, MusicTherapy speakers are suitable for most sources of audio input.
The AudioWizard and MusicTherapy speaker system starts at about $1,300 with the control, not including installation. Price is lower when integrated into the iSteam home steam shower system. Learn more about both products and locate an authorized Mr. Steam dealer at mrsteam.com.


###
About Mr. Steam
Mr. Steam® provides the finest quality steam showers and towel warmers for residential and commercial use. Mr. Steam products such as iSteam® help support a healthy lifestyle with innovative accessories, including AromaSteam™ aromatic oils system, ChromaSteam™ mood lighting system, in-shower MusicTherapy® speakers, and in-shower seating to enhance the steam bathing experience. For more information, please visit www.mrsteam.com or call toll-free: 1-800-76-STEAM.
AudioWizard® and MusicTherapy® are registered trademarks of Mr. Steam.
IMAGE GALLERY
To download an image file, click on the desired resolution (hi-res, 300 ppi, CMYK; or lo-res, 72 ppi, RGB) shown below. For hi-res images, a zip archive automatically downloads to your computer. Due to how various browers handle downloads, you may have to expand the zip archive manually. Lo-res images open in a separate window and can be saved to your computer (either through the "Save As..." command or with a right-click). Larger sizes may be available upon special request.

---

Add a new sync into your bathroom with the AudioWizard Sound System from Mr. Steam, which easily syncs with up to eight digital music devices and retains them in memory.

Download Hi-Res
Image Size: 6" wide x 3.37" high
(1800 x 1013 pixels)

Download Lo-Res
Image Size: 6" wide x 3.37" high
(432 x 243 pixels)

MusicTherapy speakers from Mr. Steam offer crystal clear, full-range sound both inside and outside the shower.

Download Hi-Res
Image Size: 3.17" wide x 3.61" high
(950 x 1082 pixels)

Download Lo-Res
Image Size: 3.17" wide x 3.61" high
(228 x 260 pixels)

---

---

Using Audio Wizard with a full Mr. Steam shower system includes the iSteam home steam shower control with swipe touch simplicity, as easy to use as a smart phone.

Download Hi-Res
Image Size: 6" wide x 4" high
(1800 x 1200 pixels)

Download Lo-Res
Image Size: 6" wide x 4" high
(432 x 288 pixels)