Steam and Hammam Spa Products: Perfect for BlogTour Vegas Inspiration
---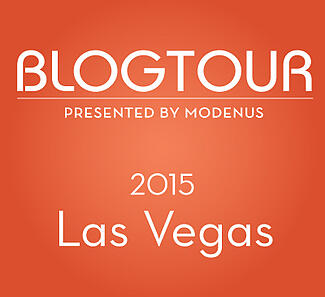 How better to inspire the designers and bloggers participating in BlogTour Las Vegas 2015 than with the soothing experience of a steam shower and new Hammam Spa products from Mr.Stream?
The combination proved particularly successful for designers attending Design and Construction Week 2015 when five large trade shows co-locate in Las Vegas, the city known for entertainment, gambling, and energetic nightlife. It's also a time for potential sensory overload and a great opportunity to demonstrate the benefits of steam.
Mr. Steam, a proud, longtime sponsor of BlogTour, began BlogTour Vegas 2015 with Modenus Talks and ended it with lunch and a Hammam-inspired steamtherapy experience at the Aria Hotel.
Educating Design Professionals About Steam Shower Benefits & Installation Considerations
Modenus Talks is a day-long event at the Las Vegas Market that brought design professionals together to explore product installation and use in the context of interior design projects.
Veronika Miller, CEO and founder of Modenus and BlogTour Vegas, further describes the concept behind Modenus Talks,
"Modenus Talks is all about dialog between design pros, brands, and everyone else that supports a dynamic and engaged industry. With each participant sharing their passion, knowledge and experience everyone in the room has a chance to walk away with new ideas and inspiration."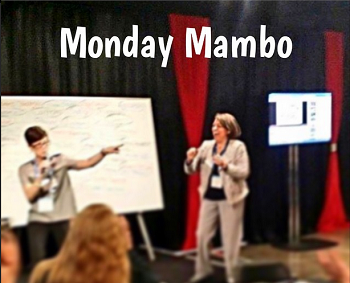 Martha Orellana, Mr.Steam vice president of marketing, took the stage to discuss the health benefits of steam, steam shower installation considerations - and the newly introduced line of TALA Bath & Body Products. (Related: 15 Tips to Consider Before Installing a Home Steam Shower and How To Design a Steam Shower Bathroom: Corey S. Klassen Explains.)
Designers engaged with Martha to learn more about steam shower installation and Mr.Steam products to further their education for future bath design endeavors.
For example, interior designer Joann Kandrac of Kandrac & Kole commented after her BlogTour Vegas and Modenus Talks experience,
"I never thought much about a steam shower before this experience. Yes, I have been in saunas, had my share of facials and massages but never knew what I was missing out on."- Joann Kandrac
And finally, as a last "Feel Good" activity, Martha got the crowd at Modenus Talks up and moving for
Monday Mambo
with a fun tune from James Brown. Participants got down and boogied to get the blood flowing and
feel good
because that's the essence of Mr.Steam.
Feeling Steam and Hammam Spa Products in Action
Designers and bloggers reconnected after an action-packed week of design, events and seminars at the trade shows to enjoy lunch and experience steam firsthand while learning about the newest product line from Mr.Steam, TALA Bath and Body.
The TALA Bath & Body collection includes Argan Oil, Rhassoul Lava Clay, Argan Face Cream and Beldi Black Soap. To explore this luxurious hammam spa treatment, read Bring Hammam Spa Treatment Home with New TALA from Mr. Steam.
During lunch, Martha explained the benefits of each of the TALA Bath and Body products that, together, help create a blissful hammam spa experience.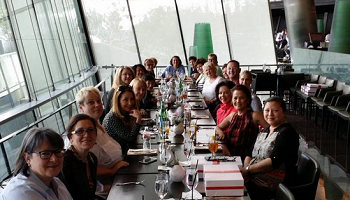 After lunch, the group visited the Aria Spa to experience steam and TALA products firsthand.
The Aria Spa features three whirlpools with varying temperatures, an outdoor heated pool that overlooks the Strip, a dry sauna, and a Mr.Steam eucalyptus steam room. (See A Day at the Spa at Aria for BlogTour Las Vegas With Mr.Steam.) During the steam shower experience, you'll want to progress through all of the different whirlpools - see Steam Bathing 101: Seven Steps For an Effective Steam Bath.
Martha quickly mixed up a bowl of the TALA Rhassoul Lava Clay, a mineral-rich clay with an exceptional exfoliating ability, to create a delicate paste that the bloggers applied to their faces. The paste forms a mask that should be left on the face for about fifteen minutes or until the mask hardens completely.
At that point, Martha led the BlogTour participants into the eucalyptus steam room. There, the steam softened the Lava Clay until it could be wiped off with a wet hand towel, leaving the skin feeling soft and clean.
(For another perspective on Tala Rhassoul Lava Clay, read TALA Bath & Body: Outstanding Quality, Building Customer Relationships.)
After Steam and Hammam Spa Products, BlogTour Vegas Participants Leave Inspired!
Here's what several of the BlogTour Vegas 2015 participants had to say about their first Steam and TALA Bath & Body Experience:
"Martha whipped up the Rhassoul Lava Clay and applied it on each of our faces. Some of us relaxed, others went for the Jacuzzi while we waited for the clay to harden. Then we all went for a eucalyptus steam! Heaven! Cold cloths were dispersed to wipe off the clay which began to soften, and then we sweat and relaxed some more. It was amazing...your entire body starts to breathe. "- Michelle Cortizo of Decortizo.

"The steam softened the dried clay and allowed us to easily wipe it off, leaving our skin soft, hydrated and glowing. All I can say is, I will be using this product for life. Since I have been home, I have tried all the other products, and I feel so good after each treatment. I especially like the Argan Oil. I put it on after each shower, and my skin feels soft all day."- Linda Holt of Linda Holt Interiors.

"We got to bathe in the steam at the Aria Spa courtesy of Mr. Steam. A lovely experience made even better with Tala. Tala Bath & Body is a discovery for me and is a line of essential oils, clays, scrubs and soaps. Mrs. Steam traveled to Morocco to research and develop these products." - Gloria Graham Sollecito of Kitchens for Living.
Are you ready for inspiring relaxation? Consider trying a steam shower and pairing it with Hammam spa products...