Bring Hammam Spa Treatment Home with New TALA from Mr.Steam
---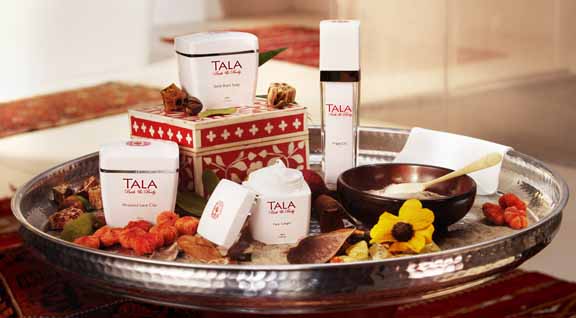 Created from the pure, natural ingredients of the Moroccan landscape and shaped by ancient bathing traditions, Mr.Steam's new TALA™ Bath & Body products immerse the modern-day bather in the hammam spa rituals of long ago.
Imagine a time when relaxation and renewal were an integral part of everyday life. Now Mr.Steam has brought the calming customs of the Roman and Byzantine bath houses to the modern home spa through the TALA Bath & Body line.
Regular readers of this blog know the amazing things that steam showers can do for skin care. The Hammam houses of ancient times provided bathers with time and space to cleanse the body, relax the mind and rejuvenate the soul. TALA essential oils, clays, scrubs and soaps reproduce the ancient experience of Hammam bathing traditions, transforming any bathroom into a Hammam spa treatment. TALA Bath & Body products complement the Mr. Steam home shower experience – helping bathers embrace wellness and leave the stresses of daily life behind.
The word "TALA" originates in the Fez region of Morocco: "A palm, a cool fountain spring, a beam of bright morning starlight… simply heavenly."
Don't be surprised if the TALA Hammam spa products infuse the modern bathing experience with a calm and deep connection to the past. By using these products, wellness seekers will transcend their frantic lifestyles and journey to a time when a balance of body and mind were exalted – without ever leaving home.
Included in this complete line of luxurious, revitalizing bath and body products are:
Argan Oil – The "Liquid Gold of Morocco," Argan Oil's nutrients nourish the skin, helping it combat environmental damage and other aging factors.
Lava Clay – Extracted from the Fez region of Morocco, this mineral-rich clay is known for its exceptional quality, purity and exfoliating capability. When mixed with water, the clay absorbs excess liquid and oil from the skin and hair and replaces them with healthful minerals.
Argan Face Cream – Use the cream as part of a daily care regimen specifically for dry and dehydrated skin. This rich, moisturizing cream, enriched by the velvety texture of Argan oil, can reduce signs of aging and improve firmness and texture. Skin may look radiantly younger, shining with a fresh, new glow.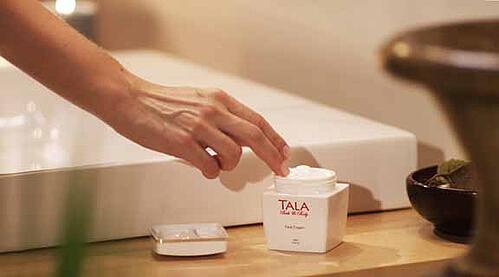 Beldi Black Soap – An integral part of the traditional Hammam ritual, this olive-derived black soap softens and nourishes the skin with vitamin E, preparing it for exfoliation.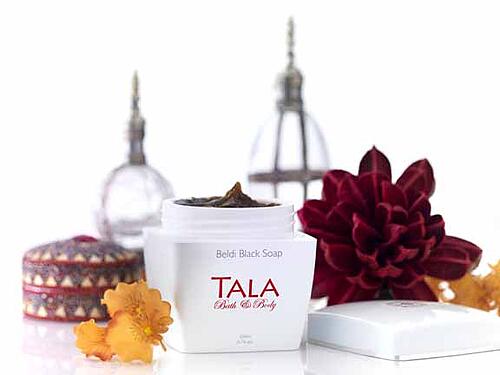 Exfoliating Glove - Designed to create a rich lather while removing itchy dead skin cells, this glove leaves the bather feeling smooth and refreshed. The stimulating texture of the glove can also help improve blood circulation or be used as a cellulite massage tool.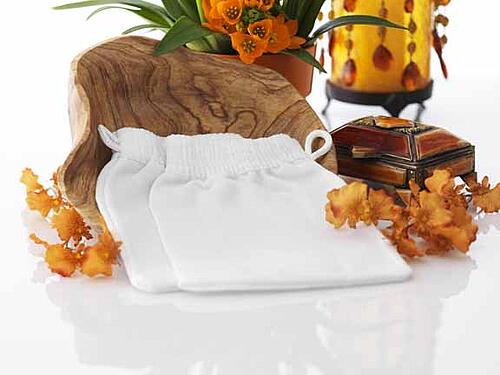 "Mr. Steam is renowned as a leader in developing health and wellness products on the cutting edge of technology, but we also draw inspiration from the bathing traditions of the past," said Martha Orellana, vice president of marketing, who found TALA and brought it to North America "We are excited to bring ancient bathing rituals and skin care regimens into the modern lifestyle with our new line of TALA skin care products."
TALA Bath and Body products will be sold exclusively through Mr. Steam premier dealers.