Steam Story: Bringing POETIC MODERNISM® to the bathroom space
---
We recently renovated a home in Haworth, New Jersey so that the client's primary bathroom became a relaxation and wellness space. Our designs followed what we call POETIC MODERNISM®. It's the philosophy that our gut emotions profoundly influence our well-being.
The spaces we build aren't just stylistically beautiful, warm, and modern; they poetically carry the weight of a very considered philosophy that supports mental, physical, and emotional well-being.
We map our client's awe in reaction to the essential aspects of nature. We then convey this sensory information into the design in a tangible, visual, and guttural way. The result is interiors that nurture you, recharge you, and fuel productivity.
Client Goals and Challenges
The client wanted a spa-like bathroom that would allow them to recharge and reduce stress. The previously drab space was transformed from a small, functional bathroom to a spacious retreat incorporating a freestanding tub, two vanities, a large shower, and a private toilet.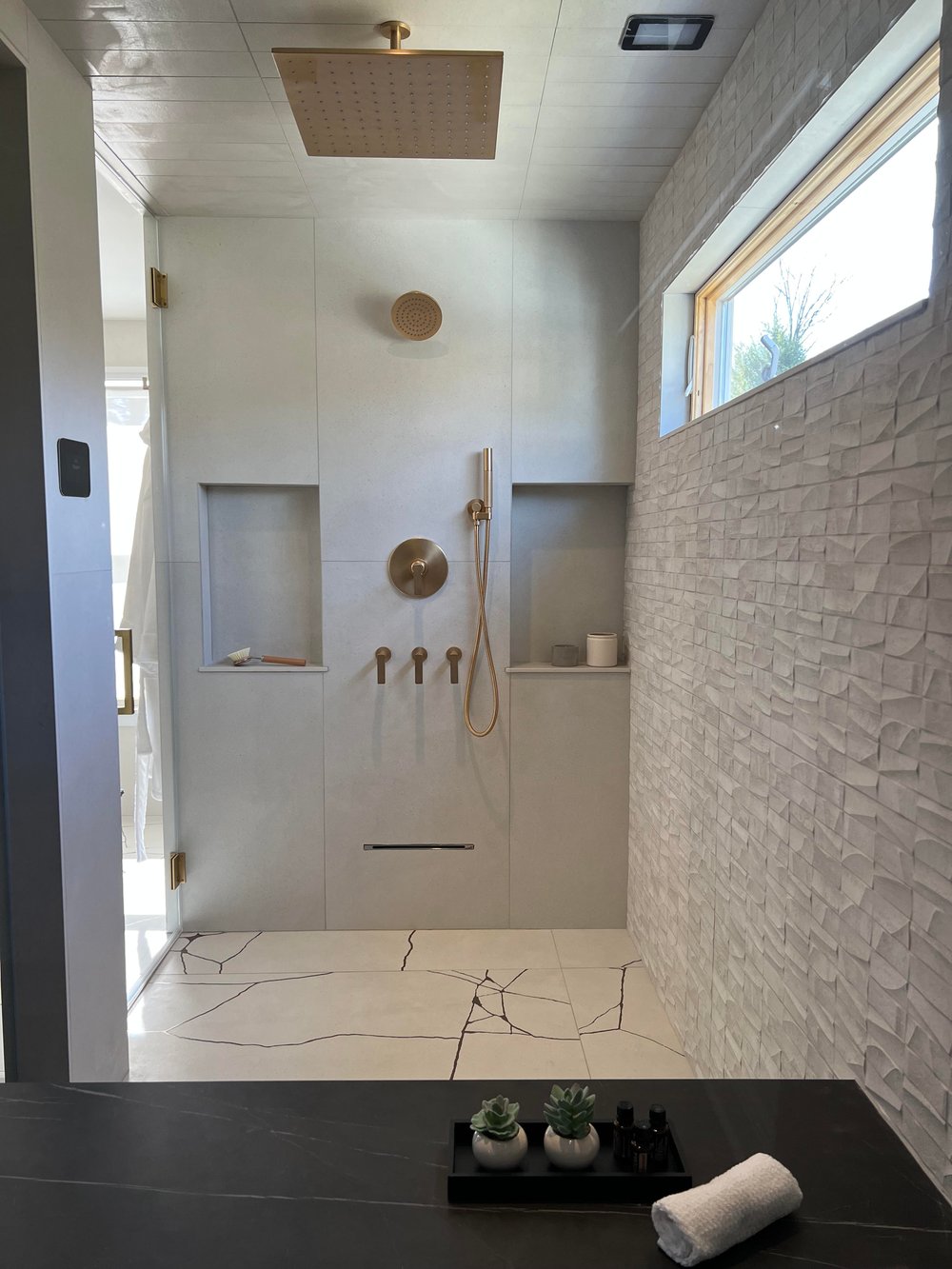 However, there were challenges.
The lead time for the plumbing fixtures was six months. Unfortunately, this was beyond our control, and the best we could do was manage client expectations.
Plumbing presented a second problem as well. The location we had in mind for the vanities conflicted with the location of the piping. Flexibility is one key to great design, and we made it work with some additional changes to the lighting plans and the depth of the tub.
Because we were repurposing part of the bedroom, we also had to deal with conflicting window sizes. The bathroom window was much smaller than the bedroom window we'd be extending past.
We matched the width of the windows and created a design that fits in with the differences in height.
Design Elements
To promote wellness and luxury, the bathroom incorporates steam, AromaTherapy, music, a moss wall, and a shower that becomes an organic part of the bedroom space. The fully enclosed shower is a glass box big enough for two people with a wall showerhead, rain showerhead, speakers, bench seating, and a transom window. This allows the client to find peace and recharge.
Natural elements such as the moss wall and wood finishes add warmth and texture to the space, while the sleek and modern fixtures provide a sense of luxury. The design elements work together seamlessly to create a cohesive and harmonious environment.
The shower became a standout feature of the bathroom design. The fully enclosed glass box creates a sense of privacy and intimacy, allowing the client to escape into their own space. The addition of speakers enables soothing music to be played, enhancing the overall shower experience.
The bench seating provides a comfortable spot to sit and reflect, while the transom window allows natural light to flood the shower and bedroom space. This allows the client to unwind from the stresses of daily life. 
The result of our work?
The client told us they felt like they were on vacation in their own home.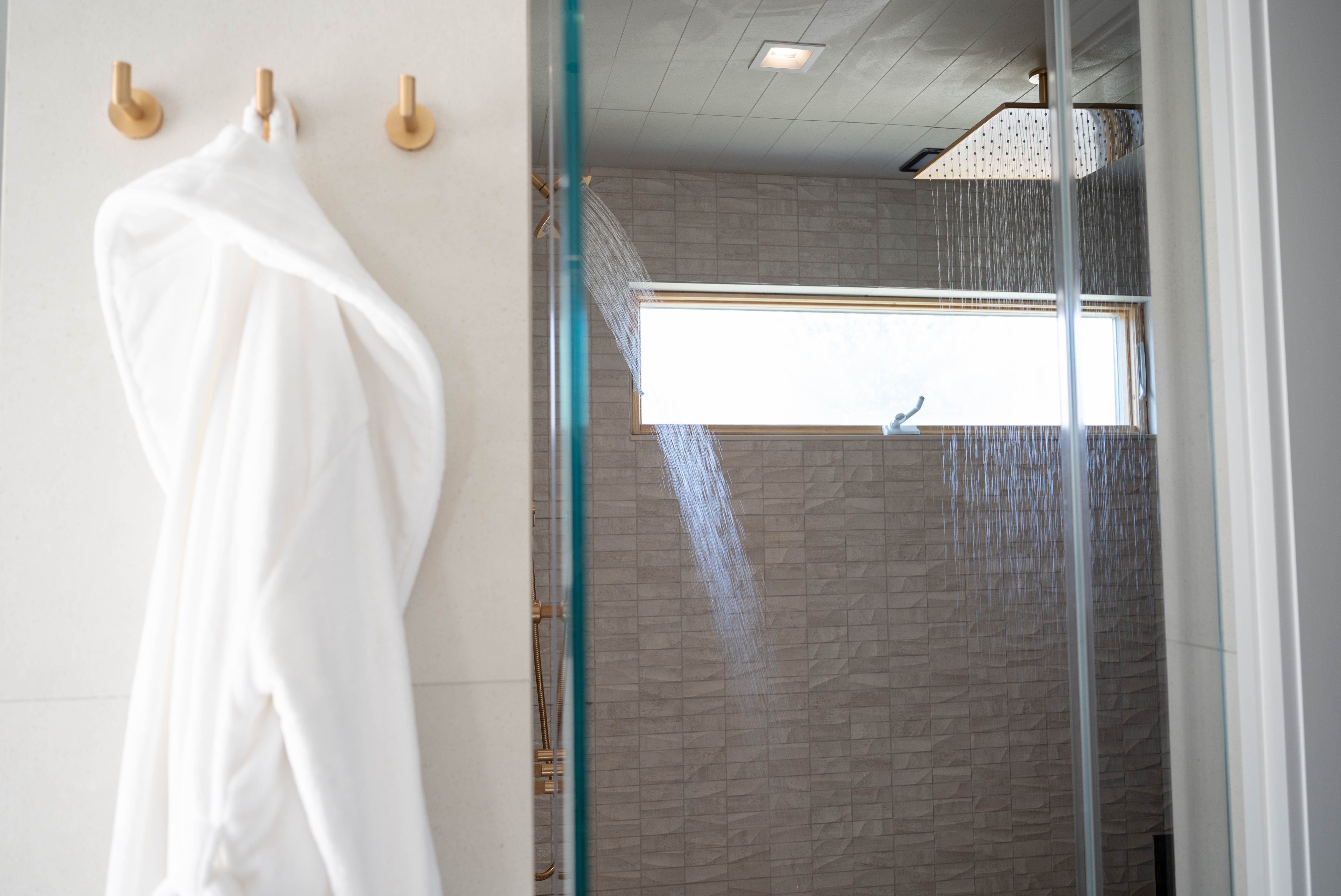 Renovation Brings Wellness
Using steam in the bathroom has numerous health benefits that can enhance the client's overall well-being. Steam is a natural decongestant that may help clear respiratory passages, reduce inflammation, and alleviate symptoms of allergies and asthma. It can also improve blood circulation, which may help to relax muscles and relieve pain. Furthermore, steam can deeply cleanse the skin, unclog pores, and improve complexion.
Aromatherapy has been used for centuries to reduce stress. It involves using essential oils, which are extracted from various plant parts, such as flowers, leaves, and roots. When inhaled, these oils can stimulate the olfactory system, evoking emotions, memories, and arousal. By incorporating aromatherapy into the primary bathroom's design, we created a more relaxing and stress-free environment for our client. 
Creating Space to Reduce Stress
Organization and storage solutions are essential to creating a stress-free and enjoyable environment. Built-in shower niches, shelves, and drawers help to eliminate clutter and streamline daily routines.
The use of custom cabinetry and built-in storage solutions provide ample space for towels, toiletries, and other bathroom essentials. This ensures the room remains clutter-free and easy to navigate, further promoting relaxation.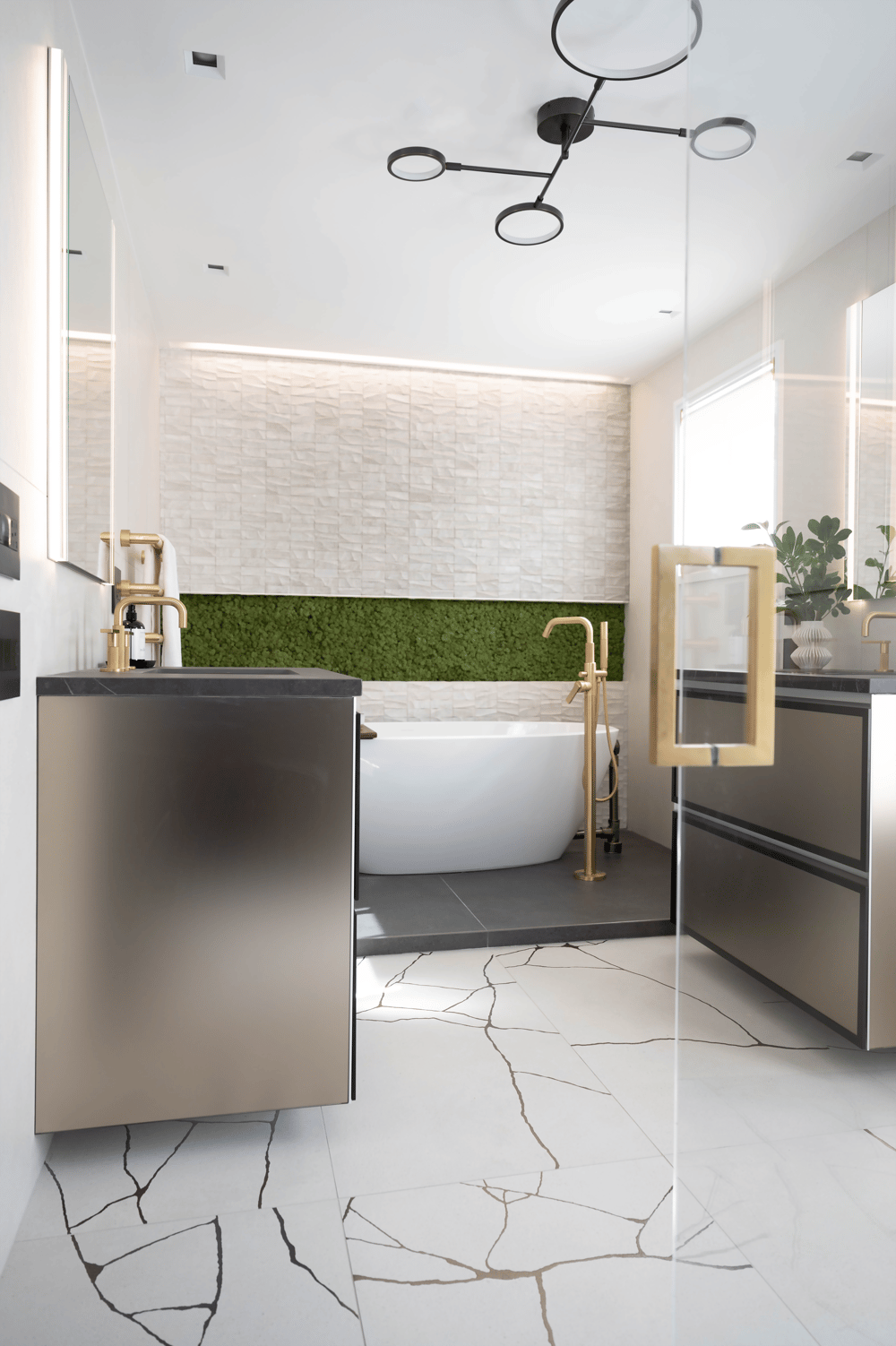 Lighting
Lighting plays a vital role in achieving a spa-like environment. Dimmer switches and adjustable fixtures allow the client to customize the lighting to their preferences.
The color temperature of the lighting was also carefully considered to promote calmness. Warm, soft white lighting was used to create a cozy and inviting atmosphere while avoiding harsh or bright lighting that can be jarring to the senses.
The layering of light was also used to create depth and texture in the space. Recessed lighting provides ambient lighting throughout the bathroom, while sconces add a decorative touch and creates additional task lighting for specific areas. Task lighting was also incorporated, such as over the vanities and in the shower. This ensured proper lighting for grooming and other activities.
Final Thoughts
At Michele Alfano Design, our core value is improving people's lives. By enacting our philosophy, POETIC MODERNISM®, we can create spaces that promote well-being and luxury. This project is an excellent example of how design elements can work together to create a space for relaxation and wellness.
Through careful selection of materials, fixtures, and lighting, we created a spa-like bathroom that not only meets the client's needs but may provide several health benefits for the body and mind. We look forward to creating more spaces that promote well-being and luxury.
---

Michele Alfano is a specialist in warm, modern interior architectural design. While living and studying architecture in Barcelona, Spain her every day life was shaped by awe in the art, and architectural buildings by icons of the past. Today she translates her strong technical skills to create functional and unique spatial and sensuous experiences to elevate your well-being. Wanting to get to know people on a deeper level drove her to create POETIC MODERNISM®. It's her design style and belief that the essence of awe and gut emotion in design is the framework for a nurtured and happy life.
The statements in this article are applicable to the author's experience. Your results may vary and may not be representative of the author's experience.