Meet Kris Lee, Mr.Steam Technical Sales Representative
---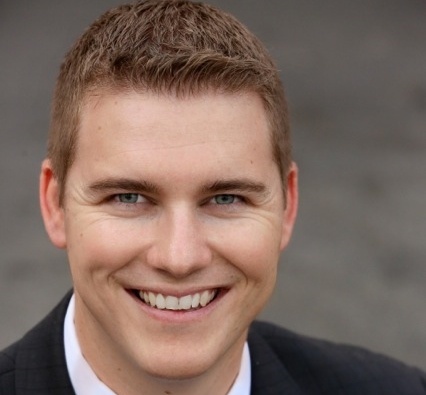 If you've ever had reason to call Mr.Steam, you may have spoken with Kris Lee, Technical Sales Representative for Mr.Steam products.
We recently caught up with Kris to learn more about him and the kinds of steam-related questions he handles.
Meet Kris Lee, Technical Sales Representative for Mr.Steam
Mr.Steam: Kris, tell us about yourself. What is your background and role at the company?
KL: My name is Kristoffer Lee. I'm a native Californian and I've been living in Los Angeles for the past 10 years.
I grew up in Orcutt, CA. It's a small town, north of Santa Barbara. After high school I moved to San Pedro, Los Angeles and went to Harbor Community College.
I love L.A.. The opportunities are endless - I even worked in the Port of Los Angeles as a longshoreman for a couple of years. Everything is within a short driving distance, from the mountains to the desert, or a lake.
I joined Mr.Steam in 2010 as a Field Service Technician and got to visit many installations. I gained tremendous experience in dealing with customers and their concerns.
I'm currently in Technical Sales and spend time answering customer questions and trouble-shooting on issues they might have encountered with their steam generators. I also consult on steam generator maintenance best practices. The best part of my role is that I get to speak with customers and help resolve their issues.
Mr.Steam: How did you get started at Mr.Steam?
KL: I heard about Mr.Steam through mutual friends and decided to apply for a Service Technician position.
My diverse background in custom automobile fabrication made me a good fit for the role. I've been custom building and racing off-road race trucks and race cars since I was 17, building full roll cages, custom sheet metal work, and wiring. This has taught me how to diagnose and repair problems - very helpful for solving customers' problems when they call Mr.Steam.
Mr.Steam: Which is your favorite Mr.Steam product and why?
KL: My favorite Mr.Steam product is the AudioWizard®. It's a shower music system that wirelessly connects via Bluetooth® to nearly any smart phone or other audio device. Talk about bringing immersive sound to the steam shower experience! When I'm in the steam shower, hearing my favorite playlist enhances the entire experience and puts me in a relaxed state of mind.
(For more on AudioWizard, read 30 Most Innovative Kitchen + Bath Products Include AudioWizard.)
Mr.Steam: What kinds of questions do Mr.Steam customers ask you when they call?
KL: The main questions I'm asked are:
Mr.Steam: What do you like most about steam?
KL: Steam has many benefits, but the best one is its ability to sweat out all the toxins from your body.
My favorite steam installation is the Ritz Carlton in the Palm Springs Desert. They have an amazing new spa, very relaxing and quiet.
Mr.Steam: What do you like most about Mr.Steam?
KL: I like that the company focuses on wellness for the body. You should check out Making Wellness a Way of Life: The History of Mr.Steam.
It's also great that the company is always innovating and coming up with new ways to enhance the steam experience with technology - whether with the iSteam 2.0 Control, aromatherapy, chromatherapy or even music therapy.
Mr.Steam: What do you do in your spare time? How does steam fit in?
KL: In my spare time, I like to go to the gym and workout. After a workout, the steam shower helps relax my muscles and re-energize my body. I'm energized and ready to take on the world!
Mr.Steam: What tips do you have for owners of Mr.Steam products/generators?
KL: A good tip for Mr.Steam owners is to have soft water going into your steam generator. This will give you clean fresh steam, and will reduce the amount of calcium build up in your steam generator's tank.
Another is to make use of the resources we have available.
For example, how-to videos. They are all equally important and helpful. For example, How To Install a Steam Generator: 3 Min. Video from Mr.Steam and How To Install a Steam Generator with iSteam Control offer visual instructions on how to install a steam generator.
Be sure, too, to check the website resources available on MrSteam.com under 'Downloads.' If ever you've misplaced your Mr.Steam generator manual or need instructions on how to install our products, that's where you'll find information. All of our product information and specifications are on our website under "Downloads." It's very helpful to a lot of installers and homeowners.
Mr.Steam: When should customers call Mr.Steam customer service?
KL: Customers can call Mr.Steam anytime they have a question about our products. We are open from 8 a.m. EST to 7 p.m. EST (11 hours!). Whether it's how to install an AromaTherapy System or how to properly take a steam shower, we are more than happy to answer your questions.
Mr.Steam: How can Mr.Steam customers reach technical support if they have questions?
KL: You can call customer service at (800) 767-8326 (East Coast) or 800-727-8326 (West Coast). You can also email any member of our customer care support team.
Mr.Steam: Thank you, Kris!
What questions do you have about Mr.Steam steam generator products? Let us know in the comments.