Create a Dream Steam Shower with Mr.Steam's Updated Virtual Spa
---
Are you dreaming of steam? Planning for a home steam shower is literally a dream when using the Virtual Spa from Mr.Steam.
The Virtual Spa is particularly helpful if selecting a steam shower seems daunting. It's an intuitive online tool that vastly simplifies steam generator sizing and offers details on specifications and pricing with just a few clicks of your mouse. The Virtual Spa from Mr.Steam is easy to navigate and use.
Once you reach the Virtual Spa, simply select the tabs you'd like to explore or progress through the full application as you build a dream steam shower.
Here's what you can expect in each tab:
Steam Shower Generators & Materials
The Virtual Spa tool begins with the basics and guides you through a step-by-step process.
First, add the dimensions of your shower. Then, select your choice of wall materials - a critical aspect to the installation, as many materials will require different generator sizes. For example, a non porous material like acrylic may call for a smaller generator size while a porous material like natural stone will require a larger generator.
(We explain more about material choices and steam generator sizes in How to Size a Steam Generator? Try our Virtual Spa System.)
Select Your Dream Steam Shower Controls
The next step to building your dream steam spa is adding your choice of steam shower controls.
Whether you want all the components and convenience offered by the iSteam Dream Package or you'd like to add individual controls such as an iSteam® or iTempo®, this tab provides a full description for each package and individual control to help you create a spa design that is completely unique to you.
Note the "info" button underneath each item. When you click it, you'll see a detailed image of the product with more information and an option to see product specs as well as download them.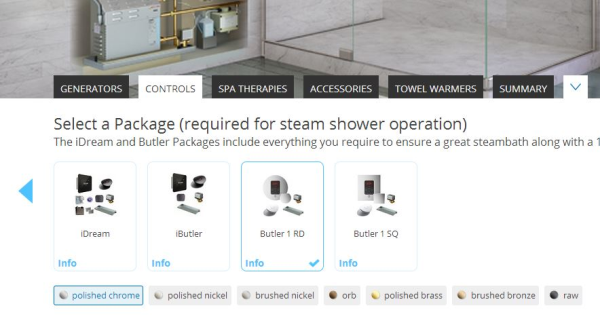 Select Your Dream Steam Spa Therapy
Create your spa bathroom sanctuary with your choice of SteamTherapy options. You can add an entire package or individually select your choice of AromaTherapy, ChromaTherapy or MusicTherapy options for an ultimate experience of the senses.
Notice how, when you select a product in the virtual spa, it is itemized in the left hand sidebar. When you click on the item in the sidebar, you'll be able to see where each element of the product appears in your dream steam shower.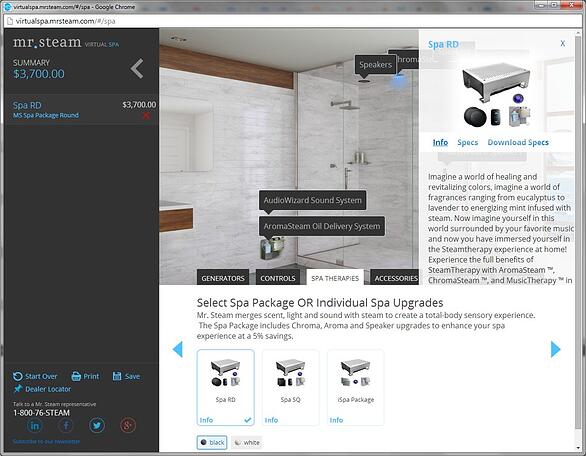 For more perspective, be sure to check out Feeling Down? Try Mr.Steam Chakras and Aromatherapy for Sensual Bliss.
Don't Forget the Right Spa Accessories
What is a steam shower without accessories such as a wall seat, special lighting or something as practical as a chlorine filter system? This tab offers a few add-ons to build your individualized spa bathroom.
Perfect For Apres-Steam: Towel Warmers
Cozy up with your favorite towel warmer design for an added touch of warmth to your new spa bathroom. To learn more, read these articles:
Summary: The Last Step in the Mr.Steam Virtual Spa
There you have it. After you've made your selections you will be provided with a visual of your dream steam shower as well as pricing information with all the amenities and specifications for planning out your steam installation. The last step also allows you to print, email your dream steam shower design, specifications and pricing to yourself or any other party involved (up to 10 different recepients).
If you'd like a bit more advice from the experts, we invite you to read the following articles:
With your dream steam shower virtually created, you now have the information you need to speak with a Mr.Steam representative and ask questions - the Virtual Spa includes a phone number conveniently listed below your steam shower summary - or to connect with a Mr.Steam premier dealer located near you via a link to the Mr.Steam dealer locator. You can even connect with us on social media via the links posted.
We hope you enjoy building your dream steam shower!