5 Essentials for Designing Your Bathroom with Wellness in Mind
---
Our primary bathrooms have become our sanctuaries. Where this was once just a place that provided a means to get clean, our clients are now reinventing these spaces to focus on wellness and self-care. It's a place to relax and meditate without the noise and distraction of the outside world. It's a place to pamper yourself and create daily rituals that nourish and feed the soul.
Prioritizing Wellness in the Bathroom
A primary bathroom is a very intimate space, and every client's wellness priorities are different. The ancient Romans knew the benefits of relaxing in a steam bath, and this is still a priority for many of us today.
Aside from being a great way to relax, steam can help soothe sore muscles, hydrate the skin, and open pores. Aromatherapy can be added to a steam shower as well as chromatherapy. Eucalyptus oils, in conjunction with steam, are a great way to promote optimal breathing, and lavender oil can help you relax and unwind before bed. We always design steam showers with a bench wide enough for lying down. If you've never shaved in a steam shower, you're missing out on the best shave of your life.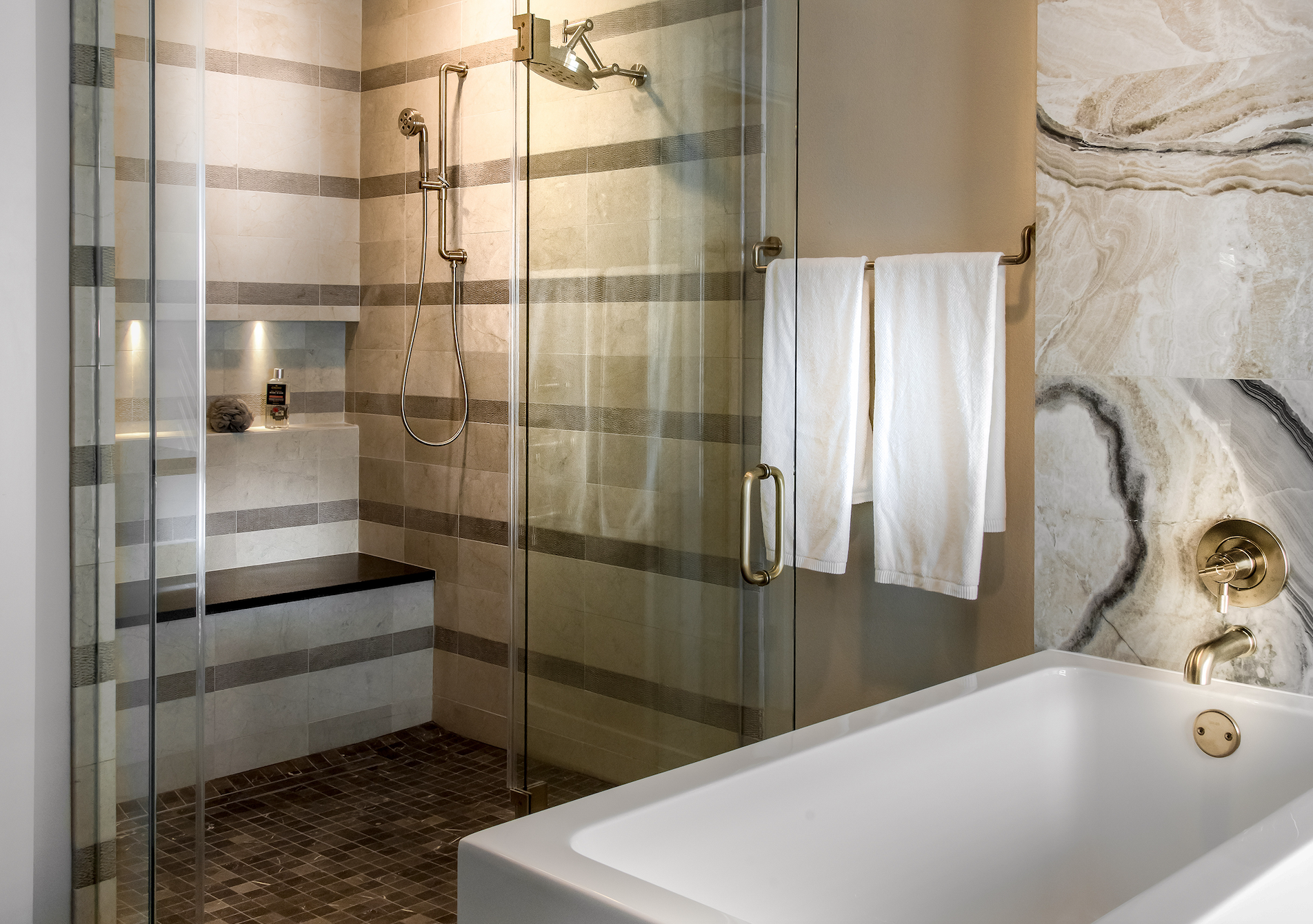 Setting the Mood with Lighting
Every bathroom we design has a layered lighting plan with task lighting and ambient lighting. While it's important to have enough light to see what you're doing when applying makeup and shaving, when you're in the bathtub trying to relax, it's equally important to create a relaxing mood with ambient light. Layering lighting and using the proper temperature of light within the space are hugely important for creating a spa-like environment. We use dimmers on just about every light source.
Choosing the Right Color
Psychologists have long studied the effects of color on mood and physiological reactions like emotions and behaviors. Color is powerful in designing any space. You may notice that doctors' offices and hospitals are typically painted in pale greens, blues, and lavenders. These colors are relaxing and tend to put patients at ease and lessen pain. Spas are typically decorated in natural, earthy colors, which are reassuring and settling, allowing us to quiet our minds prior to our spa treatments.
Embracing Natural Elements
We generally try to use windows in a space to achieve the feeling of being outdoors. Since privacy is an issue within a bathroom, this can be achieved through skylights, transom windows that are up high enough for privacy but still allow for views and natural light, and even private courtyards with outdoor tubs or showers for the ultimate outdoor experience.
Natural materials such as wood, bamboo, and stone can also achieve this feeling.
One of our clients is an athlete and outdoorsman who wanted to bring the feel of the outdoors into his home. The project was a full house remodel in which we completely transformed the home into a contemporary oasis utilizing organic materials such as natural stones, woods, and agates to keep the spaces from feeling cold and sterile.
We designed a large steam shower enclosure and placed the tub inside at an angle in order to be able to view the tv from the tub. A floating vanity was placed against the glass of the shower, and a bench created on the other side within the steam shower allowed the homeowner to relax during steam sessions.
The clear-story window across the back of the shower allows the user a view of the oak trees outside, and the agate tile in the shower niche completed the outdoor feel of the space.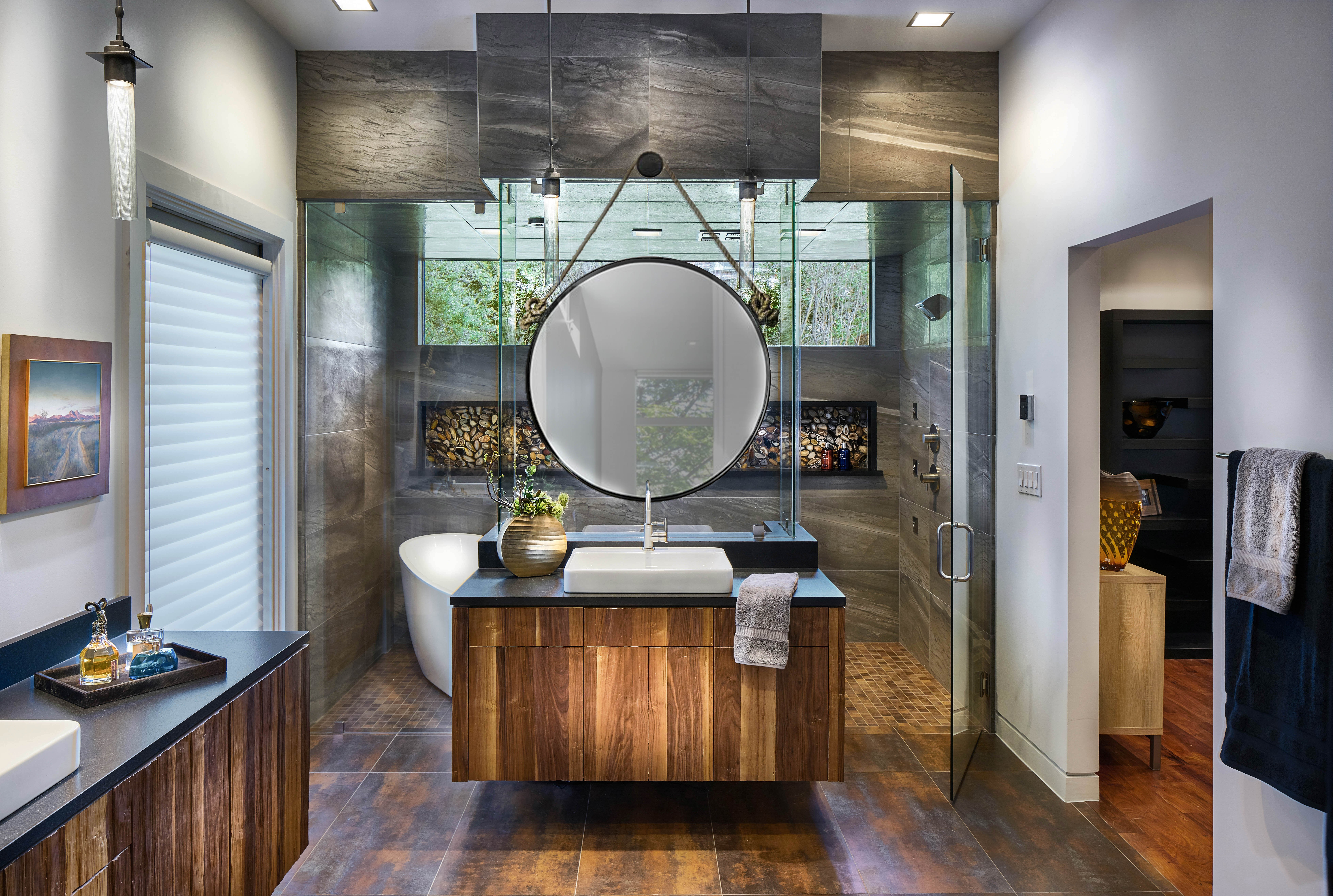 Planning for Aging in Place
Just about every primary bath we renovate these days are designed with a curbless shower to remove barriers for those who need accommodations. We also put hand showers in every shower, which is excellent for washing the dog, cleaning the shower, or shaving your legs.
More and more of our clients are planning to age in place, so considering this in our designs means the space will be functional for the client for a long time to come, and it also adds value to the home.
Creating the Ultimate Home Sanctuary Begins in the Bathroom
Pampering and self-care rituals used to be something that we did at spas and health clubs, but more and more clients are realizing that they can have these experiences right at home, and every day instead of just once in a while.
Practicing self-care is essential for our mental and physical health. Designing elements like steam showers into our homes makes it that much easier to take care of ourselves.

Shea Pumarejo is the seasoned interior designer and CEO of her boutique renovation + design firm, Younique Designs based in San Antonio, Texas. See more of her work at www.myyouniquedesigns.com.
The statements in this article are applicable to the author's experience. Your results may vary and may not be representative of the author's experience. The author was compensated for writing this article.