5 Reasons to Include Steam in Your Home's Next Upgrade
---
June is National Homeownership Month, a time that recognizes the value that homeownership brings to American families and communities. It's also a great time to get to know what opportunities are available for both prospective and current homeowners either looking to buy a new home or planning an upgrade or home renovation.
According to the 2022 Remodeling Impact Report by the National Association of Realtors (NAR) and the National Association of the Remodeling Industry (NARI), 61% of homeowners felt an increased sense of enjoyment at home after completing a bathroom remodel. If you're in the market for a fixer-upper or updating your existing home, level up your happiness score and your personal wellness with a home steam shower by MrSteam. Not sure if steam is right for you? Here are some of the best reasons to include a home steam shower in your home remodel.
1. SEAMLESS INTEGRATED TECHNOLOGY
With MrSteam, you can have the benefits of a luxurious spa retreat from the comfort of home. Digital steam shower controls allow you to effortlessly customize your steam shower. These intuitive controls keep many features at your fingertips, including temperature, duration, and even ChromaSteam lighting and music. Plus, with the SteamLinx® mobile app, you can control your steam shower from anywhere, creating a personalized experience right from your smartphone or mobile device. With this convenient app, your steam shower can always be ready and waiting for you.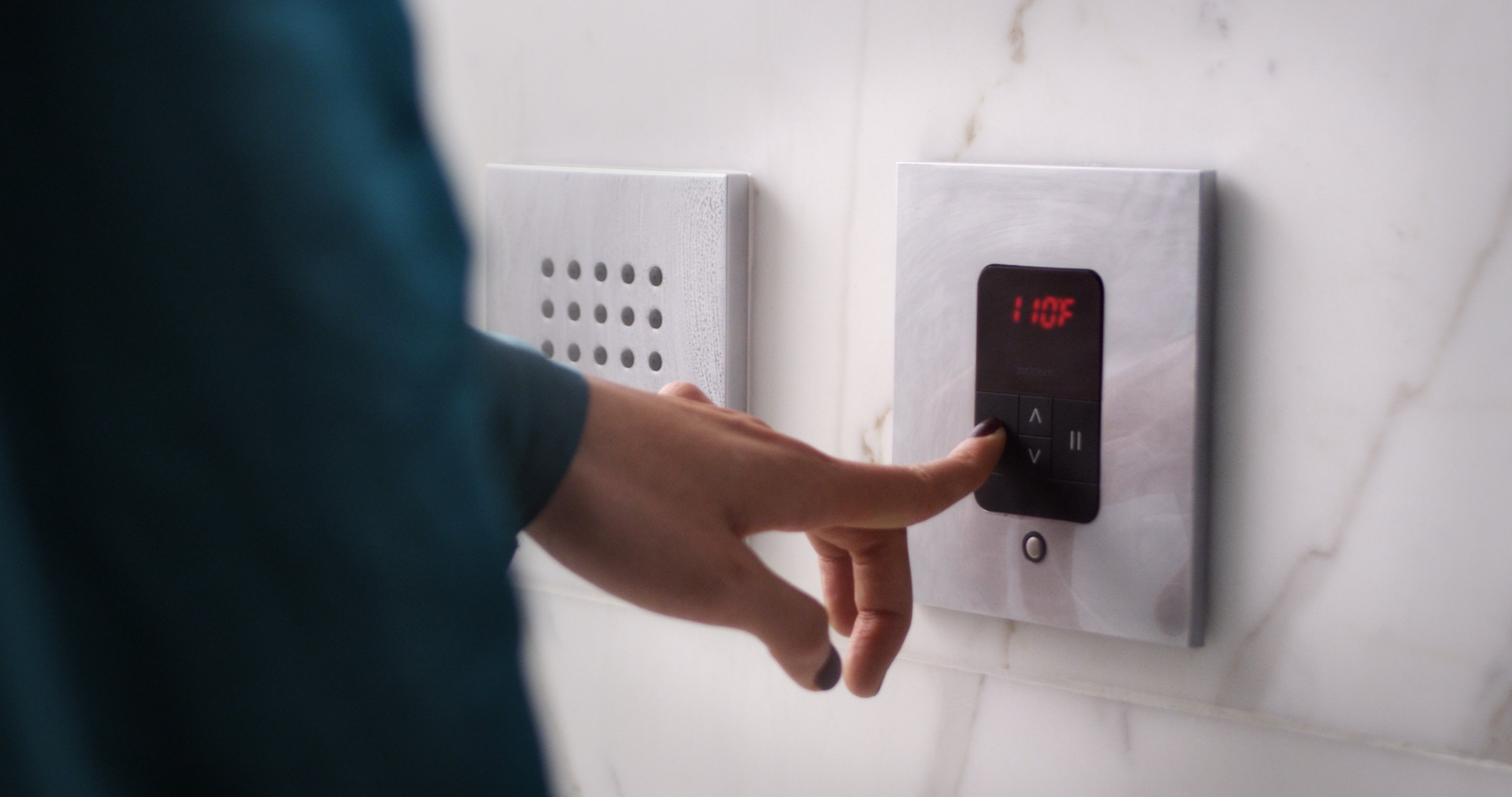 2. ENERGY-EFFICIENT AND COST-EFFECTIVE
Did you know that a 20-minute bath using a traditional whirlpool or soaking tub can use 80 gallons of water— whereas a 15-minute steam shower only takes two gallons?

Because steam showers consume less water than a regular shower or bath, they also require less energy to heat that water. That's why a home steam shower is a sustainable choice you can feel good about, and can also reduce your energy bills if you regularly take long showers or baths to unwind. For a complete breakdown of costs, read about What an In-Home Spa Will Cost You Over Time.
3. BEAUTIFUL DESIGN
Steam showers can be custom designed to fit any style or aesthetic, from sleek and contemporary to elegant and traditional. MrSteam steam shower controls and steamheads are available in a wide variety of shapes and finishes, giving you the freedom to design the home spa shower of your dreams.
Take your luxury steam shower experience to the next level with the award-winning Linear SteamHead, which creates a dramatic, inverted waterfall of steam that gently cascades into a soothing cloud, rapidly filling the entire shower space.
4. AT-HOME WELLNESS SANCTUARY
You can create your own at-home wellness sanctuary to get steam room benefits any day of the week. Some of the benefits of steam therapy include:
Relieves stress
Encourages relaxation
Promotes an increase in blood circulation
Helps to support cardiovascular health
Elevate your steam experience by adding essential oils with an AromaSteam system or simply by adding a few drops of your favorite scent to the built-in oil wells of MrSteam AromaSteam steamheads. The use of aromatherapy has a long history of boosting one's mood and energy, promoting healthy sleep patterns, and more.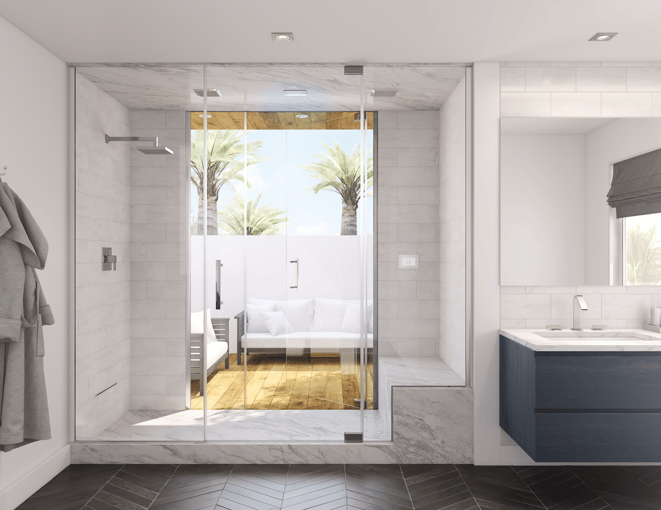 5. INCREASES THE VALUE OF YOUR HOME
The best investments you can make in your home are those where you can expect the greatest return, including bathroom renovations. The average return on remodeling spans nationally from 65-75%.
Naturally, you can't expect to recoup all of your expenses, so it usually makes the most sense to take on any large home remodeling project a few years before you want to sell the house. That way, you will be able to enjoy it.
But knowing that generally a bathroom renovation predictably nets the high end of the average remodeling return may help you pull the trigger when you're considering whether or not to take on the project.
If you want your bathroom renovation to include steam, a little financial planning can take you a long way toward getting a customizable steam experience at home. Also, getting a solid understanding of your credit score can put you in a great position when it comes time to decide on your financing options.
When you give yourself the gift of a home luxury spa retreat, you're investing in your own health, happiness, and relaxation--and in the value of your home, too. With a steam shower in your home, your next indulgent spa vacation is always within reach.