What do Builders Need to Know About Steam Shower Installations?
---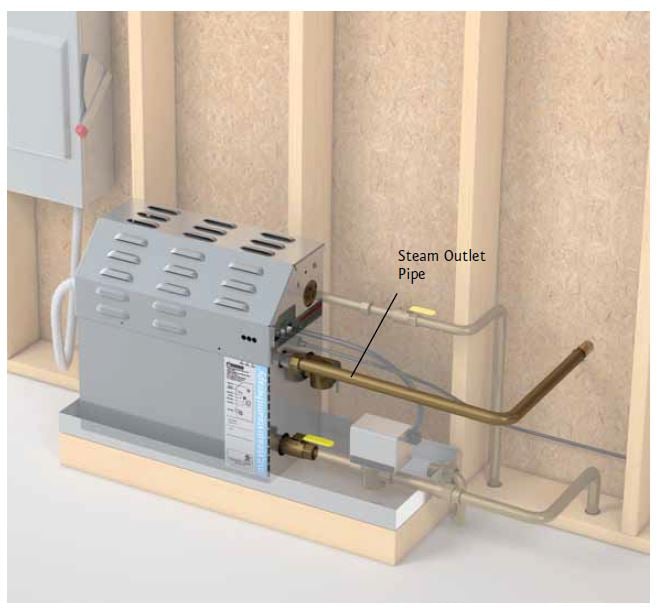 With bathroom installations trending larger, more luxurious and more spa-like, builders need to be aware of tips, best practices and the resources available for successfully installing steam showers.
Mr.Steam recently participated in an interview with bathroom professionals on this very subject. The highlights we share below capture advice that builders and construction professionals should consider when specifying and installing home steam showers.
What do builders need to know about the steam shower installation process?
The knowledge that builders should have about installing home steam showers falls into four categories:
Bathroom and steam shower trends
Collaboration between bathroom designers and building professionals
Builder "watchouts" for steam shower installation
Steam Showers and Home Sales
These bathroom remodeling and steam installation insights come from interior designers and bathroom professionals Patti Johnson, owner of Patti Johnson Interiors; Lori Gilder, owner of Interior Makeovers; and Martha Orellana, Mr.Steam Vice President of Marketing and Sales.
1. What bathroom and steam shower trends are you seeing today?
Patti Johnson:
"Clients are requesting larger and more luxurious showers over the traditional bathtub. Savvy homeowners today especially like the Rainshower style shower heads, body sprays and steam shower units, along with low maintenance tile.
Many new products on the market, such as reinforced sheets of marble, can actually create a shower with no grout.
Large glass doors and side panels allow more light in. This can be tricky with all the behind-the-scenes plumbing for showers with steam units."
Lori Gilder:
"When it comes to renovating master baths, my clients are most interested in designing a more spacious and luxurious shower environment. Clients are therefore willing to invest in high end materials and state-of-the-art products in order to bring that intimate spa experience home.
Incorporating steam showers could be considered an amenity here on the west coast. Adding multiple body sprays, shower-heads, curbless transitions, aroma and chromatherapy and luxurious natural materials to these environments undoubtedly improve our clients' quality of life."
Martha Orellana:
"Clients are wanting to be pampered. They are requesting their very own fifteen minute retreat and want to be immersed in the shower, starting off with a wonderful showerhead.
Clients want to be able to control their mood via lighting choices like ChromaTherapy and they also want to envelop themselves with steam. AromaTherapy (Eucalyptus and Lavender are our most popular) is asked for when they are including steam in their shower. We also receive a lot of requests for MusicTherapy, to enhance their mood, clients want to control their music from inside the shower"
We find that innovative technology inside the shower is capturing a lot of attention."
2. How should bathroom designers work with building professionals for a steam shower installation?
Patti Johnson:
"Master plumbers, electricians and experienced contractors are who I turn to when working with an installation of a steam shower and multi-directional water sprays that come with touch control pads. Depending on the location of the existing shower upgrade or the addition of a new bath to the home, the plumbing can often be a very complex and a costly part of the remodel.
Is the new location near an existing drain line or will a concrete floor need to be trenched? Showerheads, body sprays, steam lines and control pads all require a lot behind the walls.
It is imperative that the interior designer work alongside the plumber and contractor to achieve the desired outcome in both aesthetics and function to deliver the total spa experience. For example, the location of the control pads need to be pre-determined to be convenient for the user, but perhaps not visible from outside the shower or interrupting the tile layout. A lot of detail and planning go into these types of showers. Seminars or hands-on training would be beneficial."
Lori Gilder:
"Today's showers are highly personal and no two are exactly alike. The unique design elements and details on our client's wish list will determine how savvy, knowledgeable and experienced the general contractor we hire must be. There are endless specialized shower details, systems and products on the market. It is imperative that these designs be well-planned, beautifully designed, and brilliantly executed. From elite steam bath wetrooms to curbless or doorless showers and linear drain systems, contractors must be current on the evolving shower trends."
Martha Orellana:
"With all the new products, there is new information that installers need to know. There are a number of how-to videos that installers can view prior to starting a project. I would strongly recommend starting with videos."
3. What should builders be aware of for bathrooms with steam shower installations?
Patti Johnson:
"Builders need to know that space for the components needs to be planned and budgeted for beforehand. It can decrease the overall size of the finished shower if not planned for in advance. Builders need to have all the specs in hand prior to any framing.
Builders also need to convey to homeowners that much of the extra expense is the quality of these beautiful new fixtures and the extra workings. This includes labor, materials and expertise behind the walls used to create the beautiful shower experience that are not seen in other homes. Any lack of planning can lead to costly overruns."
Lori Gilder:
"Contractors and builders need to understand the importance of quality craftsmanship, design integrity and material selection when it comes to these new types of showers. Designer and consumer confidence is everything when appealing to a specific client. What good is having a shower with all bells and whistles if it isn't drop dead gorgeous and impeccably constructed?
Installing specialty showers is a definite asset when it comes to selling a home, but don't go overboard on the technology where the shower starts to resemble a cockpit!"
Martha Orellana:
"For steam showers, builders will need a 240v. electrical connection with a dedicated circuit breaker. The ceiling and walls in the shower should be water- and vapor- proof. The steam shower requires a water-tight door. The client can use a soffit above a regular size door if they don't want to have a floor to ceiling door. The shower can be constructed of natural stones, ceramic, porcelain or glass tile.
Are they more expensive? Yes and no - initially there is a definite cost associated with purchasing. However, with over 40 benefits associated with steam alone, the homeowner will be thanking the builder for including this amenity in their shower."
Steam showers typically use less than 2 gallons of water in a 30 minute steam shower, it costs pennies to use a day."
4. Can an upgraded shower and/or master bath help sell a home? How can builders highlight steam installations in the sales process?
Patti Johnson:
"The steam shower units add considerable value to any home and some homeowners desire them purely for the enjoyment factor. Upgraded fixtures in a bath are pleasing to potential buyers. Wall mounted toilets require different framing & plumbing, and floating vanities are very popular right now. Both add visual space to a bath. Enlarging a shower and adding in a full bench vs. a corner shelf style bench add heft and a feel of quality. Roomy niches for shampoo are mandatory and should be beautiful. Incorporating these small details requires planning and even interviewing the owner on things like 'How many products do you use in the shower?' It can vary widely! "
"Many Homeowners are eliminating the traditional tub during a remodel, opting in favor of a larger shower and thus a more spa like experience while gaining space in bathrooms that currently have both as separate amenities. Great photos of the bath and shower in the builder's sales collateral will highlight the upgrades. Using the correct verbiage to describe the space such as spa, serene, relaxation and experience help buyers envision a get-away-from-it-all moment. Towel warmers within reach of the shower door and heated bathroom floors are all part of the package. Throwing in a wall mounted towel warmer as a bonus for this upscale buyer can draw attention to the bath as a marketing tool. "
Patti Johnson:
"If your home is on a home tour, it would be great to have a representative on site to demonstrate the features and answer questions to potential buyers. It's an upsell. Placing signage in the bath with some details in a pretty picture frame will assist buyers in learning about your shower. A video from the manufacturer demonstrating the steam shower or speciality heads looping on a small TV mounted in the bath, (yes, TVs are a must for many!) would certainly help!"
Lori Gilder:
Builders must start by hiring an experienced and talented professional interior designer to help guide them down the right path. Whether working with the builder directly or the client themselves, a professional interior designer will help ensure the client knows exactly what is available to them. The designer should speak to their wish list, ultimately providing the best possible solution and the most aesthetically appealing final product.
I am not a real estate agent, but I know that everyone wants to come home at the end of the day and retreat into a spa-like environment. Luxurious walk-in spa showers definitely appeal to many high end clients and single professionals, as well as the empty-nesters. For those who don't have time to soak in a tub, a spa shower is the ideal solution."
Martha Orellana:
"The value of steam showers enhances the sale of a home. They should specify a product that is made in the USA. A working product display is always best, but if not an option, I would also suggest signage. We have a brochure on the 40+ Benefits of Steam, as well as a good library of videos. The use of Mr. Steam's virtual spa, a build-your-own-steam-shower tool, is a wonderful way to highlight this product.
Start off with the wellness factor: having a spa at home. Would a client not prefer to jump in their own steam shower if they feel that they are coming down with a cold? How about if they just want to relax after a hard day's work? It's the ease and convenience of having so many benefits in their own shower that would educate the client into feeling good everytime they shower!"
Resources For Builders Installing Steam Showers
Perhaps the most critical tip is that builders and bathroom designers must work closely together in planning a steam shower installation and understand the requirements and intricacies involved in incorporating steam and other spa-like elements.
Mr.Steam has developed several tools and resources relevant to builders focused on steam shower installations:
If you have any steam installation questions, Mr.Steam is readily available to help you via phone at 1-800-76-STEAM, email at hello@mrsteam.com or via Facebook and Twitter.