Wellness Through Joy, Love, And a Really Great Design!
---
Our latest full-home remodel projects in Calabasas took us on an unforgettable journey as we navigated a redesign and remodel.
The client requested an exclusive home spa experience, something I recommend to all my clients. However, the creative placement of the equipment, which needed to be installed in an adjacent closet, was a big challenge initially. 
Fortunately, we were able to bring the perfect design to life, prioritizing wellness and bringing more love and joy into our clients' personal spaces. 
Personal Wellness is Always Our Top Consideration
When approaching any design request from our clients, we prioritize wellness in the experience. Your home is your safe space, where you unwind from the day's stresses and conflicts. You need a design that embraces you with love and happiness the moment you walk in. 
And that's exactly what we did for our Calabasas client. 
Keeping both mental and physical wellness in mind, we recommended steam as a part of a daily ritual. It's a standard conversation in all our client presentations, and I have personally experienced the benefits of steam therapy to reduce anxiety, increase mental wellness, and improve sleep quality.
Patience is a Virtue 
Integrating wellness into our designs is all about love. The process of identifying what brings clients absolute joy, fulfillment — and thus, wellness — is very intimate. We put a lot of focus on creating an experience for our clients while overcoming the stress and nervousness of the new design and builds.
As a result, you need patience because the process takes time. We provide clients with enough time to look past the confusion, budget, and scope of work. This way, enough has been discussed and addressed to ensure the final design brings complete love, joy, and wellness to their home.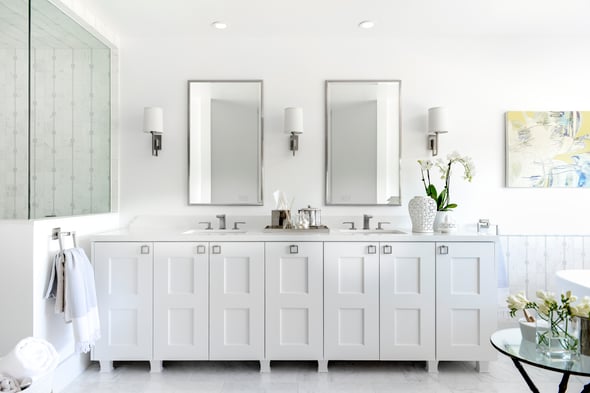 Important Discussions When Bringing The Home Spa Experience to Life
There are a lot of moving parts when creating a home spa experience.
Products
First, you must consider the products that will level up the experience. For a home spa experience, steam was a must. After all, medical experts rave about some of the benefits steam may have on users, like healthier skin, easier recoveries from workouts, loosening stiff joints, reduced stress, opening up sinuses, and even burning calories in some cases. 
Mr. Steam makes the most sense for our clients because their equipment is easy to use and clean, has a deep seat in the shower, and has great ventilation to ensure the finishes last.
Lighting & Natural Elements 
The next topic for discussion was lighting.
Lighting plays a significant role in health and wellness in your home. Research has shown that a proper lighting plan and the addition of access to daylight (in a broad sense) may dramatically improve sleep, mental and physical health, well-being, and energy levels.
In contrast, poor lighting can contribute to poor concentration, diminished appetite, vision fatigue, low mood, and disrupted mental clarity rhythms.
This is why, as an added measure, we also want to bring the outdoors in when developing our design.
Whether through skylights, doorways, or large windows, we always aim to grab as much natural daylight as possible within any space, particularly in the bath space.
Creating even the smallest balcony in a bathroom space can make it feel luxurious, with a hint of European sophistication. This will further contribute to the overall feeling of wellness, which in turn, reduces stress and anxiety.
Color
I typically prefer to stick to layers of crisp and warm neutrals in a primary bathroom with pops of soft organic accent tones.
I also like bringing nature in with the natural wood on the vanities or through large windows. In my opinion, layers of neutrals keep the eyes scanning in a calm rhythm, contributing to the overall serenity in a space.
However, when dealing with kids' spaces, I also stick to classic neutral fixed and permanent architectural finishes while adding soft accent tones and colors to the decorative fixtures and accessories. Paint is always a fun way to add color to a space, but I often stick to layers of tones that are subtle and relaxing.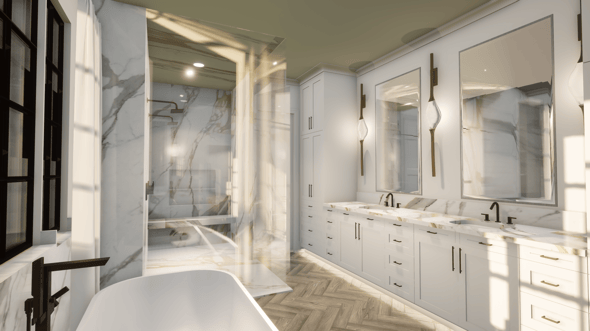 Safety Measures 
We always take safety considerations seriously in our designs. This includes:
Thermostatic safety settings in both the water heater settings AND in the valves
Water flow and function for energy
Slip resistance in wet areas
Reach when it comes to sink heights and trim kits, as well as tub heights
We always consider every user and their safety when designing and building a home, but in particular wherever there is water and heat
When it comes to "steam," we are cautious about placing the steamhead in an area away from the seat and away from any static standing position when using the shower
When it's all said and done, we become family with our clients after such an intimate design process. Bringing wellness to our clients' home designs requires a reasonable amount of time and patience. However, by the end of it, our clients can confidently say they've turned over every rock in the garden— visited, discussed, and revised every aspect of the project inside and out.
The result is precisely what they envisioned. 
---

Laura Muller is the Principal Interior Designer and Owner of FOUR POINT DESIGN BUILD INC., an award-winning multi-disciplinary full-service commercial and residential interior design-build firm based in Los Angeles, serving clients nationwide. See more ofLaura's work at fourpointdesignbuild.com
The statements in this article are applicable to the author's experience. Your results may vary and may not be representative of the author's experience.