Are Steam Showers Worth It?
---
Are you steam-shower curious? Admit it: You've been scrolling through bathroom-remodel websites. You're chatting up people at home and bath shows. Teak benches have become the stuff of your fantasies. You even exchanged numbers with a licensed contractor. But if you're stuck in flirtation mode, there's probably one question that is holding you back: Are steam showers worth the trouble? In fact, that very question is a popular one discussed on sites such as Quora. We don't blame you for asking, but the answer is a resounding Heck yeah, steam showers are worth it. Let's look at the different aspects of this question, and unpack it.
How hard is it to install a steam shower?
It might seem a bit overwhelming, but contrary to what some people may believe, installing a steam shower is actually quite easy and affordable. Part of the reason it's easy is you'll be working with knowledgeable professionals—licensed plumbers and electricians. You don't need to be in there installing water supply feeds or circuit breakers. Relax. Scroll through your social media. Play with the dog.
But do jump in for the fun part, which is picking out your what you want for materials, finishes, colors, which steam shower control has the bells and whistles you need, and any steam shower accessories such as ChromaTherapy or AromaTherapy. It's your adventure, so have at it. Want to see what it feels like to customize a steam shower? Check out this Virtual Spa Tool.
Once it's installed, operating the steam shower couldn't be simpler. Push a button. For those who prefer to "set it and forget it," use a steam shower control that lets you pre-set start times and preferred temperature.
How much do steam showers cost?
The initial investment in a steam shower is less than you might think. List prices for generators begin at $1,575 plus the control and steam head. Here's a simple way to think of it: It typically costs 25 percent more than a standard shower enclosure to include steam. That includes the steam system, waterproofing all walls and the ceiling, taking the glass all the way up and making it water tight, and additional tile or materials needed for the ceiling.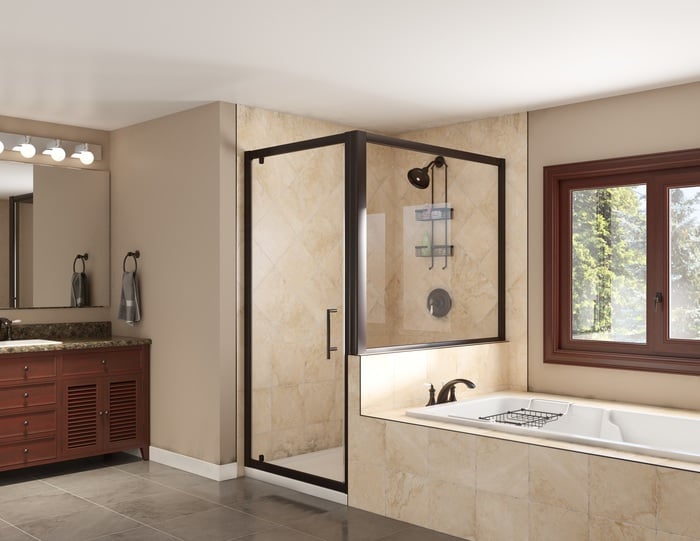 All of the costs will depend on the specifics of your project, construction costs in your area, and other factors. That handy MrSteam Virtual Spa Tool mentioned above can also generate an estimate of list price for the steam shower system of your dreams.
Now, once it's installed, the cost to take a MrSteam steam shower is usually less than $1 per session, in terms of energy usage. And water costs are very low; a home steam session only requires two gallons or less of water. Compare that to how much water is needed to fill a nice, deep claw-foot tub: that's 80 to 100 gallons per soak. You can steam all week for only 14 gallons of water.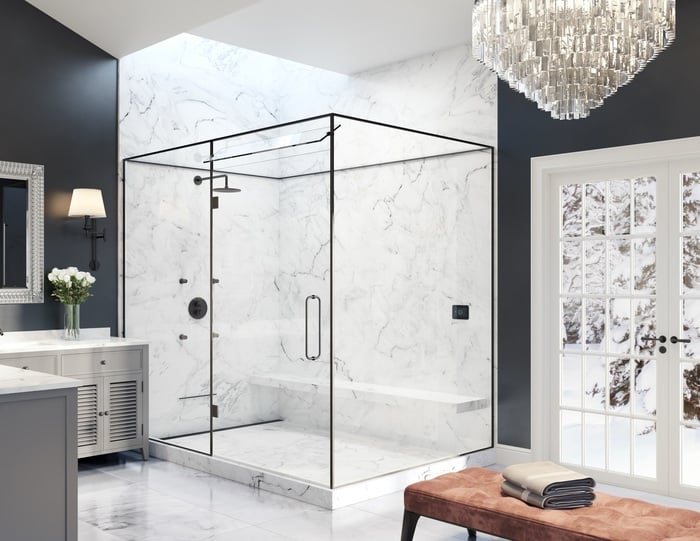 "But I can steam other places…" you may be thinking. Sure, like a gym. But monthly memberships for gyms in the U.S. average $58 a month, a cost that goes way up in metropolitan areas like New York or San Francisco, and doesn't include the initial enrollment fee, which can run into the hundreds. Admission to a spa is even steeper, at $80 to $200 per session, on average. If you're a frequent steamer or aspire to become one, an at-home steam shower system is the most cost-efficient option.
Discover how much it would cost to put a steam shower in your space with our VirtualSpa SmartSizing system.

Will a steam shower increase my home's value?
Absolutely, and in ways you may not have even thought of. According to the National Association of Realtors, bathroom renovations rank in the top three home improvements that appeal to home buyers, as well as in the top three investments likely to add resale value to the home.
Real estate marketplace Zillow did a "2019 Home Features that Sell" analysis and found that, "Listings mentioning 'steam showers,' an enclosed shower that can also be used as a steam room sell for 30.7 percent above expected values."
"While everyone has different style preferences, when it's time to sell, being specific and strategic with your home's listing description can have a big financial payoff," wrote Jeremy Wacksman, Zillow's chief marketing officer, in the report. Homes with spa-inspired bathrooms, he notes, are highly sought-after among today's buyers.

Don't forget the value a steam shower adds to the home while you're still inhabiting it. The National Association of Realtors have a "joy score" and gave bathroom improvements a high ranking, at 9.6. The organization also noted that 62 percent of homeowners have "a greater desire to be home since completing the project, 57 percent have an increased sense of enjoyment when they are at home, and 78 percent feel a major sense of accomplishment when they think of the project."
Are steam showers worth it for my health?
From a health perspective, a steam shower is a smart investment. In the U.S., health care costs are rising so fast that even when covered by health insurance, families are shelling out thousands each year for out-of-pocket fees, more expensive co-pays, and higher deductibles. Our point? A steam shower may help you stay feeling healthy.
That's because steam showers may reduce chronic stress, and enhance the ability for restful, restorative sleep. Sleeping well can boost performance at work or school, as well as improve mood. Steam showers may also alleviate congestion from colds and allergies. Click to read more of the 40+ Benefits of Steam Bathing. If you're an athlete or fitness enthusiast, also check out the ways steam can enhance traditional training programs in Steam Therapy: How Elite Athletes Get a Leg Up.
How do I find a contractor to install a steam shower?
An authorized MrSteam dealer can help, providing names of qualified contractors in your area. They can also field any questions your home builder, architect or contractor may have about steam showers and steam shower installation. Visiting a dealer showroom is highly recommended, as you'll get to experience steam showers firsthand and check out all the options.
How do I start?
Browse case studies to see photos and details on how other people have incorporated steam showers into their homes. Play with the Virtual Spa tool to get a sense of your preferences and estimated costs. And definitely visit a dealer showroom. Here's a simple step-by-step that gives an overview on how to plan your project, and happy steaming!