Steam Showers 101: How To Turn a Bathroom Into a Wellness Retreat
---
Would you like to learn more about the finer points of steam? In this article, we will share with you the what, why and how associated with turning a bathroom into a wellness retreat with steam. That way, you will understand better what makes a steam shower such a critical part of feeling good.
This information relates directly to the Ask Dan & Martha presentation embedded below.
SteamTherapy: The Ultimate Solution For Feeling Good
SteamTherapy is a mixing and melding of the senses. It combines the healing boost of scent, the magic of light, and the soothing rhythms of music with steam to help you unwind, relax and recuperate from the every day sources of stress and frustration. Ultimately, it aims to transport you to a place of calm.
In so doing, SteamTherapy provides more than a place to shower. Rather, it creates a wellness retreat in the home… a spa without a membership... a place to renew oneself and feel good.
"What the culture is craving is a sense of ease and reflection, of not needing to be stimulated or entertained or going after something constantly." Soren Gordhamer, founder of the Wisdom 2.0 conference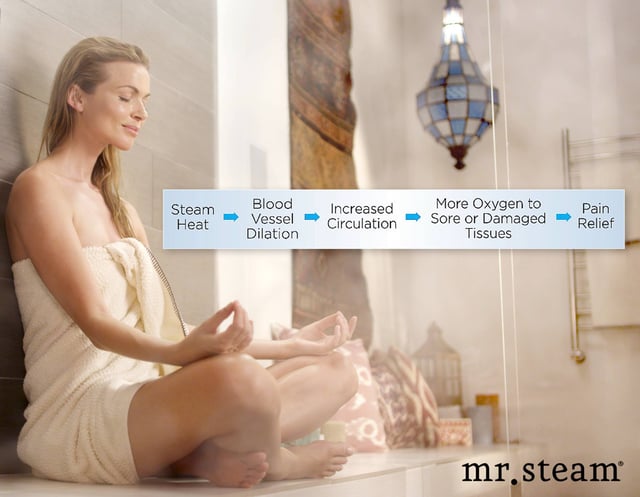 Steam offers many benefits, ranging from respiratory health, skin care, holistic health and overall well-being. Steam also contributes to physical wellness. For more on the benefits of steam, see:
Water, Wellness and Steam Bathing
Beyond the emotional side of steam and the many health benefits, steam showers constitute a rising trend among bathroom designers and their clientele. The National Kitchen & Bath Association (NKBA) did a survey of 420 kitchen and bath designers in March 2014. They discovered that twice as many designers specified steam showers for master baths as whirlpools in 2013. Forty-four percent of respondents see the demand for steam showers increasing.
"The interesting change…is the interest consumers have in wellness aspects — not just the cleansing potential — of water. Consumers value the de-stressing and/or invigorating spirit of a water experience." Ellen Cheever, NKBA, writing for Kitchen & Bath Design News, 2/13
Bathrooms were ranked as the most common remodeling project planned by homeowners in 2015 according to an Angie's List survey. Quoted in the same survey, Tom Sertich, President of Kirk Development Company, says that spending on the bath remodel is up by $5000, from $15,000 to $20,000.
"At least 60 to 70 percent of the homes we're designing now have home spas to some degree." Robert D. Henry, Architect, New York
When we talk about current trends in steam, we feel pretty confident that these trends aren't just a fad. In fact, it's important to realize that steam therapy has been around since the Bronze Age. Ancient Roman Baths, Morroccan Hammams, Native American Sweat Lodges and Japanese Onsen are all part of the history of steam.
>> See The History of Steam Bathing.
Steam is an eco-friendly luxury. One of the most important things we can talk about right now is water usage, especially in view of growing drought concerns.
A typical 20 minute bathing session in a standard whirlpool uses 80 gallons of water whereas a 20 minute steam shower session uses 2 gallons.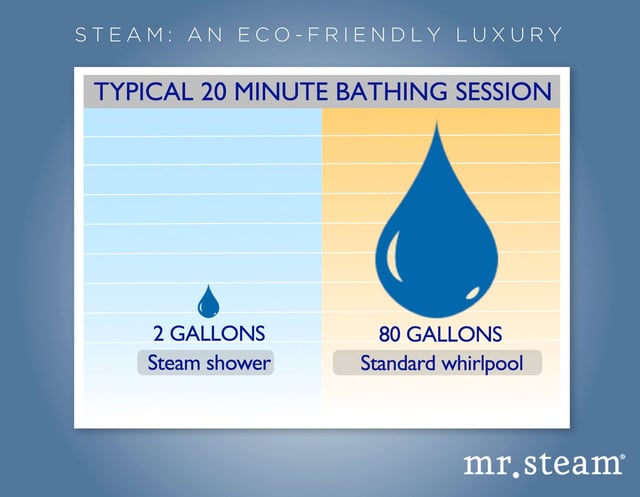 Furthermore, MrSteam steam shower generators are made from naturally corrosion-resistant 100% recyclable stainless steel.
What is a Steam Shower, from a Customer's Perspective?
There are so many good reasons to choose steam - whether you've got a client who wants it for the holistic health benefits, and is sold by the eco-friendly aspects of steam, or a client who's in it for the skin care benefits and is sold by the relaxation factor. But whatever your client's motivation, once she has decided to install a steam shower, you are ready to discuss details for her particular project.
>> See Dear MrSteam: How My Steam Shower Changed My Life.
What Do You Need For A Home Steam Shower?
A steam shower is a type of bathing where a humidifying steam generator produces water vapor that is dispersed around a person's body. It is added to the typical features of a bathroom shower. To transform a bathroom into a wellness retreat complete with steam shower, you will need at the very least:
A completely enclosed shower space including: 7'- 8' ceiling and a gasketed door
A properly sized steam generator
A standard shower floor drain
A steam head
A standard shower head
Sloped seating
Vapor-sealed light fixtures
The ideal steam room experience consists of the following:
An adjustable operating temperature range (90°F – 120°F)
A wet environment experience
The length of the Steam Session is adjustable - sessions lasting 10-20 minutes are commonly recommended
Allow 10 minutes for tile and natural stone to pre-heat
Controls feature temperature sensors
Customization including wireless devices, apps, pre-sets, Aroma, Chroma and Music Therapies and also Bath & Body Therapy
>> See 13 Frequently Asked Questions About Steam Showers Answered.
>> See 15 Tips to Consider Before Installing a Home Steam Shower.

If you come across any misconceptions about steam when you discuss it with clients or a significant other, we have just the answers you need to debunk those myths!
>> See Debunking the Myths About Home Steam Showers.
Customize That Steam Wellness Retreat!
A MrSteam steam shower offers many customizable options. For example, there's iSteam. It is a sleek, 1/8" thick, nearly flush mount, moisture-proof control pad with swipe-touch simplicity that's as easy to use as a smart phone. It allows control of every aspect of the steam experience (including AutoStart). It was created by world-renowned Industrial Engineer David Farrage, who focused on user simplicity and intuitive experiences.
>> See Bring 5 Steam Shower Benefits Home With iSteam 2.0.
There's iTempo and even a wireless iGenie so you can remotely pre-heat your steam shower from up to 100' away with the one-touch water-resistant control.
For a full SteamTherapy experience, combine Steam and MusicTherapy to manage stress with flush mount, moisture-resistant, in-shower speakers that can accept input from almost any audio source.
"Music washes away from the soul the dust of everyday life." Berthold Auerbach
>> See Why Music and SteamTherapy Belong Together.
Combine Steam and ChromaSteam to enhance your mood elevation. Set the mood with Vapor-sealed low voltage LED modules that can be set for continuous color, or to cycle through 6 colors (including white light), slow changing lights (chameleon) and fast changing cycle (disco).
>> See How to Install the Chroma Light Cable and Light Up Your Steam Room.
Combine that with AromaTherapy so you can relax or invigorate with an on-demand AromaSteam system that automatically infuses aroma oil into a steam environment. Doing so with lavender, for example may promote soothing relief from stress and tension.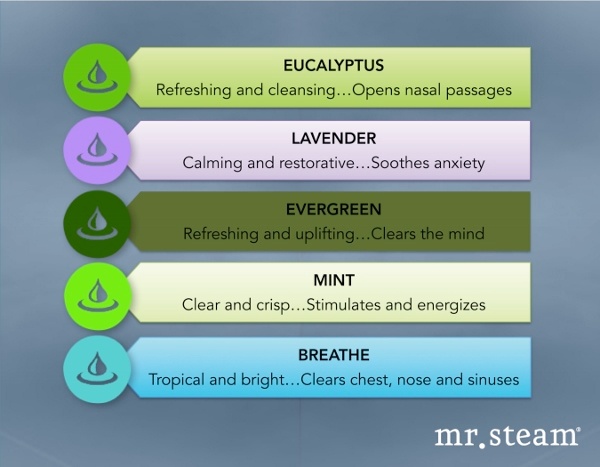 >> See How to Add AromaTherapy to Your Steam Shower to Invigorate Mind and Body.
Finally, consider Bath & Body Therapy to bring the history of steam bathing into the present with TALA body therapy products derived from the Moroccan landscape…
>> See Simply Heavenly: TALA Bath & Body Gift Set Review.
Don't forget towel warmers! They come in a variety of styles and finishes, available with AromaTherapy, digital timers and in either hydronic or electric models.
>> See Mr. Steam Answers 15 Towel Warmer Questions.
Your Basic Steam Shower Planning Checklist
Here is a basic planning checklist for a steam shower. This outline will help you walk through the questions you should ask clients so you can help create their dream steam shower wellness retreat.
Size of the shower - at a minimum, you'll need 36" x 36" for a one person shower or 48" x 60" for a two person shower
Full service access to steam generator
Waterproofed area with ventilation or humidistat/occupancy sensor
Seated space 18" high and 15" deep with bullnose edge
Full back-rest area free of small tiles
Steam controls located within easy reach
Steam head located across from bather
Shower door with gasket and transom above
Tile and finishes approved for use in steam showers
Waterproof membrane
>> See Top 10 Considerations Before Installing a Steam Shower.
>> See How to Design a Steam Shower Bathroom: Corey S. Klassen Explains.
Why Suggest Steam To Your Clients?
Because It feels good!
"I have long recommended steam therapy for its health benefits and use it frequently myself. Unlike the dry heat of most saunas, it soothes the nasal passages and respiratory tract, relieves congestion, and clears the sinuses. It relaxes the mind and body and neutralizes stress. After trying a number of home steam therapy systems, I have found MrSteam products to be the best. They allow me to enjoy steam therapy regularly, just the way I like." Dr. Andrew Weil .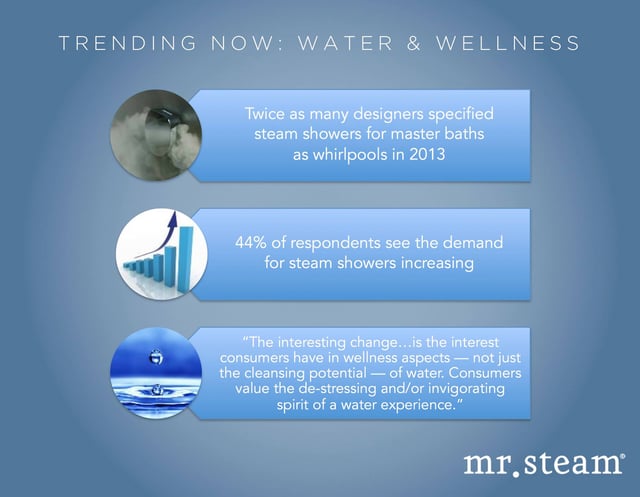 >> See Steam Bathing 101: Seven Steps for an Effective Steam Bath.
Steam Shower 101 Resources
These resources will provide you with more information about steam showers:

Be sure to follow us on Social Media:

Here is the full Steam Showers 101 presentation:

Do you feel ready to turn your next bathroom project into a wellness retreat? Let us know if you have any questions.
ChromaSteam, iGenie, iSteam, MrSteam, MusicTherapy and TALA Bath & Body Therapy are registered trademarks of MrSteam.