Is Your Bathroom Big Enough For A Steam Shower?
---
You want steam, but are wondering if your bathroom is big enough for a steam shower? A Steamtherapy reader recently asked us about installing a Mr.Steam steam shower in two tiny bathrooms, one 5'x5' and the other 4'x4', in a comment on our recent post, Yes, You Can Have a Steam Shower in a Small Bathroom. To help us answer this question, George Anderson, Mr.Steam Regional Manager is here with information and perspective on steam shower sizing.
Bathroom Size vs. Shower Enclosure Size
Let's first start by clarifying the difference between bathroom size and shower enclosure size.
When you are thinking about installing steam in your bathroom, it's important to focus on the size of the shower enclosure rather than the overall bathroom size. In particular, you will need to know the volume of the shower enclosure (i.e., Width x Length x Height) to select the right size generator.
Next, you'll want to consider the materials used in the shower enclosure since they will affect heat loss.
>> See Tile Steam Shower? Marble Steam Shower? What's the Difference? (which features our video, Materials Matter).
With that information, you can determine what size steam generator you will need. A great tool to use is the Mr.Steam Virtual Spa. It will calculate the optimal generator size and compile a list of components needed that you can review with your local Mr.Steam Dealer.
>> See How to Size a Steam Shower Generator? Try Our Virtual Spa System
Minimum Shower Size For a Steam System
Many different sized showers will fit in a 5'x5' bathroom. However, for a shower enclosure utilizing a steam system, the minimum size we recommend is 36" x 36" x 7'.
That way you have enough space to stand or sit on a fold-up seat installed away from the steam outlet head.
>> See How To Design a Steam Shower Bathroom: Corey S. Klassen Explains
>> See Steam Bathing 101: Seven Steps For an Effective Steam Bath
Ideal Mr.Steam Product For a Small Bathroom & Shower: Steam@Home
The Steam@Home package from Mr. Steam is ideal for starter homes, urban living and guest baths. It is designed for smaller spaces (and tighter budgets) and provides you with the luxury of steam in a shower enclosure as small as 3' x 3 ' x 7'.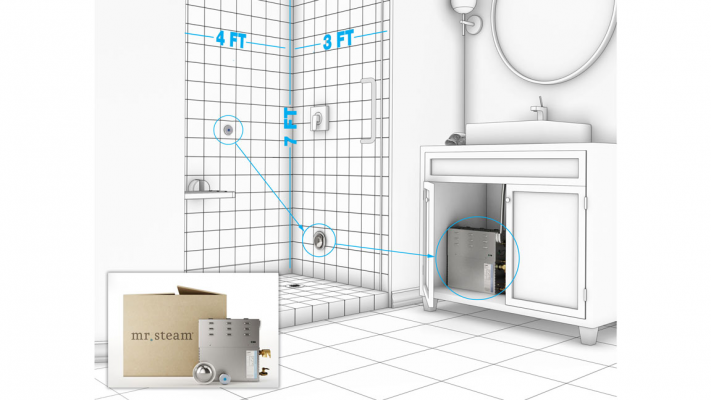 The Steam@Home package includes a generator, steam head and on/off switch. It uses less than one gallon of water for a 20 minute steam session.

Work With a Professional To Install a Steam Shower in a Small Bathroom
To install a steam shower system, work with a licensed remodeling contractor in your area. If you are remodeling and adding steam to your existing bath, you will need a vapor-proof steam enclosure for your shower. A good remodeling contractor can help you with the planning and installation. A registered Mr. Steam dealer in your area can recommend several remodeling contractors if you need assistance.
>> Download the Steam@Home Steam Shower Guide!

Let us know if you have any other questions about installing a steam shower in your home.