How to Transform a Bathroom into a Vacation Spot
---
Our clients are demanding in the best way. Take, for example, the extension of a recent client's home into a new lot in Boca Raton, Florida.
The client's goals were to mix the comfort of home with the luxury of a 5-star hotel. In essence, the client wanted the feeling of being in a remote place in their own home.
Design Challenges
The house overlooked the Atlantic Ocean from the patio, and we wanted to seamlessly integrate the serenity of the sea with the luxury comfort found in the most prestigious hotels. At the same time, we didn't want to sacrifice the coziness of home.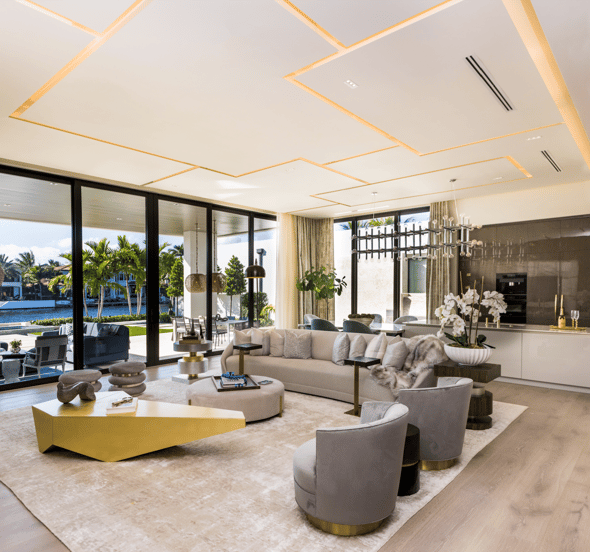 We decided to combine serenity with coziness by creating the feel of a permanent vacation. The home would feel like a "vacation house."
Our first challenge was to fulfill the client's high expectations. This meant not only bringing every detail to life, but also envisioning and creating what didn't exist yet. I designed a lot of intricate details.
For example, I drew the living room ceiling with inspiration from the artist Mondrian using his pictorial vocabulary of lines, with a knife edge bathed in light, conveying modernism.
This was exceptionally tough from pencil drawing to CAD. Every last detail had to be planned out and executed meticulously. Overcoming it required a lot of patience, communication, tireless meetings, and trial and error.
However, the most prominent design problem we faced was creating that feeling of being in a remote place in their own home.
A feeling that would take away the urgency of everyday life.
Healing the Soul
I believe that design, like art, helps heal the soul.
That's one reason why wellness is paramount in our designs. While aesthetics are a priority, we design spaces full of life and energy. I want my clients to feel at peace with the well-being of mind, body, and soul.
Stress permeates life, and the last thing anyone wants is to bring that stress home. So, I always approach each project intending to make the home a sanctuary – with moments for rest and relaxation in every corner, from the kitchen to the powder room.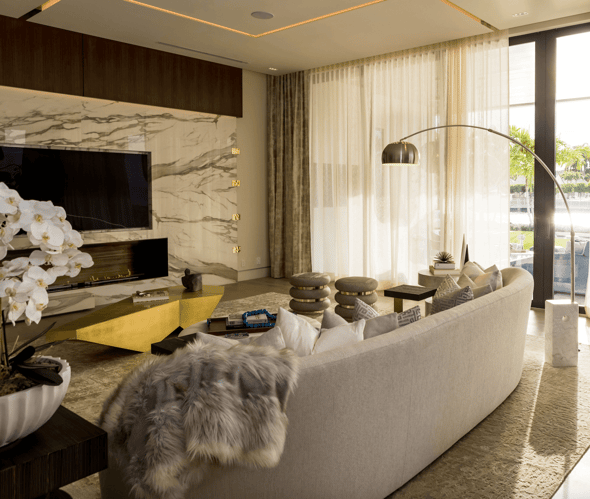 Bathrooms as Wellness Centers
The bathroom is the jewel of the house and the perfect place to incorporate the feeling of Zen we all seek at the end of a busy day. It's the spot in the home where we find reassurance as we prepare for the day ahead.
The bathroom knows our hidden secrets; it's where we can be our true selves.
The bathroom is our refuge: our confessional. It should meet you where you are.
Inside the bathroom, we incorporated aesthetically pleasing, wellness-promoting elements:
A steam shower creates the ambiance of a luxury spa with accompanying health benefits.
Lighting can work like medicine. Long periods of little or no light can increase feelings of depression in some people.
ChromaTherapy, also known as color therapy, helps fill us with the energy of color. Each color transmits something different, and the right colors exude positive energies.
The therapeutic scents of AromaTherapy add inviting aromas to elevate the mood and de-stress us.
When remodeling bathrooms, we enlarge the bathroom spatially or visually. A careful selection of fixtures and layouts can make a space feel larger than it really is. Small or very cluttered places can feel suffocating and claustrophobic.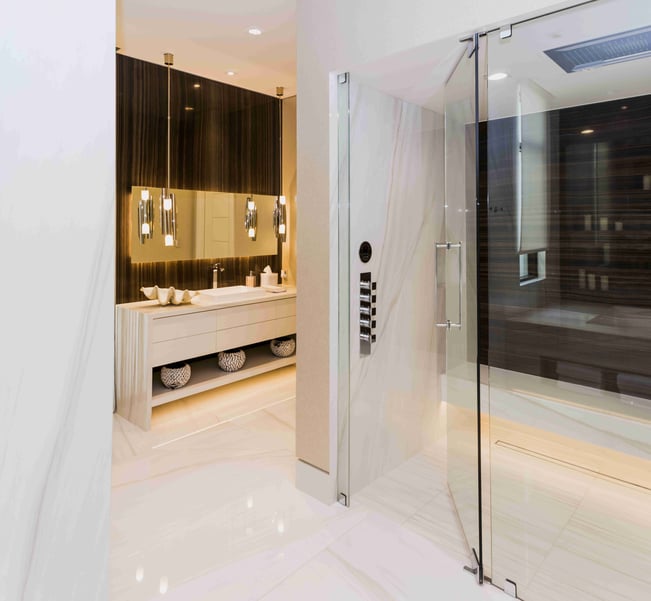 When asked to design a bathroom with wellness in mind, I always recommend steam showers to our clients. Steam is excellent for the skin, respiratory system, and circulation. It also creates that very feeling of luxury that the client wants.
Steam has a long history of being used therapeutically.
Ancient Egyptians, Romans, Japanese, Chinese, etc., have used heat/steam therapy for centuries.
Before steam was readily available, the Japanese obtained the steam of the Onsen from volcanic hot springs centuries ago. Now, we can bring that Onsen into the home, along with a feeling of eternal youth.
Aesthetics and Safety in Design
Everyone entering a bathroom should feel safe when using it. We've found it is possible to create a beautiful, functional, wellness-centered bathroom that is safe for the user without sacrificing design.
Non-slip floors are crucial. It is okay if tiles or other floor surfaces shine, but they should not be slippery. For comfort and safety, a balanced water temperature is vital. Replacing an outdated water heating appliance saves money.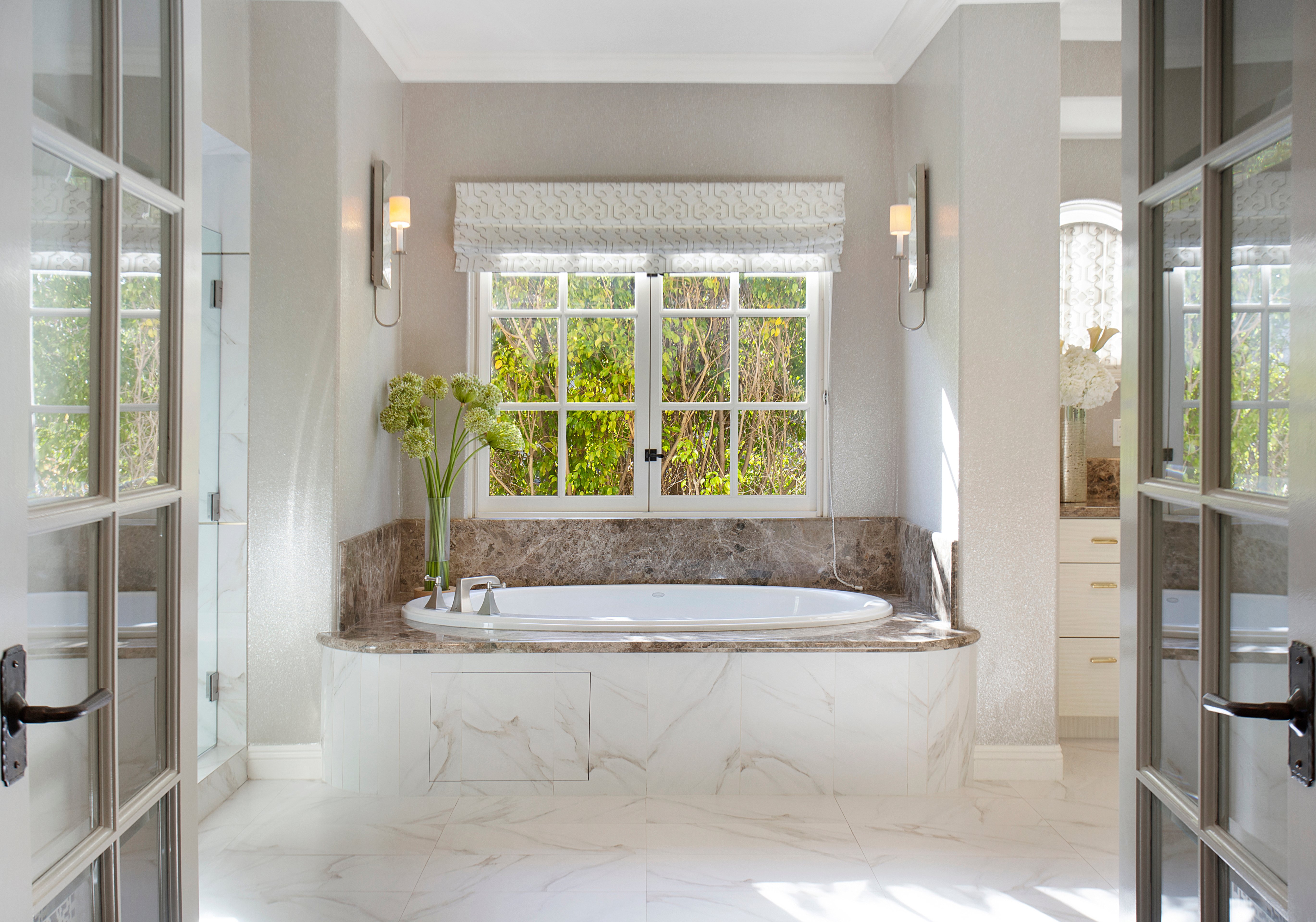 Consider the placement and height of the cabinets. We always recommend drawers over doors since they are more comfortable to use.      
Obstacles on the floor and within the space, such as a step to the shower, should be eliminated.
We try to avoid a step in our designs whenever possible. Our usual solution is to make it a wet bathroom or reverse the step to the inside of the shower. This creates a cleaner look, is safer, and is more durable over time.
With planning and attention, we provided the experience the client wanted: the remoteness of a vacation inside their cozy home.
---

Raised in a multifaceted family full of style, Marbé Briceno was gifted with a keen, talented, and educated eye for art and design. Her mother, an impressionist artist, and her father, a builder and political activist, she's been surrounded by creativity and passion from a young age. See more of her work at https://marbedesigns.com.
The statements in this article are applicable to the author's experience. Your results may vary and may not be representative of the author's experience.