If You Build a Steam Room, Will They Come? – How to Attract More Members with Steam
---
Gym and spas can be a financial windfall, but only when they attract enough members. One way to do this is to add attractive amenities like a steam room. This can help you grow your membership and consequently generate more revenue in the long run.
Imagine a member of your gym or spa coming in to freshen up, and then they find something new that adds to their fitness regime and benefits their bodies in many ways.  
What are the Benefits of Having a Steam Room?  
Installing a steam room can attract more customers and give you a better return on investment. A steam room is an additional amenity to your business that offers multiple benefits to you and your customers.  


Return on Investment (ROI)
No matter how much money you are making from your gym or spa, wouldn't you mind if you generated a little more profits? After all, more money creates more stability and growth for your business. One of the most significant benefits of adding a steam room to your spa or gym is that it can attract new and existing customers to your business.
With a steam room addition to your spa or gym, you can gain financially as your customers tell their friends and family about your newest amenity.  Word-of-mouth referrals are a powerful way to get more members.
Similarly, you will open your doors to members who would only affiliate with businesses that provide steam showers.


Prepares For Other Treatments
A steam bath can be a great way to prepare spa members for a massage. When first-time customers visit your spa, they may be overwhelmed and excited with the available treatment options.
Many people may feel sore muscles and stress, and all they'd want when they come to the spa is to go straight for a massage. If you have a steam room, your customers can use it before getting a massage. It prepares the body for deep tissue massage. The steam bath can relax the body, soothe sore muscles, and moisturize the skin.
The body gets relaxed, ready, and open to receiving a massage. The muscles will also be warm and ready to stretch and relieve tension. 


What's In It for Members? 
Steam showers are ideal for members looking for luxury and enjoyment. People have used steam showers for thousands of years to rejuvenate and relax. So, adding this amenity to your spa or gym can be an excellent opportunity for your customers to enjoy the moment.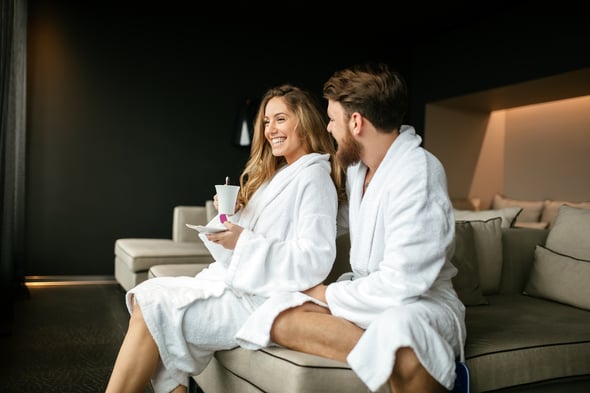 There are multiple health benefits of a steam room for members. Below are a few examples of skincare benefits, respiratory benefits, well-being, and holistic health care benefits for your members:
Cleanses the skin
Hot air mist may loosen bronchial secretions
Can enhance skin appearance
Hot mist may promote sinus drainage
Opens up pores
Opens up nasal passages and promotes optimal breathing
Hot mist soothes the throat
Hydrates the skin
Opens up pores
May boost metabolism
May rejuvenate tired muscles
Helps the body to relax
Helps relieve stress
Adding mood-boosting smells or essential oils can increase comfort and make the members enjoy the feeling.  


How Do You Create a Steam Room For Your Business?
There are several factors to consider when adding a day spa steam system or heavy-duty commercial steam system to your business. Before beginning the project, the primary thing to consider is the size and location of the steam room you want to create.
You need adequate space to accommodate this addition. However, there are other factors to consider such as:
Hours of usage per day  
Steam generator location 
Design of the steam room 
The steam shower's dimensions are determined by the height, breadth, and depth of what you want to build. A larger room requires a larger generator to fill the space.
That's why the successful installation of a steam room begins with choosing the right generator.
Enter your steam shower dimensions and material into Mr. Steam's virtual spa system and immediately get a recommendation for which generator best fits your needs.