Steam Shower Installation Basics From MrSteam
---
If you are a designer or remodeler interested in learning more about the finer points of steam, you've come to the right place! This second chapter of our two-part educational series on steam showers turns up the heat on installation basics, and provides you with the resources you need to create an amazing customer experience with steam.
>>See Part One- Steam Showers 101: How To Turn a Bathroom Into a Wellness Retreat - where we talk about the wellness benefits of steam and provide a basic planning checklist to get your wheels turning.
Planning the Steam Shower Installation
One great thing about steam is that you can go as big or as small as you like in terms of the scope of the project. This applies to whether you are converting an existing shower into a personal steam shower spa and wellness retreat, or taking a blank slate and building out a brand new personal retreat.
Regardless, it's important to plan out the steam shower installation. You will want to consider the overall space, the interior, plumbing, electrical, the steam generator, materials and the rest of the room, including ventilation. Let's explore each step in detail.
Plan the overall size of the space.
When it comes to planning out the overall size of the space you will need for your steam shower installation, it's important to consider the size of the steam room as well as the materials to be used.
MrSteam's formula for the volume of a steam shower is V=LxWxH which is important when selecting the ideally sized steam generator.
We also suggest considering Anthropometry for maximum comfort.
Anthropometry is "the scientific study of the measurements and proportions of the human body."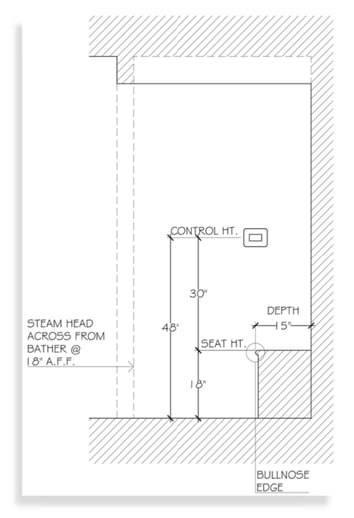 In other words, don't start by giving your customers a minimum size based on LxWxH. Instead, design for maximum comfort. Then, adjust the steam generator to fit that space. The minimum size comfortable for one person is 3' x 3' x 7'.
>> See Steam Showers and the Science of Human Comfort
Think about the ceiling.
An 8' ceiling is optimal for a steam room.
The important thing to remember about ceiling height is that steam rises. If you design a room with a grandiose 13' ceiling, your average height client won't be standing in steam. The laws of physics dictate that the steam will be up near the ceiling.
You can go higher than 8' – say up to 10' – but the size of the generator has to be bumped up to compensate for that increased height.
One question we get asked often is whether a slope in the ceiling is required. Unless you are going to be using your home steam shower for more than 45 minutes at a time, we don't think it's necessary.
MrSteam offers several tools to help you figure out which steam generator will work best for your application. You will find them detailed in the resources section at the end of this article.
Plan the interior of the steam room for maximum comfort.
The interior of the steam room should be conducive to relaxation. That means that you should be comfortable for the entire steam session, in a seated position with controls within easy reach.
Bench Seating
MrSteam recommends bench seating within a steam room, either built-in or a shower seat that folds up. You are looking for seating that is a minimum of 15" deep and 18" in height from the shower floor as you see in the sketch below.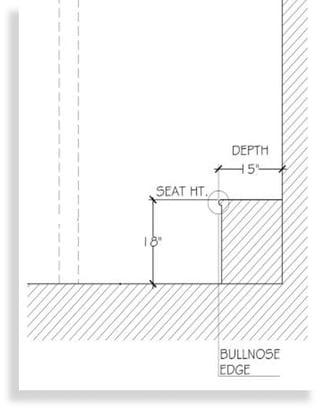 Control Placement
The steam shower control should ideally be placed 4' to 5' above the finished floor, near the bench for convenient access and on the wall opposite from the steam head so it reads temperature accurately. This control placement is important because there's a built-in thermostat within the controls that would not read properly if it were placed directly above the steam head.
The Steam Head and Floor Drain
The steam head should be placed 6" to 12" from the shower floor and on the opposite wall from the control as we just mentioned. It should also be placed away from the bather's head, body and feet.
For the floor drain, you might consider linear drains as you see in the image below.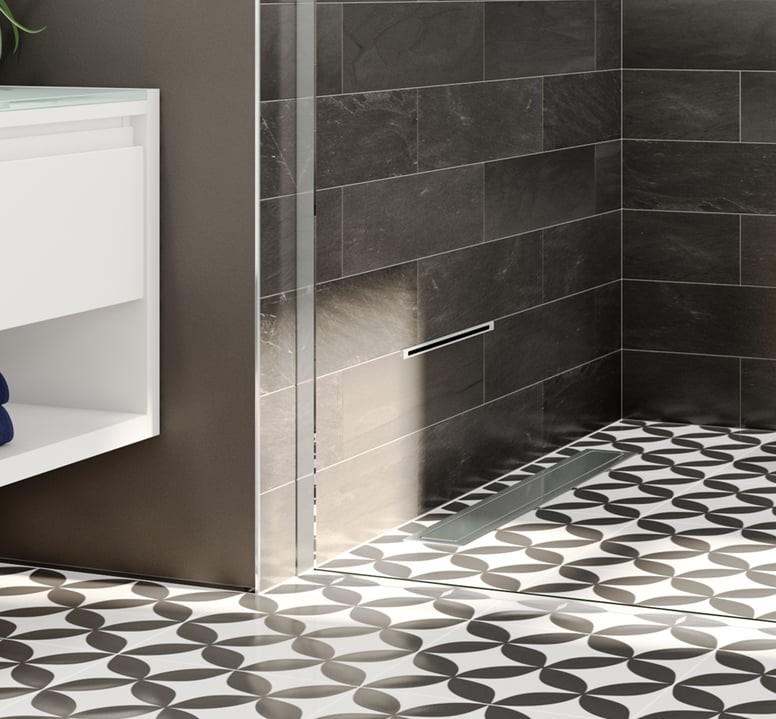 WaterProofing the Steam Bath
It's important to prevent mold and mildew from developing in a steam and bathroom environment. Good options include hot mopping, adding a vapor barrier or using a Closed Cell Membrane (e.g., Wedi-Board).
>> See Dealing With The Unexpected In A Full Home And Steam Shower Remodel
For more information, we encourage you to visit the Tile Council of North America website for frequently asked questions about steam rooms.
Plan the Steam Generator Plumbing Connections.
You should use brass or copper pipe only (no PVC or PEX). Plan for the following connections:
3/8" water line to the steam generator
1/2" steam line from the generator to the steam room
1/2" drain line
You will also want to lower the incoming water pressure if possible to (PRV) 15-25 PSI.
Be sure to use threaded unions for easier repairs. Threaded unions are highly recommended since a steam generator is an electromechanical device and you may need access.
>> See How-To Videos for Steam Generators, Steam Showers and Towel Warmers
Plan the Electrical.
You will need 240V (or 208V) household electric, most likely single phase and a dedicated circuit breaker. No GFI is necessary.
Plan for the Steam Generator.
Where will you locate the steam generator? It can be in a heated attic space, in a closet, or even under a built-in shower bench as long as it is not exposed to the inside of the steam shower space. Be sure to review the electrical and plumbing requirements for the steam generator to determine the ideal placement for it.
This 3:23 minute video titled How To Install a Steam Shower is a great resource.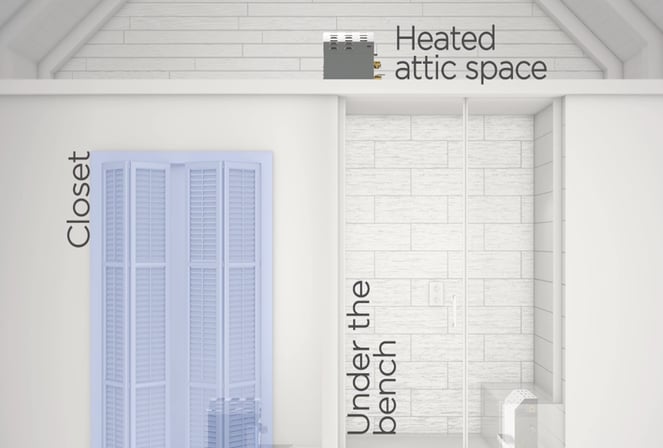 Plan for Materials.
As we mentioned above, materials matter. To maximize efficiency, it's best to choose non-porous materials such as tile and marble for the shower walls rather than porous ones such as slate and mesh-backed mosaics.
If you aren't sure, expose your materials to a soak-test. If they absorb water, they are porous and will require a larger steam generator.
>> See Tile Steam Shower? Marble Steam Shower? What's the Difference?
Plan the Rest of the Steam Room.
Lighting can make a big difference in a steam room. If you plan on including lights, we recommend recessed task lighting using energy efficient halogen 75 watt lamps that are designed for steam room moisture and temperature levels. These lights offer a shower-rated trim & gasket and an attractive recessed ceiling mount for architectural integration. This lighting is US and Canadian Listed/ cETLus.
Plan for Ventilation in the Bathroom.
Here's an important question for you:

We also recommend a standard bathroom exhaust fan outside the steam shower, and louvers to help prevent mildew
If you have windows in the bathroom, we recommend double-paned for exterior windows.
>> See How to Seal Your Steam Shower Windows
Niches for shampoo and other shower items add beauty and utility to the shower space.
Choosing Components for the Steam Shower
There are so many good reasons to choose steam – whether you've got a client who wants it for the holistic health benefits and is sold by the eco-friendly aspects of steam, or a client who is focused on the skin care benefits and is sold by the relaxation factor. Once you've gotten to the point in your client conversation where you're ready to talk details, this is where you start discussing the steam generator, how to customize the steam experience and the look of the components.
>> Watch the 1:25 minute video titled How Steam Generators Work.
Help with Generator Sizing and More
A helpful tool for selecting the different components of a steam bath is the MrSteam Virtual Spa which takes you sequentially through:
Generator sizing page
Control Package selection page
Spa Package selection page
Accessory selection page
Towel Warmer selection page
Summary page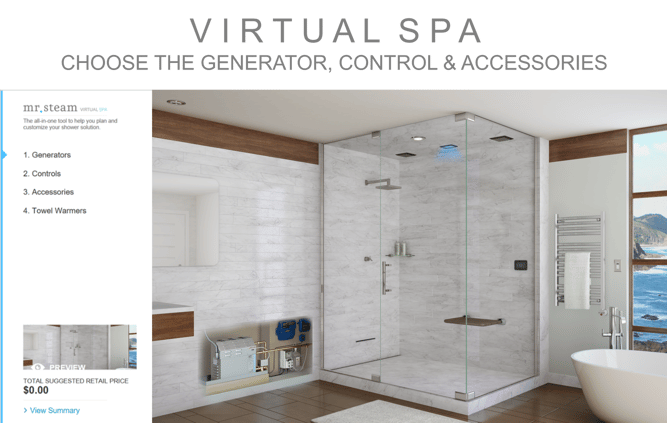 >> See Create a Dream Steam Shower with MrSteam's Updated Virtual Spa
>> See 13 Frequently Asked Questions About Steam Showers Answered
Customization for the Ultimate in WellBeing
One of the most enjoyable parts of the installation planning process is selecting the SteamTherapy customization elements:
>> See How To Add AromaTherapy To Your Steam Shower To Invigorate Mind And Body
Chromatherapy – Set the mood with vapor-sealed, low voltage LED MS Chroma modules which are long-lasting and cool to the touch. Chromatherapy lights deliver chromalogic color selections that can be set for a single color or for a cycle (ETL listed).
MusicTherapy - Express your feelings with AudioWizard and MrSteam 60 Watt peak power two-way speakers which are moisture-resistant, flush mount, marine-grade, and feature powder-coated grills. They are music-ready from virtually any source.
You'll find convenient steam control packages:

Steam Installation: From Beginning to End
This second article in the Ask Dan & Martha presentation series covers steam installation and planning basics. As 'The Feel Good Company,' we are here to ensure that every aspect of what you do build your clients' dreams about steam to life - from installation to the actual experience they'll have with steam bathing - feels good.


Here is the full Steam Shower Installation Basics presentation from MrSteam.
Steam Shower 101 Resources
These resources will provide you with more information about steam showers:
Be sure to follow us on Social Media:
We want to make it easy for you to do your job well and provide you with the steam knowledge you need. Whether it's sizing a generator or figuring out plumbing connections, we're here to help.
We hope you feel ready to create the best possible customer experience. Please let us know if you have any questions.