What Wall Materials Can You Use in a Steam Shower?
---
The effectiveness of your steam shower is a culmination of several factors. It takes a combination of the right steam generator, controls, fittings, contractors, and materials. Think of it as a symphony where a wrong note in one section can impact the overall performance.
Producing and maintaining the right temperature is critical to getting the most out of your steam shower. You need wall materials that are not porous to help prevent the steam from dissipating due to cooling too quickly. While natural stone is popular and without a doubt beautiful, it won't hold in the heat like non-porous porcelain or ceramic tile.
There are many options for steam shower walls that will fit a broad range of design aesthetics. Old materials make a revival and new material choices are always being discovered. Let's look at some of the choices clients ask about and discuss why they may or may not be the right answer.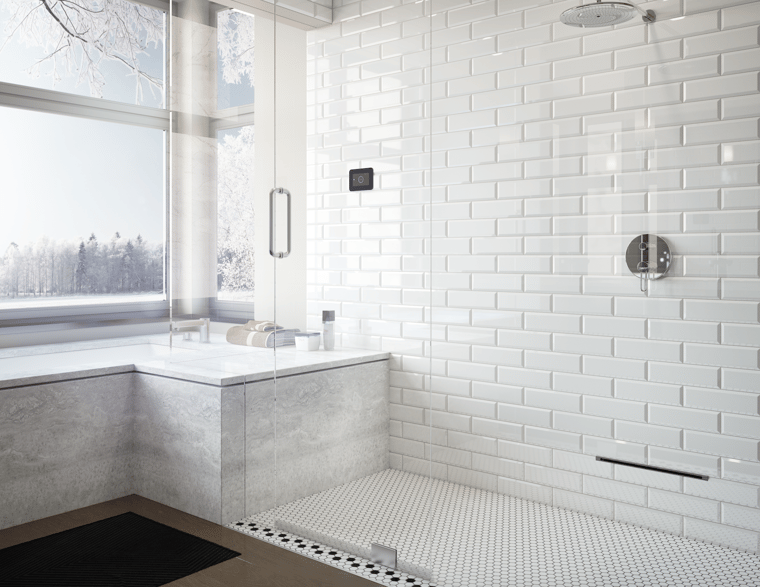 Tadelakt
Tadelakt is a type of waterproof plaster that originated in Marrakesh, Morocco. It has seen a resurgence as modern, minimalistic homes have become more popular. It has a more organic look and feel than ceramic tile, with the added benefit that it requires no grout, is waterproof, and is resistant to mold. So, can you use Tadelakt in a steam shower?
Tadelakt is an option for steam shower walls. It requires the proper installation, sealing, and periodic maintenance to stay waterproof and hold steam. You'll want to inform the design team or contractor that the walls will house a steam shower so that they can take the appropriate steps. To ensure you have the right generator, estimate the room size as you would if you were using a natural stone by adding 50% to the basic room volume. Check with a Takelakt manufacturer to learn more.
Caesarstone
Caesarstone is a thick quartz material. It is not only beautiful, available in a wide range of colors and designs, but durable. Quartz slabs are large, so there are no seam lines and no need for grout. That means easy cleanup and no need to ever worry about crumbling or moldy grout lines that can affect the look of your shower and cause odors or water damage.
Another beneficial characteristic of Caesarstone is that it is antimicrobial. That means you don't have to worry about mold or mildew ever forming on the surface. Quartz slabs also resist scratches and stains, in addition to being highly heat resistant. These qualities make Caesarstone a great option for your steam shower walls.
Wood
Many designers and homeowners add natural wood features to give houses a warm, organic ambiance. It can be used in a sleek modern design or a more masculine or rustic one. Few people can deny the beauty and appeal of wood. That leads many to ask if you can use wood in a steam shower.
While you may see wood walls in a dry sauna, wood is not recommended for steam showers. Wood absorbs moisture when exposed to steam or water. The result can be mold, mildew, wood rot, or leaks and damage from the wood swelling and warping. For these reasons, choose a ceramic tile that looks like wood instead of using natural wood in your steam shower.
Plaster
While there are some types of plaster like Tadelakt that can be used in a steam shower with the proper preparation and maintenance, others are not as waterproof. Venetian plaster is a beautiful and popular finish that may be used on bathroom walls. However, because it is not waterproof, it would not be recommended where it is likely to come in direct contact with steam or water.
Concrete
Concrete made a splash a few years ago when it showed up on shiny designer floors and sleek countertops. It is versatile, fitting in as easily in a farmhouse design as an ultra-modern look. However, it is porous like marble and granite. As we've established, porous materials are not the best option for a steam shower wall material.
Brick
If you are a fan of home renovation shows, you have seen how excited they can get when they take down drywall and discover that there is brick behind it. Brick can add a warm, homey, or rustic element to a room. Unfortunately, like concrete, brick is porous and not a good choice for a steam shower. Look for a brick design in a ceramic or porcelain tile instead.
While There Are Many Options for Walls, Not All Are Suited for Steam Showers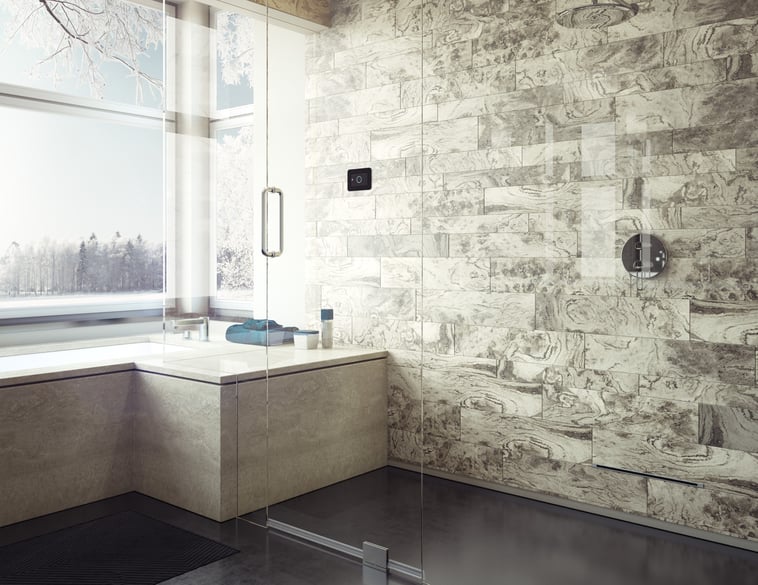 The bottom line when you create a steam shower is that you want it to work efficiently. There is no reason you can't also have the look you want. There are many options that are beautiful and non-porous, making them a perfect steam shower wall material.
Unfortunately, some of the materials that are popular in home design must be relegated to areas other than your steam shower. The good news is that there are many materials like quartz, porcelain, and ceramic tiles that come in numerous colors, designs, and styles that can fit with any design.