Perhaps you recently got away to a delightful resort or spa where you enjoyed the incredible relaxation of a steam shower. You may be wishing you could have that same wonderful experience at home every day.
The good news is, you can have a home steam shower!
It's surprisingly easy and affordable to bring home the health and wellness benefits of a steam shower so you can have a mini-vacation any time you need one. Adding a steam shower doesn't have to be a major project, either. You can even retrofit an existing shower.
If you're not familiar with home steam showers, here's a quick tutorial.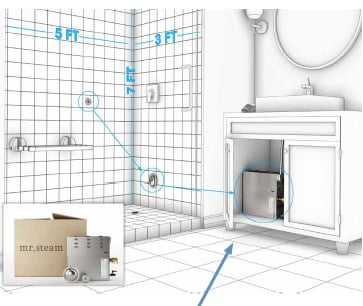 Home Steam Showers 101
What Is a Home Steam Shower?
A steam shower is a floor-to-ceiling shower enclosure where you can enjoy all the invigorating benefits of steam.
How Does a Home Steam Shower Work?
A generator, typically no larger than a briefcase and often installed in a vanity or closet, heats the water to a boil. You push a button, delivering the resulting steam from the generator to the steam head outlet and into your shower enclosure. And then you relax and enjoy the luxury of steam. It's really quite simple.
>>>For more information about steam generators, read Buying a Steam Generator? Look For These 13 Features!
What Do You Need to Install a Steam Shower at Home?
You may be surprised at how little it takes to retrofit your shower to a steam shower.
A steam-tight shower enclosure made of tile, marble, natural stone or

acrylic, fiberglass or another composite.

A shower enclosure – it can be as small as 3'x3'! (See Yes, You Can Have a Steam Shower in a Small Bathroom.)
A ceiling sloped one inch per foot away from the steam bather to prevent condensation.
A maximum recommended ceiling height of 8'.
A generator that easily can be placed in a closet, vanity,

basement or heated attic.

A control to activate the steam.
A water line to the generator, a steam line from the generator to the steam shower enclosure, and a drain line.
Access to an electrical supply, either 220v or 208v.

What does a home steam shower cost?
You can have the luxury of a home steam shower starting at just $1,250 (exclusive of installation) for a Mr. Steam Steam@Home system. And that even includes the added amenity of aromatherapy.
Who does the installation?
A licensed electrician and plumber.
Where do you start?
You can begin your at-home wellness journey in three easy steps:
Download the free Steam Shower Buying Guide for more information on home steam showers.

Start planning your home steam room

with the fun and easy-to-use Mr. Steam VirtualSpa. It quickly shows you all kinds of options and prices out each of your steam shower choices. (See How to Size a Steam Shower Generator? Try Our Virtual Spa System for more information.)

Visit an authorized

Mr. Steam dealer to learn more about home steam showers.
Congratulations, you've earned an A+ in Home Steam Shower Basics!
Now that you've mastered the basics, you're ready to learn more about added amenities like AromaTherapy, ChromaTherapy, MusicTherapy and the advanced iSteam touch-pad controls. Bringing home the benefits of steam never felt so good.