Perhaps you recently got away to a delightful resort or spa where you enjoyed the incredible relaxation of a steam shower. You may be wishing you could have that same wonderful experience at home every day.
The good news is, you can have a home steam shower! 
It's surprisingly easy and affordable to bring home the health and wellness benefits of a steam shower so you can have a mini-vacation any time you need one. Adding a steam shower doesn't have to be a major project, either. You can even retrofit an existing shower. 
If you're not familiar with home steam showers, here's a quick tutorial.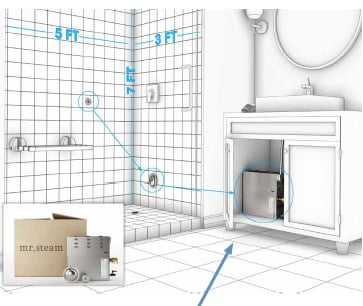 WHAT IS A HOME STEAM SHOWER?
A steam shower is a floor-to-ceiling shower enclosure where you can enjoy all the invigorating benefits of steam. They typically function as standalone installations that essentially convert the shower experience into a humid tropical atmosphere. As a result, they can easily relax the user much like a sauna.
One of the main benefits of installing a home steam shower is the eco-friendly nature of these installations, as they don't use as much water as conventional showers. 
HOW DOES A HOME STEAM SHOWER WORK? 
A steam generator, typically no larger than a briefcase and often installed in a vanity or closet, heats the water to a boil. You push a button, delivering the resulting steam from the generator to the steamhead outlet and into your shower enclosure. And then?
Relax and enjoy the luxury of steam. It's really quite simple.
In addition to a generator, you will have the ability to switch the steam on or off using digital controls. When turning the system on, an electric valve forces cool water into the generator. From there, the generator begins heating the water until it boils. The end result is the release of steam into the shower, creating the perfect experience.
WHAT DO YOU NEED TO INSTALL A STEAM SHOWER AT HOME?
You may be surprised at how little it takes to retrofit your shower to a steam shower.
A steam-tight shower enclosure made of tile, marble, natural stone or acrylic, fiberglass or another composite.
A shower enclosure – it can be as small as 3'x3'! (See Yes, You Can Have a Steam Shower in a Small Bathroom.)
A maximum recommended ceiling height of 8'.
A generator that easily can be placed in a closet, vanity, basement or heated attic.
A digital control to activate the steam.
A water line to the generator, a steam line from the generator to the steam shower enclosure, and a drain line.
Access to an electrical supply, either 220v or 208v.

WHAT DOES A HOME STEAM SHOWER COST?
You can have the luxury of a home steam shower for as little as $1,250 (excluding installation costs) for a MrSteam Steam@Home system. And that even includes the added amenity of AromaTherapy.
One of the main misconceptions about steam showers is that they're only affordable for wealthy homeowners. However, you really don't need to spend as much as you might think on one of these installations with the right provider.
When estimating installation costs, one important factor to consider is the nature of your walls' construction and the size of the shower.
For instance, if your wall consists of porous materials or the shower will be 3' x 3' x 7' or larger, this installation will require a larger generator to produce a sufficient level of steam.
Other factors to consider if you want to find out how much your steam shower will cost include:
Material Type — You may require certain types of materials that could influence the total cost of installation. Specifically, the porosity of your shower walls will help determine how much the installation costs. Porous materials would add on to the shower's volume calculations, whereas non-porous materials like porcelain, ceramic, and glass on mortar or cement won't require any add-ons.
Digital Control— You may use either a wired or wireless control system, with wireless controls requiring less time and work to install. Additionally, consider the level of control you want over your steam shower—some controls include a simple button while others include many controls that help you control every aspect of the shower experience. The more complex the controls, the higher the cost.
Steamhead —

You have multiple steamhead options to choose from, including our

AROMA GLASS STEAMHEAD

,

AROMA DESIGNER FINISH STEAMHEAD

, and the

LINEAR STEAMHEAD

. Our linear systems require more labor than our aroma options, but it can be worth it as it provides an even flow of steam into the shower.

SteamTherapy — You can also install your steam shower with other therapy options that fully transform the space, including our ChromaTherapy, MusicTherapy, and AromaTherapy products.
Local Labor Costs — Multiple professionals will help install your steam shower, including tile installers, plumbers, and electricians. The rates that these professionals charge will depend on the local labor rates, making it important to look at the kinds of costs you can expect in your area.
WHO DOES THE INSTALLATION?
A licensed electrician and plumber will complete the installation, along with a tile installer in many cases. This is why it's important to know how to hire a contractor to install your steam shower.
A licensed plumber will be able to make all the water connections for the steam shower, connecting the steam generator to your bathroom's water supply feed. The plumber is also responsible for connecting the steam line to the shower and installing the drain line. Your plumber should know the local building codes before starting work.
In addition to a qualified plumber, you'll want to find a licensed electrician in your area to help install the generator. Your generator will need sufficient electrical power to function, which an electrician can help facilitate. Electricians can make all wire connections and install a circuit breaker that's exclusive to the shower. Additionally, an electrician may be able to protect new vapor-sealed lighting systems by installing a dedicated ground fault circuit interrupter (GFCI), which shuts the system off if moisture gets into the system. 
Like your plumber, your electrician should have a valid license to practice in your state. The electrician should also have insurance and offer a service warranty, as well as plenty of references.
Finally, you'll need to hire a contractor to help moisture-proof the steam shower by installing tile, marble, or other materials. The right contractor will be able to help you determine which materials are best for your shower and install them properly.
WHERE DO YOU START?
You can begin your at-home wellness journey in three easy steps: 
Download the free Steam Shower Buying Guide for more information on home steam showers.
Start planning your home steam room with the fun and easy-to-use Mr. Steam VirtualSpa. It quickly shows you all kinds of options and prices out each of your steam shower choices. (See How to Size a Steam Shower Generator? Try Our Virtual Spa System for more information.)
Visit an authorized Mr. Steam dealer to learn more about home steam showers.
CONGRATULATIONS, YOU'VE EARNED AN A+ IN HOME STEAM SHOWER BASICS!
Now that you've mastered the basics, you're ready to learn more about added amenities like AromaTherapy, ChromaTherapy, MusicTherapy and the advanced iSteam touch-pad controls. Bringing home the benefits of steam never felt so good.