How to Hire a Contractor to Install Your Steam Shower
---
Congratulations! You've discovered the benefits of steam at a gym or spa. And now you're ready to create a spa-like setting right at home.
So, what are the next steps to setting up your steam shower? First of all, identify the right professionals for the job, ones that have the expertise to install the home steam shower of your dreams.
Although installation is not complicated, a steam bath system, like any major home remodel project should be done by knowledgeable experts. If you are working with architects or designers, they may have a crew in place to bring their vision to life. If you are hiring your own installers, here's what, and who, to look for when making your hiring decision.
>> See 15 Tips to Consider Before Installing a Steam Shower
Hiring a Plumbing Contractor to Install your Steam Shower
You'll need a licensed plumber to make all the necessary water connections for your steam room. Your plumber will install the water supply feed to the steam generator, the steam line to the shower, and also install the drain line from the generator. Make sure you find someone who knows the building codes in your area.
>> See How To Install a Steam Generator: 3 Min. Video from Mr.Steam

What's the best way to find a reputable plumber? Friends and family can be a wealth of information. Perhaps a neighbor used a local plumber and loved the outcome, or maybe your co-worker had a fantastic experience. But before you hire anyone, make sure to get the plumber's license number and service warranty. You might pay a bit more for exceptional workmanship, but getting quality service and peace of mind is worth it.
A good plumber will typically provide a service warranty of 12 or more months. Be sure to ask for references and call them.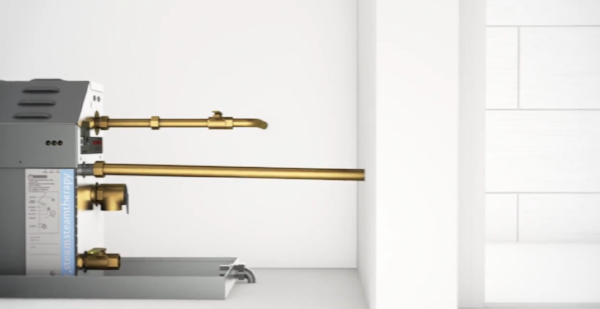 Hiring an Electrical Contractor for your Home Steam Shower Generator
Your steam bath generator needs electrical power, so an electrician for your steam shower is next on the list.
Your electrician will wire the necessary electrical connections and install a dedicated circuit breaker. If you are switching out the lighting for vapor-sealed steam shower lighting, he or she will also protect it with a ground fault circuit interrupter (GFCI), which will shut off the power if it detects moisture in the fixture.

Again, ensure that your electrician is fully licensed by your state, insured and has an acceptable service warranty. And you may want to consider using someone recommended by a friend or family member. Be sure to check references before you hire them.
>> See How to Install a Steam Generator with iSteam Control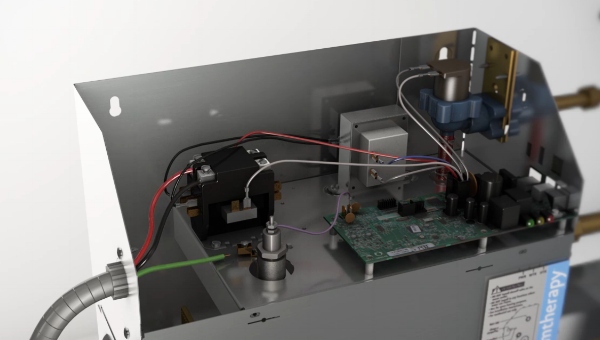 Hiring Contractors for the Shower Enclosure, Tile, Marble and Other Surface Materials:
Now that you've got the electrical and plumbing components covered, the next step is ensuring that your new steam room is moisture-proofed. Make sure to find someone who knows which wall boards and vapor barriers are best for your steam shower.
Next is installation of your surface materials. Having an expert contractor install your specified surface materials is crucial in a steam room to keep the moisture from seeping into your walls and ceiling.
>> See Tile Steam Shower? Marble Steam Shower? What's the Difference?

Tap into your network for recommendations yet again. Or, you can also get suggestions for expert installers at your material supply house.
Be wary of offers from a carpenter or a contractor who's not an expert in the surface you've chosen. For example, a tile expert may not know the intricacies of marble installations. He or she might do a good job, but there are no guarantees, and they might not offer a service warranty. Quality surfacing is the backbone of your new bathroom. Don't assume that just anyone can do it.
Hiring Other Professionals for Your Installation:
Depending on your particular application, you might need other professionals. For example, you'll need a glass fabricator if you plan to include custom glass panels or a custom steam door. In general, when vetting any professional, make sure he or she is licensed and has relevant experience.
>> See How to Seal Your Steam Shower Windows
Additionally, make sure to safeguard your project by confirming that whoever you hire is fully bonded (meaning they have money stored away in case a claim is made against him) insured and offers a good warranty on their work.
What About After the Installation?
Post-installation, if you require any service work on your steam bath shower, MrSteam provides a service locator tool that will connect you with a qualified service professional. These pros are vetted by our technical service team and have experience in both plumbing and electrical work. Simply go to the tool and type in your ZIP Code to find a professional near you.
If you have other questions about how to hire a contractor for installing your home steam shower, let us know in the comments.