Thinking of Creating a Steam Shower? These 7 Essentials Will Guide Your Way
---
Adriane Berg, JD, is a leading communicator on issues of aging. A popular podcast host and blogger, she is executive director of the Kitalys Institute and a New York Times Age Boom Fellow.
When I recently moved from New Jersey to Palm Springs, California, I had to decide what to take and leave behind. After some soul searching, I realized that it was the experiences my home provided, not the "stuff" in it, that I would miss most. But I could not take them with me.
Fortunately, I could rebuild my luxurious home spa in my new condo, with MrSteam as the centerpiece. Along with its features of aromatherapy and music, it had lulled me into better sleep for many years. So, I resolved to install another steam shower in the new place.
But not so fast…
Not only had MrSteam evolved in the years since the first installation, but my husband and I had changed too. And the condo, with its smaller but "done" master bath, was much different than the gut bathroom renovation I had done years ago. So, even a veteran MrSteam user like me was on a learning curve. That is why I assembled this short guide to make it easier for you to bring wellness into your home.


1. Consider how you and your family will use MrSteam.
Get clarity around the purpose of steaming in your life. You may have your heart set on a home spa in your master bath, but it may be more realistic to place a unit in a guest bath and create a separate retreat in a less hectic space.
Or your spouse may plan to use steam to help soothe joint pain in addition to over-the-counter creams or CBD rubs. Or someone with limited mobility may be using your steam shower and need barrier-free access.
To get a realistic idea of how you and your family will experience steaming:
Ask the family how they see its use.
Take a steam bath at a luxury day spa and think about the features you liked best.
Sit quietly, close your eyes, and envision yourself steaming. What did you imagine?
You can have it all if you plan for it all.


2. Consider where you will place your unit.
The size of your space is one factor in the size of your MrSteam unit. If the shower height is more than eight feet, you probably need a bigger steam generator. Where I live in Palm Springs, condos have high ceilings. It is a "modernism" must. I discovered that a slightly bigger generator and a transom above the new shower door allowed me to enjoy an impressively high space for steaming.
The width of my shower was ideal: 36 inches. But in my original bath, I had a much larger shower with no barrier or even a door. The full bath became a steam room … so, do not count any space out.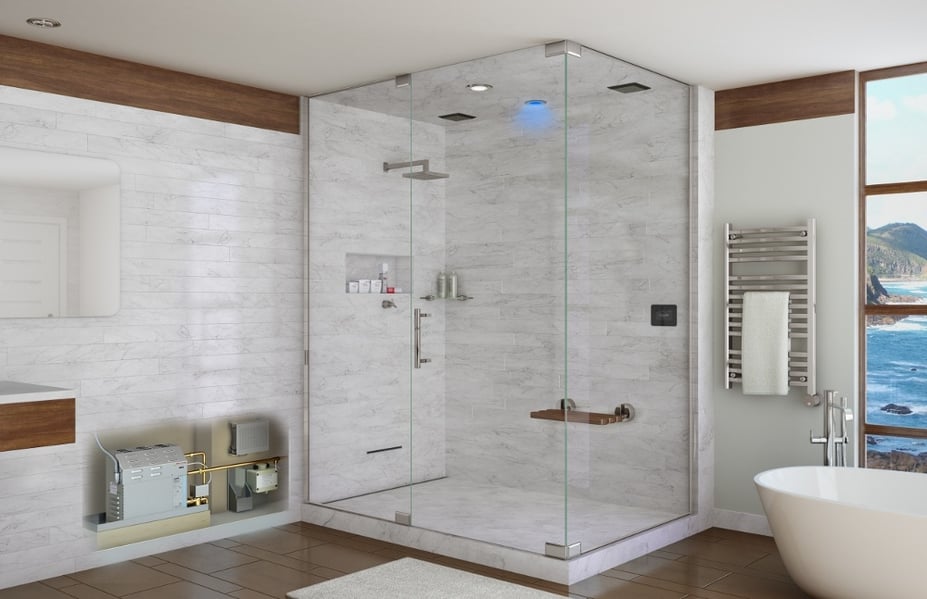 However, your generator needs to be within 60 feet of the shower or steam room. A closet, an attic, a basement and a cabinet all work. The only places you cannot install the generator are inside the shower, outdoors or anyplace that is not easily accessible (in case the generator needs to be repaired or turned off for any reason).
The steam generator must be installed where there is no heat source, air conditioning or ventilation system. The installation also has electrical requirements (208v and 240v). Work with a licensed electrician to wire your system.
Once you choose the unit's location, you are ready for your plumber to run the pipes and install the steam head. According to the experts at MrSteam, this should ideally be six to 12 inches above the floor on the opposite wall from the bench or seat, and a good distance away from your shower door. The steam shower control should be installed where you can reach it from the seating area and away from the steam head, about four to five feet above the floor line. Check out Which MrSteam SteamShower Control Is Right for You?, which also includes some handy comparison charts.
Other logistics include issues of safety. Make sure you have a grab bar in the shower. Regardless of age, you can fall in any shower. My grab bar is gold, with decorative finials and a towel rack. Safe does not mean ugly.


3. Calculate your budget.
Costs for your at-home spa include your steam unit, the electrical and plumbing work, construction materials such as tiles, shower doors, showerhead, grab bar, faucets and fixtures, and perhaps art, paint, and accessories.
Here are the factors that define your steam shower cost:
Size of your shower
Larger shower spaces require larger steam generators. For example, if your shower is smaller than 71 cubic feet, a generator (the smallest model) will cost $2,300. Meanwhile, if you have a large room that's over 823 cubic feet, a generator would cost you $7,300.
So, the first thing I would do is measure the height, width, and length of the shower stall.
Materials
The materials you choose for your shower also affect the cost of the generator. Here is how:
Natural stones (marble, granite, concrete)

– add 50% to the cubic feet calculation (hence, you need a larger generator)

Acrylic materials

– deduct 40% from the cubic feet calculation (hence, you need a smaller generator)
If you choose non-porous materials (ceramic, porcelain, glass tile), they don't affect the cubic feet calculation at all.
Features
If you want to maximize your steam shower experience like I did, you need to add ChromaTherapy, MusicTherapy, and AromaTherapy features. They come with additional expenses.  
Another feature to consider is steamheads (yes, there is a variety to choose from) and the type of controller (simple vs bells and whistles).
Labor Costs
Labor costs depend on multiple factors, including the size of your shower, the materials you need, and the features you choose.
Usually, you need to budget around 25% to 35% of the shower installation for materials and labor.
Check out Breakdown the Costs: What an In-Home Spa Will Cost You Over Time to get price guidance from MrSteam.
Remember that the best way to minimize installation costs is not to make mistakes. Here is how to avoid them:
Be careful about estimating the size of your shower space so you can buy the right generator

Make sure to choose features and accessories from the start (adding them later on is costly and disruptive)

Always choose a reputable installation expert and never go for the cheapest price quote

Avoid DIY installation unless you have experience installing steam showers
You can get a rough estimate of how much the custom steam shower will cost you by using MrSteam's Virtual Spa Sizing Tools.
4. Determine the right steam generator size, construction materials and electrical and plumbing aspects.
The size of your space and the materials you use to clad your shower determine the right size for your MrSteam generator. Each tile material has a different heat retention property and impacts your choice of generator.
Classicists will want marble. After all, it was good enough for Caesar and all the ancient Romans. But porous natural stones, no matter how trendy, may not the best choice, as they retain less heat and might require a larger (therefore higher priced) generator. Porcelain tiles can emulate the look of stone and are good insulation as well. Porcelain even comes in wood looks, if glamping is your idea of relaxation. Whatever you choose, larger tiles are best, as they trap less moisture.
Lastly, any lighting fixtures within the steam shower must be vapor-sealed and approved for use in steam showers. Perfect seal coatings are a must, as well.
MrSteam's Virtual Spa is a nifty hack for planning and making customization decisions and avoiding costly mistakes.
5. Create a total spa experience.
If all these considerations seem daunting, keep your eye on the prize: a lifelong wellness center at home. And, let the fun begin at the planning level. You may be surprised to hear that my priority to create a fantastic spa environment was … color. What color relaxes you most? I know that blue is supposed to be the answer, but red and gold are my favorites. So, go with your heart when it comes to the color of walls, accessories and towels.
Will you sit or lie down in your steam shower? In New Jersey, I bought a teak seat and loved it. But now that I'm a bit older, I want a larger, ergonomic, built-in shower seat. Will you steam or have the total experience? I have not changed my desire for all the MrSteam accessories — hey, I am entitled. These include chromatherapy, music therapy and aromatherapy.


6. Get professional help.
Unless you are in the trades yourself — electrical, plumbing or construction — installing a steam shower is not a do-it-yourself project. You might want to find pros that have experience installing steam shower systems. You'll be amazed at how their expertise can simplify the process for you.
If you think you are going to save money by DIYing, you are probably wrong. Multiple nuances go into installing a steam shower the right way. If you make a mistake, in the best case, the shower won't work properly. In the worst case, you could create a serious health hazard.
The combination of water and electricity isn't something you want to play around with. Meanwhile, you hardly want the thousands of dollars you spent on the steam shower to disappear in vain.
Keep in mind that MrSteam's steam showers come with an impressively robust warranty. However, it only works if you opt for professional installation.
Check out authorized MrSteam dealers who can answer any questions you and your trade professionals or general contractor may have.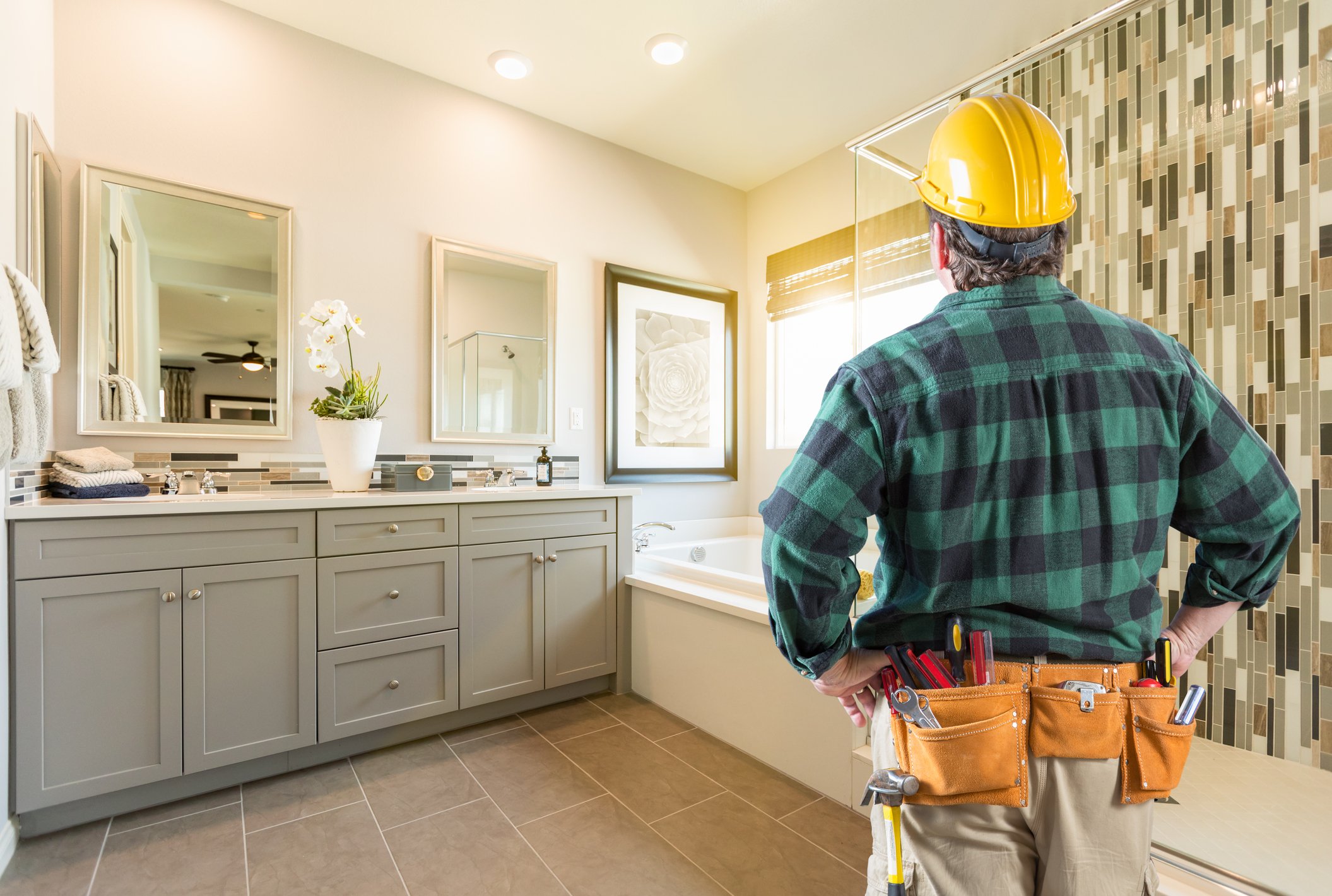 7. Maximize your home's resale value.
According to a 2019 Zillow report, a steam shower adds resale value to your home. But to maximize that resale value, you must do a few things:
According to a 2019 Zillow report, a steam shower adds resale value to your home. But to maximize that resale value, you must do a few things.
The first one is to design your shower with neutral colors. You never know what color the new homeowner will love or despise. Neutral always works. I know I mentioned red, but that was wall paint. You can always repaint, but retiling is costly.
The second thing is to keep your steam shower in top shape. No matter how advanced your spa area is, mildew and unpleasant odors are likely to reduce your home's value instead of increasing it.
In addition, to make sure your steam shower remains a value-boosting instrument, you need to implement regular maintenance tactics that include:
Installing an autoflush system
Flushing your steam room generator after each use is key to its longevity and excellent performance. Since manual flushing is time-consuming and complicated, consider installing the AutoFlush system that initiates the process automatically.
Adding a water-softening system
If hard water is an issue for your location, it could have a negative effect on the steam shower. In New Jersey, I knew all about hard water so a water softening system was a must-have.
This system keeps the water soft and prevents the mineral deposits from hurting your shower. You'll love how the softer water feels on your skin and hair too.
Cleaning the steam generator
If you don't have the AutoFlush feature and the water softening system, you have to remove minerals and hard water buildup every two months. When you open the generator for cleaning, visually inspect it for leaks and damage.
Last, but not least, enjoy your experiences. If you ever decide to sell your home, that enjoyment will come through to your realtor, in the copy they write for the listing and in the vibe your buyer feels when they enter your wellness space.
There is something spiritual about a place where folks have relaxed for years. That is the secret of steaming. Enjoy.