What Steam Bathroom Design Trends Might Look in 2023
---
Steam bathroom designs are constantly evolving, and keeping up with the trends can be challenging. Unlike conventional bathroom functionalism, bathrooms have evolved into visually appealing spaces.
Read on to learn the trendiest bathroom design options for 2023.

Control Steam Showers with an App
Having the convenience of controlling your steam shower from anywhere enhances your bathing experience. You can use a smartphone or mobile device to adjust the temperature, start the steam shower, and set its duration. The app allows you to customize your preferences anywhere, anytime, to ensure you are always ready and comfortable.

Recessed Light
Installing recessed lights in your bathroom space blends style and functionality. Despite being an overlooked aspect of home lighting, recessed lights bring in a clean and modern look, making it easier to shower and relax. They do not have installation restrictions, as seen in ceiling-mounted light fixtures, because you can install them in shower stalls, over the mirror, and in showers, among other options.
You can customize the lighting to suit your bathing experience, such as ambient lighting that mimics natural light. This lighting is also utilized to illuminate architectural and artwork details.

Linear SteamHeads
Whether it's an early morning shower to prepare for your day or an evening relaxing bath, having a quiet and refreshing bath enhances your experience. Linear SteamHeads elevate the performance of your steam shower by creating an inverted steam waterfall. The steam is quiet and condensation-free, offering aesthetic pleasure when showering.
The face plates have numerous finishes allowing you to suit one that suits your shower needs. You can also add essential oils and fragrances to create a warm ambiance.

Wireless Touchscreen
A wireless touchscreen gives you maximum control over your steam. It creates an unmatched experience as the wireless control has numerous customization options. No cable tethering is required, and the controls work within 60 feet of the generator.
The touchscreen allows you to design your bathroom by controlling chromatic lighting and aromatic infusers. They are also quickly responsive to the user's touch, and you can create multiple profiles with distinct custom settings. Its installation is flexible as you can mount it on almost any hard surface or use a Flush Mount Kit on the wall.

Wall-Mounted Folding Seats
Wall-mounted folding seats ensure you have comfort during cleaning. They also make showering safe and easy, especially for people with discomfort or the elderly. You can fold it down or keep it out of the way when not using it. Wall-mounted folding seats are designed with smoother surfaces and save a lot of space compared to other seating options.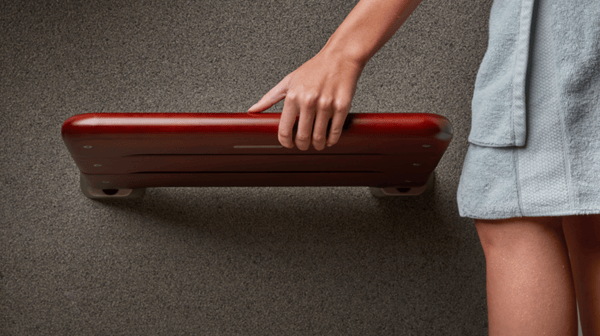 You can also choose from a wide array of seat styles and finishes, such as polished chrome, brushed nickel, and satin brass. Most, if not all, wall-mounted folding seats can suit any contemporary steam bathroom décor without overwhelming the aesthetics.

Natural Stone
Natural stone is a prominent steam bathroom design trend for 2023 as it offers substantial advantages while rocking your bathroom look. This is because materials matter greatly when renovating the interior steam bathroom space. In addition, natural stone brings in a feeling of strength and individuality and adds value to your home due to its distinctive look.
Natural stone guarantees longevity in your bathroom space as the material cannot be degraded by moisture and other elements. Natural stone is also ideal if you love underfloor heating as it cools or warms quickly.
However, because natural stone is porous, it won't hold in heat like non-porous porcelain or ceramic tile.

Walk-In Showers
Walk-in steam showers are popular in contemporary bathroom designs as they are accessible and look good in almost every bath space. A steam walk-in shower is an excellent choice for large bathrooms, but it is also available in smaller pieces if you want something compact.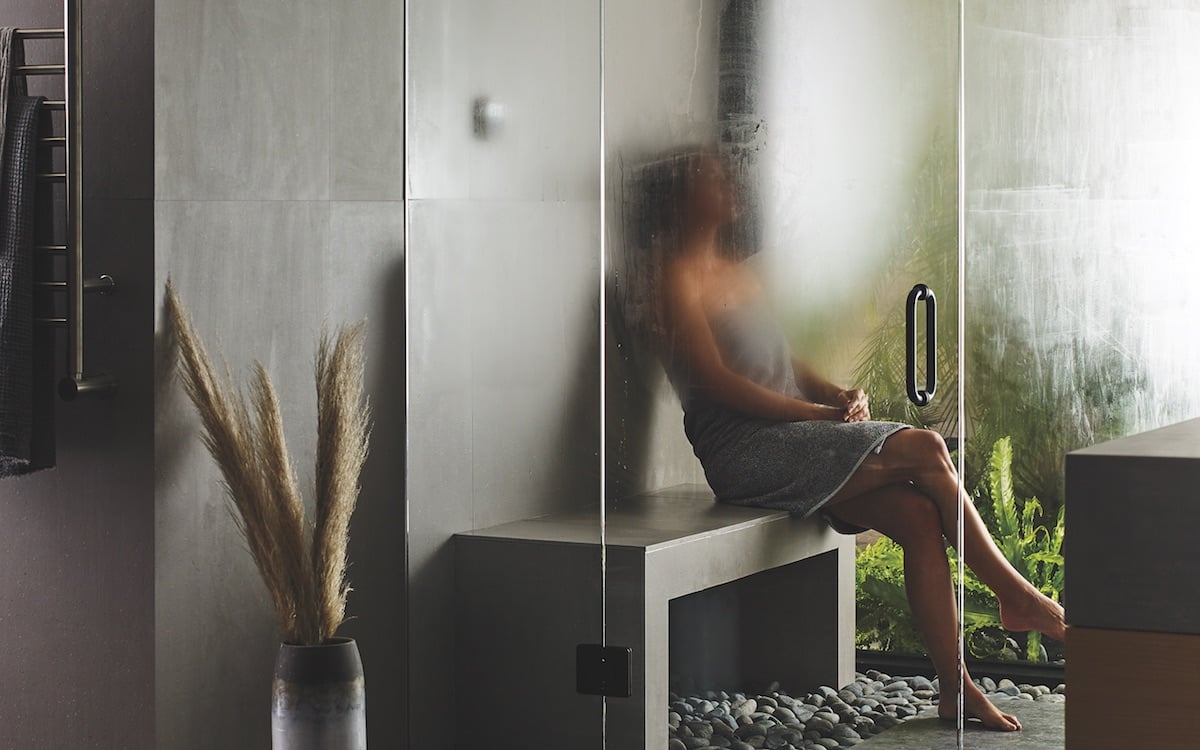 You can also blend the steam walk-in showers with slip-resistant floors. If you have ample space, bright, light colors can elevate the beautiful look of your steam walk-in shower.

Get the Best Steam Bathroom Design Trends for 2023
Steam bathroom designs have become more innovative in recent years as they have proven essential in interior design. These design trends ensure your bathroom has an appealing look while maintaining quality standards. You can choose from numerous steam shower design options such as app control, recessed light, Linear SteamHeads, wireless touchscreen, wall-mounted folding seats, natural stone, and walk-in showers.
These options provide integrated functions and performances to have a one-of-a-kind bathing experience. As a bonus, adding a steam shower can increase the value of your home.