Top 4 Bathroom Remodeling Trends in 2020
---
From a design perspective, this year may be best known for illustrating the importance of creating peaceful, relaxing and practical spaces in the home. As of March 2020, the bedroom is now also an office. The living room doubles as a gym. The kitchen hosts breakfast, lunch, dinner, work sessions, date nights and happy hours.
The bathroom may be one of the few totally private rooms for those sharing a home. As a result, bathroom renovations in 2020 not only seek to create a more beautiful space for all the practical activities done in the bathroom, but also aim to enhance the room as a relaxing reprieve from daily life, a surge for the already booming world of wellness design.
From enhancing the shower to updating accents, these are our four favorite remodeling trends for transforming bathrooms in 2020.
1. Unique Bathroom Tile
Bathroom tile is a great way to make a design statement to your bathroom floor, wall and shower. Whether classic white or patterned, unique shapes, colors and textures are on the rise.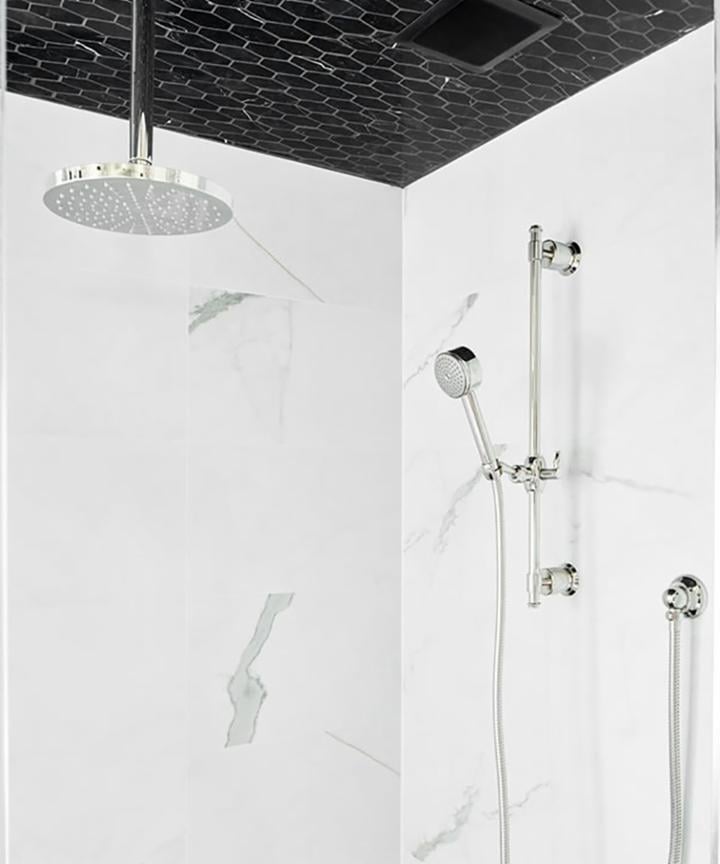 One option for a visual upgrade is to think beyond the traditional method of matching tile throughout, opting to experiment with mixing shapes and patterns instead. Designer Denise McGaha, for example, pairs black hexagon tile with crisp white marble, offering a play on shape, color and texture. Similarly, high-gloss glass tile could be incorporated for a contrasting statement to the equally trendy matte hardware trend.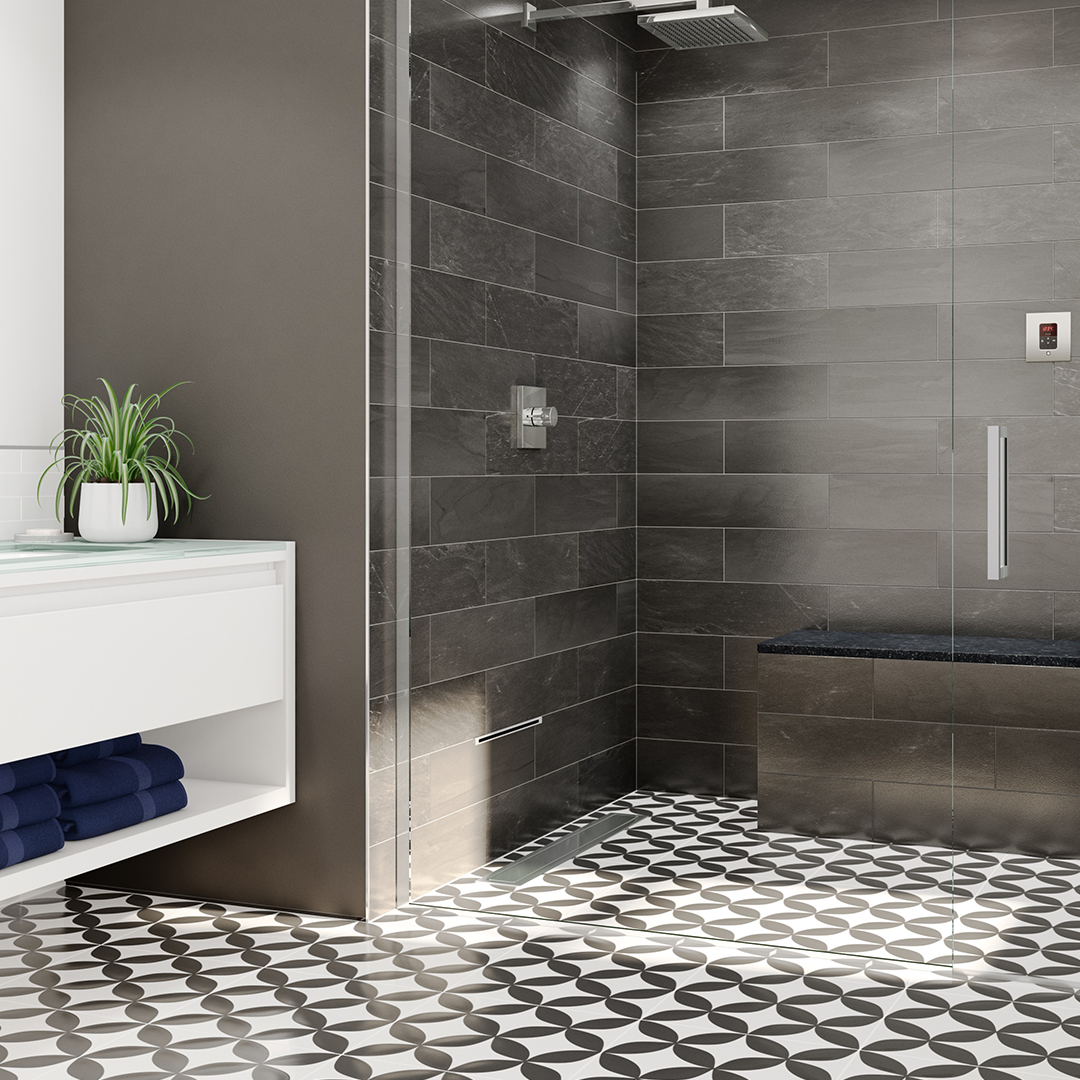 For another dual-color look, consider patterns. The patterned tile floor in this bathroom adds flair to the clean, neutral lines of the shower and vanity while keeping the color palette neutral and minimalist.
While neutrals are a bathroom favorite, we're also noticing a rise in bold statement colors, such as ocean blues, lush greens and even pairing complementary colors like pink and green.
2. Upgraded Showers
While we love the look of a sculptural soaking tub, baths use a lot of water and take a lot of time. It makes sense then that more people are taking their showers to the next level, from small improvements to full transformations.
For a low-investment, high-impact change, consider upgrading your showerhead (this option is great for renters, too). Showerhead innovations includes rainfall technology, pulsing water and other settings that deliver big results for an investment that is typically under $100.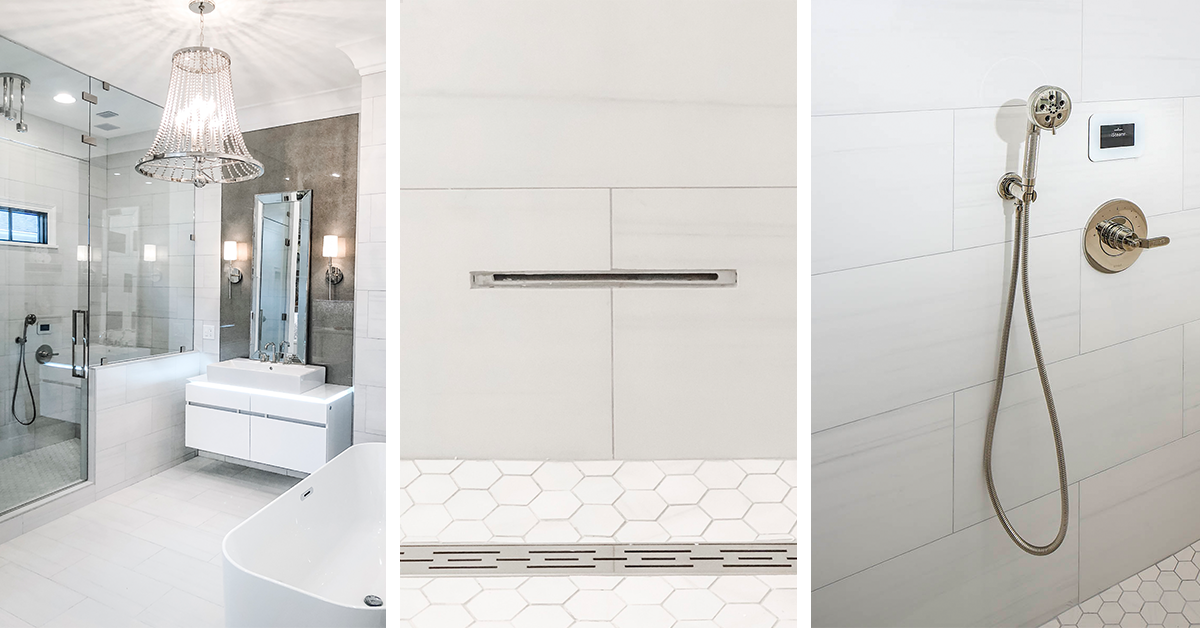 Embarking on a full shower makeover? Perhaps you're considering retiling the walls and floor, incorporating some of the tile trends from above. Gutting the shower is the perfect time to consider how you can add in wellness-enhancements such as a steam shower, which turns the shower you already have into a steam room, too. Steam showers promote a variety of potential health benefits including supporting respiratory health, potential metabolism boost, detox facilitation, improved muscle flexibility and stress-relief.
MrSteam SteamHeads offer a design-friendly, discreet and luxurious experience. Designer Adrianne Bellizaire renovated her bathroom shower by mixing tile shapes, adding body sprays, and she paired the sleek Linear SteamHead with her MrSteam steam shower system to complete the experience.
Steam showers are discreet: the generator is installed in a closet, a vanity, a heated attic or basement or in the space under your steam shower bench. It is then connected to plumbing, electrical, the shower steam shower control and the steamhead that allows steam to escape into the shower room. To add steam to your shower, contact your local steam expert to discuss your options before you replace the tile.
3. Framed Bathroom Mirrors
Mirrors offer more than just a look at your reflection, enhancing light and décor to create a more cohesive design. Large, wall-to-wall mirrors can offer the optical illusion of more space. If your bathroom is limited in natural light, mirrors are an easy way amplify the light you do have.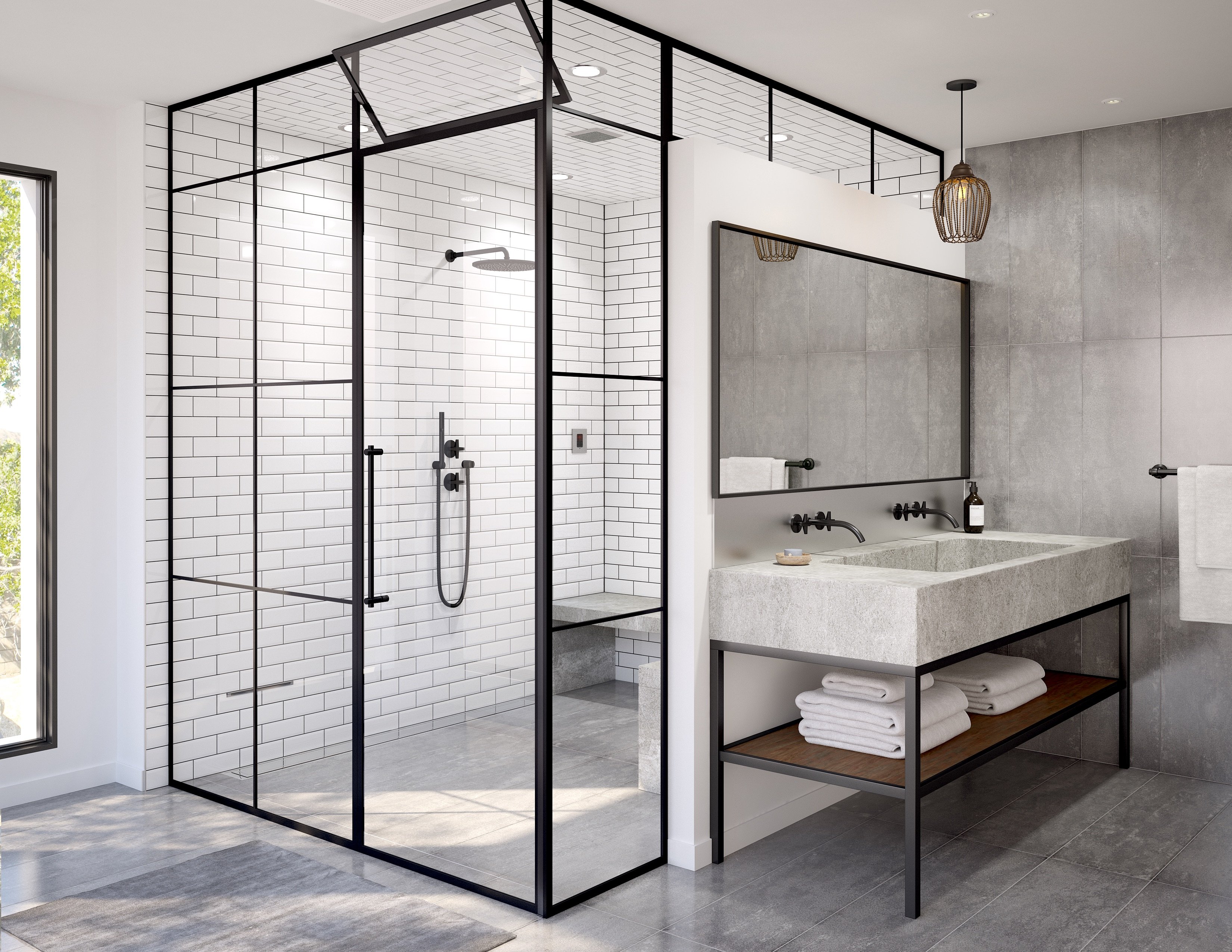 In 2020, we're loving the uptick of more creative, decorative mirror options available for the bathroom. From novel shapes and unique framing materials, these upgraded pieces are increasingly included the overall design theme.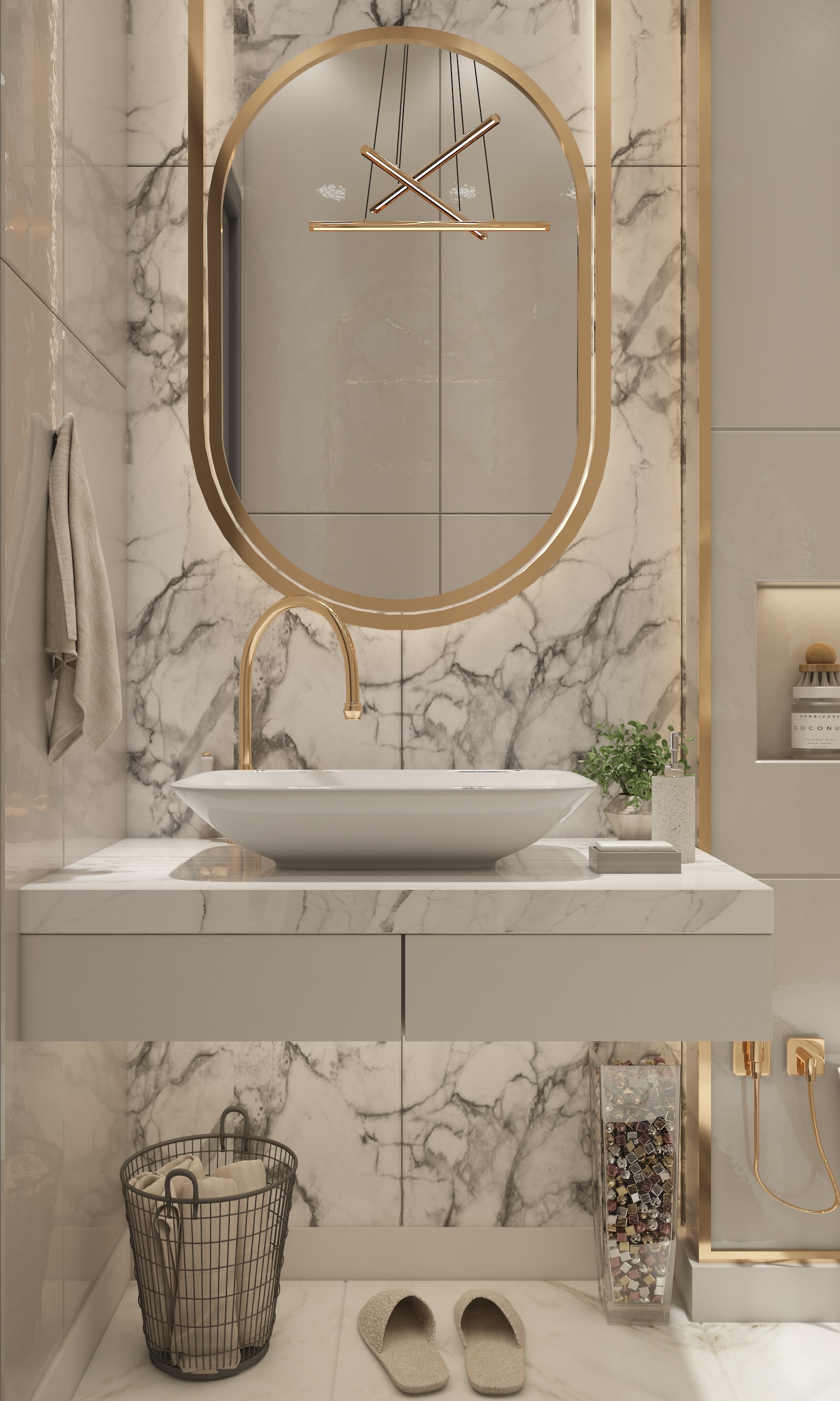 Specifically, framed mirrors offer the option to coordinate with material and color, such as trendy hardware in brassy golds or matte blacks.
4. Amplified Textures
Material and texture can bring depth and life to the bathroom, a space which can easily be overrun with flat, waterproof materials. While transforming your bathroom into an oasis, take note from designers experimenting with naturally water-resistant and resilient organic materials such as stone, marble, glass and wood.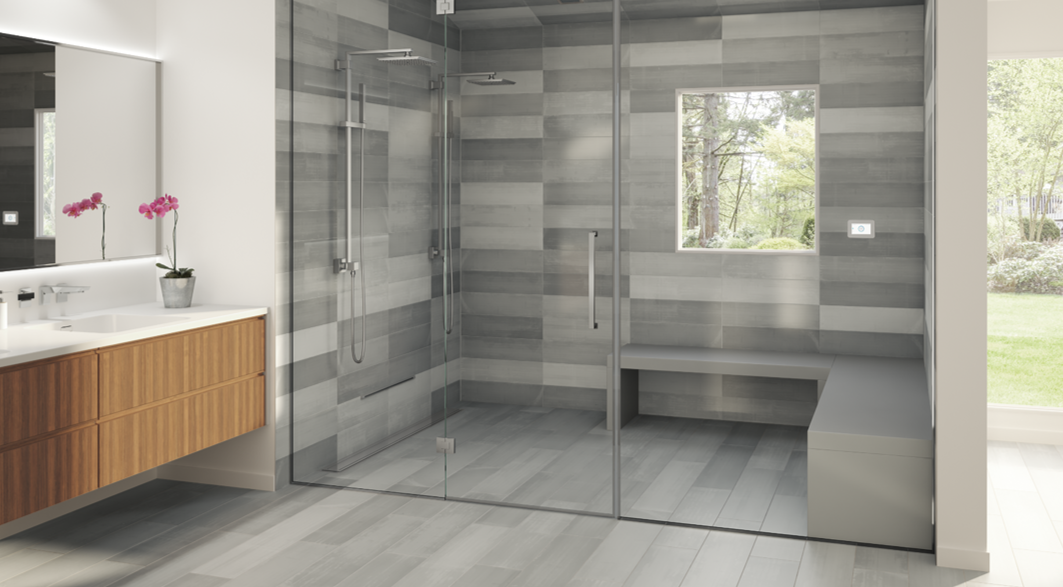 Light or natural wood is a perfect neutral element for vanities and floating shelves, offering warmth and grain to smooth greys. The natural hue is wonderfully flexible, too, making it an easy fit for either bright pops of color or a more minimalist palette.
Texture can also help evoke a stronger sense of place or atmosphere. Thinking of a more coastal design scheme? Try adding driftwood into statement pieces like a mirror frame or vanity. For rustic or industrial looks, consider a metal patina tub or brick accents to add visual cues that distinguish the space.
Timeless Trends
Unlike fads, which are typically marked by broad but brief adoption (perhaps you remember the explosion of giant floral wall paper from a few years ago), trends incorporate enough good design qualities that allow for real staying power. However, the most important part creating an interior design style that lasts is finding a way to make it your own and not buying into a trend just because it's everywhere.
Looking for more remodeling tips? Check out our 8 tips for a luxurious, eco-friendly master bathroom renovation.