How 3 Designers Maximize Bathroom Style with the Linear SteamHead
---
Wellness-enhancing interior design is becoming increasingly popular, especially as homeowners seek respite from everyday life at home. While there are key factors of designing for wellness, there isn't necessarily one interior design style that represents the practice.
Three designers— each from different geographic regions and with varying bathroom and shower dimensions— renovated master bathrooms to create beautiful, luxurious at-home spas. While these spaces all provide daily refuge, each offers a distinct visual style, from minimalist to bold, abstract to simple. Despite their varying styles, each also seamlessly incorporated the MrSteam Linear SteamHead, building in a slew of wellness benefits to the bathroom. Chic and discreet, the following examples show how steam is an ideal upgrade for any bathroom design. Read on to discover how three designers incorporated steam into unique home bathroom styles.
High-Tech Minimalism
Shari Mullen renovated her client's bathroom with high-tech flair, incorporating a variety of smart devices into the space. Modern and minimalist, it's not only a beautiful design example, but also offers a powerful personalized experience. The style is spare of any bold prints or strong colors. Instead, Mullen looked to bright, airy classics such as white, light blue and gray, opting to focus on each wellness-boosting piece as a design element, from the tub to the toilet, to complete the space.
The focal point of the room is a white freestanding soaking tub in an oval shape over light blue tile, offering a sculptural center piece for the eye to rest upon. The toilet, encased in a private opaque-glass enclosed closet, features a built-in bidet among other smart settings. Clean lines—including the crisp edging of the vanity, the sharp rectangular storage spaces and the window and shower openings—continue throughout the space.
While the tub offers an artistic visual experience, it's perhaps the shower that offers the most physical reward. Encased in glass and offering multiple shower heads and pressures, it also contains the wellness centerpiece of the room, a steam room. Mullen chose the MrSteam iDream Linear Package, which offers steam therapy, aromatherapy, lighting and music. Inconspicuous by design, these features are installed behind the wall. The iSteam 3, MrSteam's award-winning touchscreen control, sits nearly flush with the shower wall and offers complete control over the steaming experience. Steam billows quietly through the delicately designed Linear SteamHead, and with its slender, clean shape, it's a perfect complement to the high-tech minimalist design.
Contemporary Glam
Arianne Bellizaire, of Arianne Bellizaire Interiors LLC, has a contemporary style with elements of sophisticated glamour that she conveys through design details. For her home bathroom renovation, Bellizaire paired a neutral color palette with elevated décor elements, balancing functional and whimsical, throughout.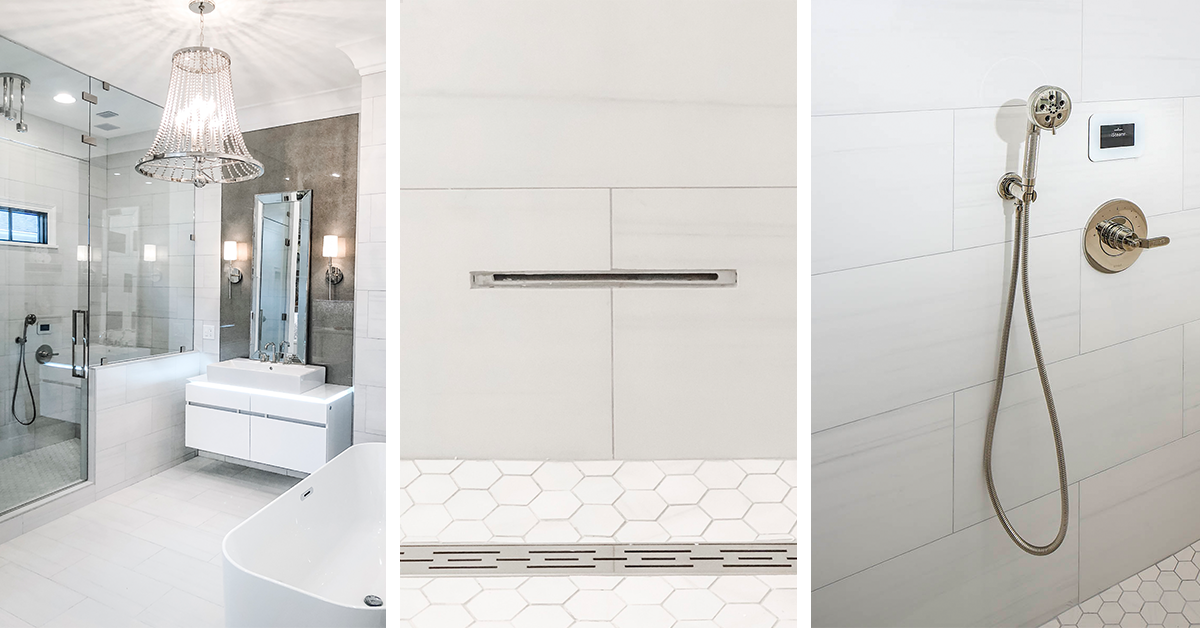 While white is the foundation of her color scheme, Bellizaire incorporated elements of surprise, such as contrasting tile shapes, which prevents the design from appearing flat. The shower and walls have large, rectangular white tiles while the floors are lined with white hexagon-shaped tiles. She chose a crisp white vanity and sink but paired it with a glittering chandelier, which brings a feminine softness to the sharp edges. Silver and chrome hardware and an earthy silver vanity backsplash offer a pop of dimension.
Bellizaire believes steam is a necessary element to any home —and she knew incorporating it into her own master bath would provide the experiential wellness showroom she needed and would also show her interior design clients the power of steam. For Bellizaire, the MrSteam iDream Linear Package, with its streamlined, sophisticated profile, offered the perfect design complement to her contemporary glam home bathroom.
For Bellizaire, the transformation was more than worth it.
"To say we are pleased would be an understatement," Bellizaire said. "This stunning transformation is both beautiful to look at and features a world-class steam shower experience."
Abstract Maximalism
For years, Dallas-based Denise McGaha, of Denise McGaha Interiors, dreaded her bathroom. It had become nothing more than a room to bathe, and she was ready to take it to the next level—and make it an actual in-home spa.
Part of creating a spa-like experience was ensuring there was a steam shower, and the MrSteam Linear SteamHead was the perfect addition to the design she would bring to life for her family.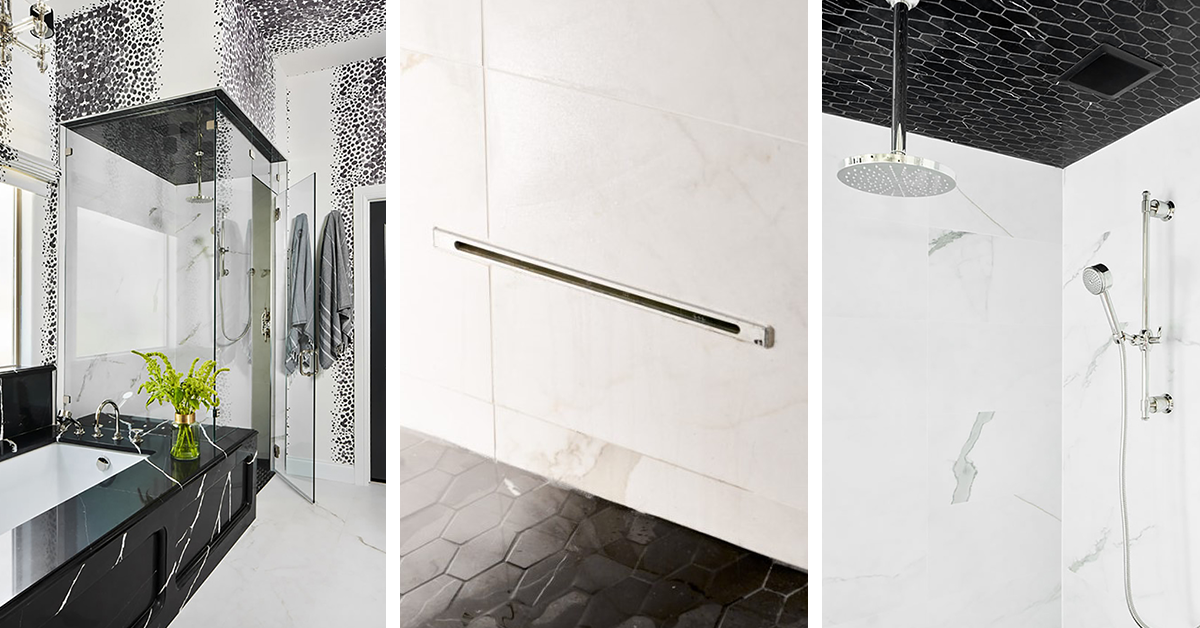 "We are so often over-stimulated and stressed," McGaha said. "Being able to prepare your mindset in the morning or unwind in the evening with a steam is so valuable. My mental well-being is better, I get great ideas and I feel like I have done something good for myself before I leave for work."
McGaha, known for her maximalist design, doesn't necessarily find bare walls or subtle color schemes very relaxing. She brought her trademark style into her wellness-centered home bathroom.
First, she ensured her design included clean lines that would balance the more abstract additions to channel a sense of calm. For example, the crispness of the newly-installed marble tub deck extends into the shower to serve as the shower seat. The tub meets the clean lines of the glass-enclosed shower—which allows more natural light to illuminate the space, making it appear larger.
McGaha also chose a classic black, white and blush color scheme—colors that can easily complement abstract wallpaper and strong shapes. The wallpaper is a bold print, yet softer than a leopard or snakeskin, preventing it from overpowering the room. McGaha added more texture with fresh greenery and art to create the perfect oasis in her home.
Good Design Always Works
Whether your personal style is colorful and abstract or clean and simple, decorative plumbing products with a solid design foundation such as the MrSteam Linear SteamHead can provide a seamless match for your aesthetic. Not only will it bring visual continuity and peace to your bathroom, but it will also deliver the many health and wellness benefits of steam.
Shop The Story