Tiny Bathroom? MrSteam's Tips to Maximize a Small Space
---
Whether you've embraced the current "tiny home" trend, or simply have a home that lacks room to enlarge your bathroom, it's critical to learn how best to maximize a bathroom in a small space. The last thing you want is to feel cramped and uncomfortable. So MrSteam has compiled some great design tips for you, whether you are redesigning your small bathroom or just looking for some optical illusions to give you a greater sense of spaciousness.
Space Design
Reconsidering your floor plan can yield some surprising benefits. Here are some ways to trick the eye and use the space you have to best advantage:
Avoid anything that pokes out into your limited floor space.
Use interior wall space to create attractive niches to display and store bathroom essentials.
Think about hanging the toilet and storage from the walls, rather than placing them on the floors.
Also, placing your bathing facilities against the furthest wall maximizes the space.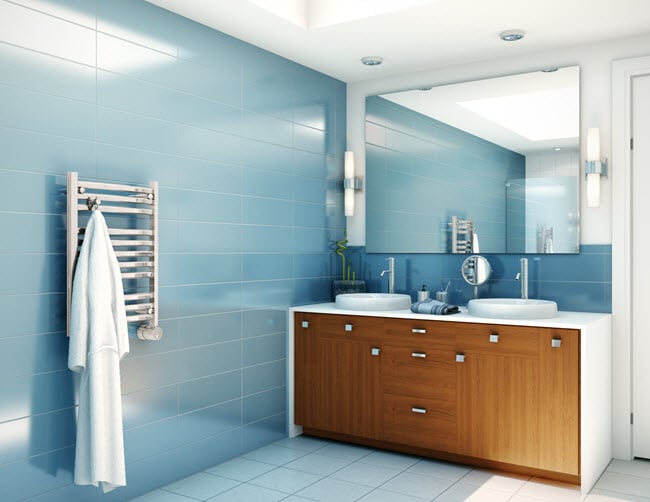 Consider your floor and wall tiles.
Tiles placed on a diagonal may make the room feel larger. So, too, will larger tiles with fewer grout lines.
If you're redoing the tiles in a shower with a glass enclosure, flowing the same tile design into the shower stall makes the whole room feel larger.
Wall tiles that stretch all the way to the ceiling can make the room feel higher as well.
Using a colored or decorative tile near the ceiling help your eye move upward.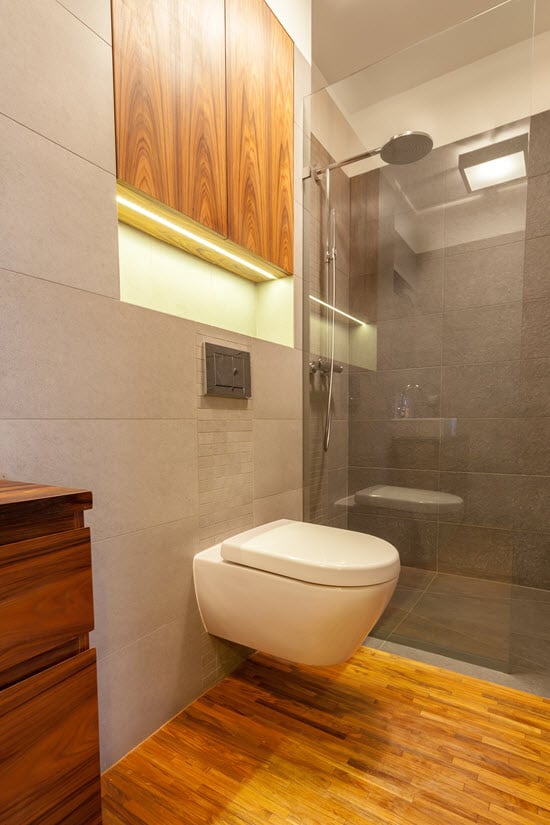 Keep your designs and details simple – but don't limit yourself to "small" elements.
Using small scale patterns can actually make a room feel smaller, while larger ones give the room more prominence.
A large scale element, such as tile, can create drama. But avoid combining a variety of patterns, which will make the room feel cluttered and claustrophobic.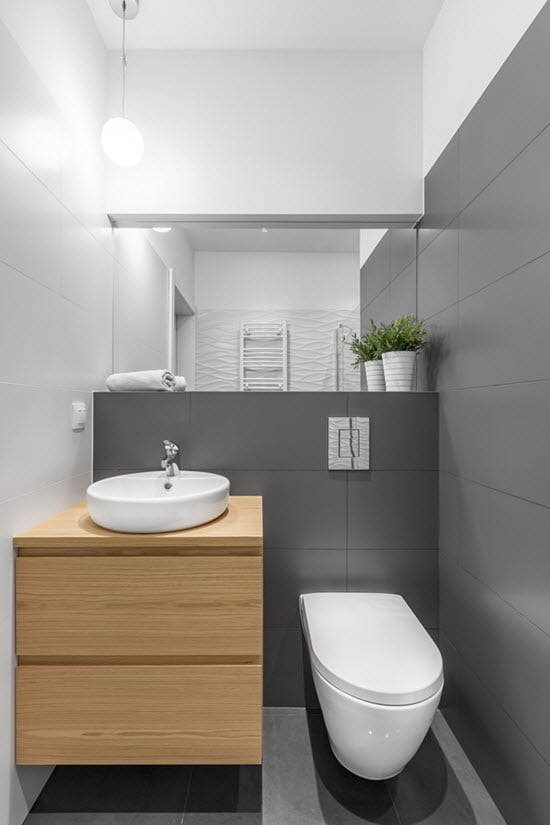 Color Is Key
You want to think long and hard about the color palette in a small bathroom. You're not limited to one choice, but several color schemes are proven to be effective, while others simply won't work:
White and neutrals make the room feel bigger and brighter, and are also associated with cleanliness.
If you want more color, keep to a complimentary palette. Too many clashing colors will definitely make the room look "busy," cluttered, and smaller than it actually is.
Really want a more dramatic, darker color? A glossy sheen will reflect the light and again give you the illusion of space.
Pops of color can bring a room to life. Think about bold, vibrant towels, an accent color on a window or door frame, and colorful accessories.
Choose the Right Door
Sliding doors, including doors that utilize a rail rather than a hinge, and pocket doors are a real boon when it comes to small bathrooms. If that's not possible, make sure your bathroom door swings out. You never want a door that bumps into a fixture, especially a toilet, as it opens.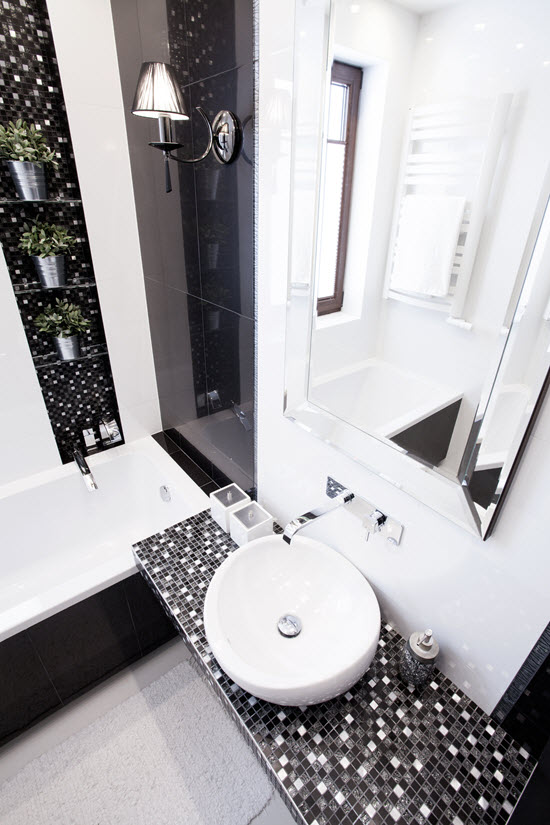 Great Lighting Is Your Friend
Use lighting to visually make the room appear larger. A well lit space always seems to increase a room's size.
Avoid using any suspended lights, as they will "drop" the ceiling and make it feel lower than it is.
Wall sconces, cove lighting and other wall mount fixtures create the impression of higher ceilings and a more expansive space.
Have a very narrow room? Consider illuminating one wall with light to open up the area.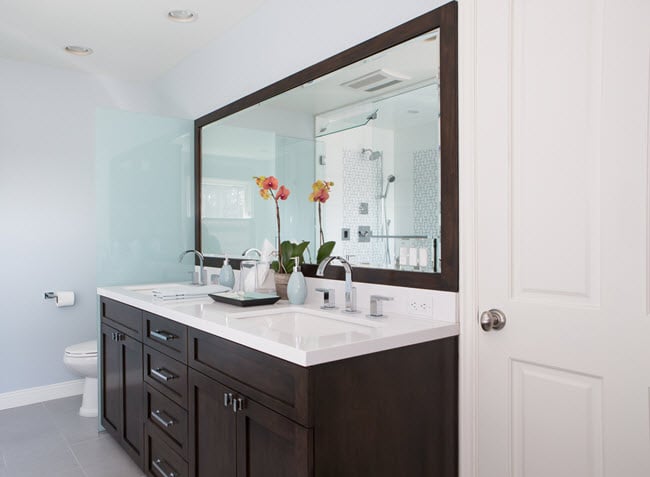 So Are Mirrors
Mirrors make a huge difference in cramped rooms, as reflective surfaces are among the easiest ways to open up a tight space. Your mirrors can be oversized, to reflect more of the room. Or you might hang vertical oval mirrors, which stretch upward (and also mean your taller guests don't have to hunch over to see themselves).
Consider adding extra mirrors, including small ones for makeup, or one behind a door.
You can also think "out of the box" when it comes to mirrors. If a window over the sink means you can't hang a mirror there, include one to the side. Or – for a touch of drama and an extra bonus in privacy – hang the mirror over a window, using the space in a new and innovative way.
Okay, Let's Talk Storage
We know – storage is the biggest issue you face in a tiny bathroom. So here are some ideas to improvise and make the best possible use of the space you do have:
Lower shelving under vessel or pedestal sinks won't impede any natural light that you might have in the room. You can also use classy woven baskets to hold supplies and towels.
Putting a shelf or two over a toilet can create a niche around it.
Elevating a sink cabinet allows you to stow extra items underneath.
Go vertical – all the way to the ceiling! Put items you don't need every day on the upper levels, and those you do within easy reach.
A ledge right above the sink or a radiator can be a great place to store those items you use every day – toothpaste and tooth brushes, soap dishes or dispensers, and more.
Use those interior walls to create niches. One nice place to create a niche is right over the sink – which you can close off with a mirror flush with the wall.
Doors are often wasted space. In addition to adding towel racks or hooks, consider over the door pouches or even longer medicine cabinets.
If you really want a vanity, buy one that is specifically scaled for apartments and other small bathrooms. By curving the edges of the vanity, you gain more space and won't bump into them (ouch!)

Sinks
Clunky sink cabinets can look massive on the floor of a small bathroom. Instead, you might opt for a floating countertop with a vessel sink.
Or, if you have a large family where several kids will want to use the sink at one time, a long trough sink might mean fewer arguments.
Finally, a trendy oval sink take up less counter space than a square.
Showers and Bathtubs
Consider a curved or triangular shower stall, which will take up less space in the room.
Open up the room with glass. Both your shower stall and tub will benefit from clear glass enclosures, with minimal hardware. If glass is not an option, then use clear shower curtains that will allow light in.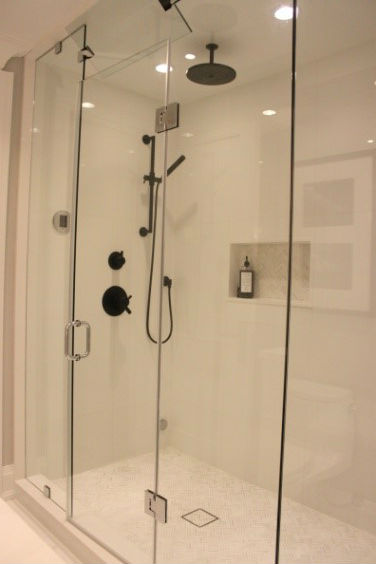 To save space, place your towel racks and shelving above a tub or above the spray of the shower stall. Think of hotel rooms you've been in, where they hang towels at the very end of the tub.
Unless a tub is the only way you can unwind, here at MrSteam we recommend focusing on the comfort of a steam shower rather than a massive bathtub. Think you need a lot of room for a steam shower? Not true!
MrSteam's Steam@Home generators from are ideal for starter homes, urban living and guest baths. Designed for smaller spaces and tighter budgets, Steam@Home lets you bring the luxury of steam into your life in a space as small as 3' x 3 ' x 7'.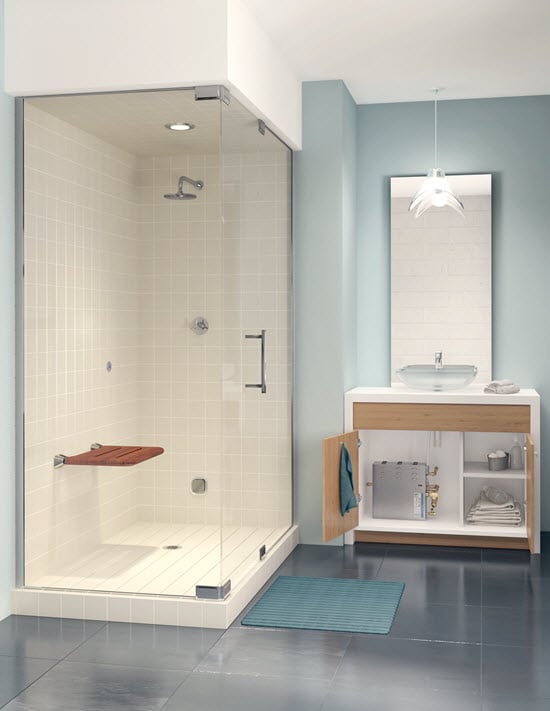 So, with some imagination, design flair, and planning, a small bathroom doesn't have to feel so tight and confined. We hope these tips will push out the confines of your bathroom and make you feel just as relaxed, comfortable, and happy as you would in a larger space!