How to Make a Bathroom Feel Like a Day Spa
---
At Pulp Design, one of our founding principles is that a home should be a sanctuary for our clients. Home should be a place where we can get away from the world's stresses. The bathroom, in particular, can be an incredible oasis.
Whenever we begin a project, we encourage clients to think about their personal wellness goals whether it is reducing stress, lowering blood pressure, or soothing joints and muscles after a workout. These wellness preferences inform design.
A Cure for Drab Design
We were brought in to work on a residence in Snoqualmie Ridge. While the home had good bones, it lacked excitement, individuality, and a personal touch. While most of the place only required small touches, we agreed that the primary bathroom needed a complete renovation.
Before the renovations, the bathroom was full of awkward corners and strange turns. The shower was almost an enclosed box in the corner. It almost felt claustrophobic.
Our job was to open it up and make it feel like somewhere you'd want to spend time.

With that goal in mind, we decided to make the bathroom more spa-like. The space needed more light, more air, and better functionality.
We began by adding grasscloth wallcovering with a simple but modern pattern to add warmth and texture to the room.
Next, we used overhead, dimmable lights to create a brighter space. We also layered in sconces behind mirrors and over the tub and shower.
We suggested health-conscious items like wave-over sinks and toilets as well as counters that provide antimicrobial benefits.
We modernized the cabinet and installed a freestanding tub.
However, these changes weren't enough. More was needed to turn this bathroom into a luxury experience.
Steam Showers as a Statement Piece
There are dozens of wellness benefits that come with using a steam shower, from improving skin health to lowering blood pressure. When we reviewed these benefits with our clients, they showed immediate interest in adding a steam shower to their bathroom.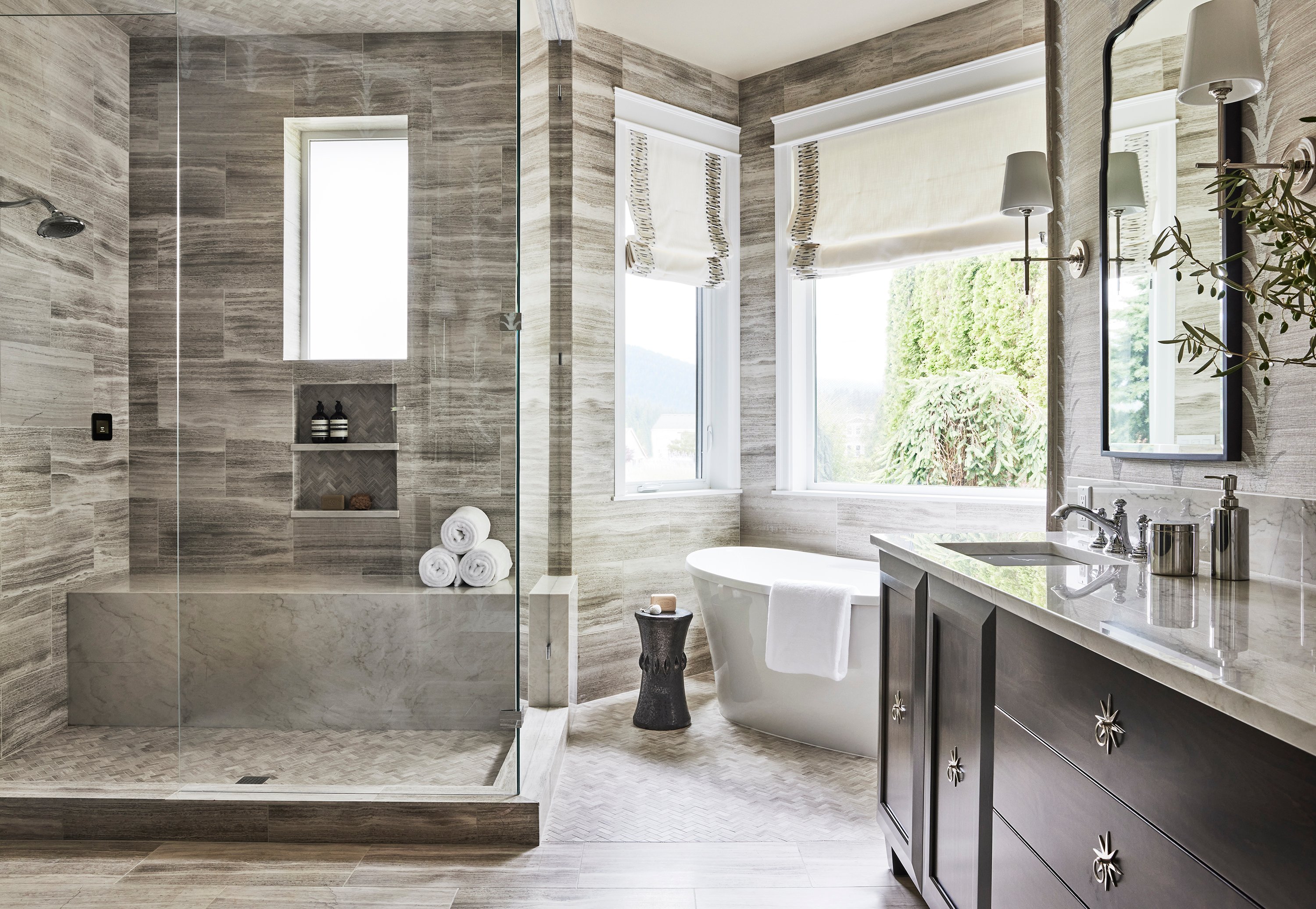 Figuring out which steam generator to use was as easy as inputting the shower's dimensions into Mr. Steam's Virtual Spa builder.
To truly bring out that feeling of luxury, we added three SteamTherapies:
AromaTherapy infuses your steam bath with fragrances known to positively impact mood.
MusicTherapy plays music through a high-quality, vapor-sealed sound system.
ChromaTherapy uses light to influence your mood in positive ways.
The bathroom could now take advantage of gorgeous mountain-side views previously blocked.
We used tiles that offered an organic look like striations of stone or wood. Then we added a quartzite bench.

We made sure to keep things natural-feeling so that the redesign respected the traditional nature of the home but a bit more polished and modern. For example, the new tile mosaic on the floor is slip-resistant.
Color Choice and Natural Design
Color psychology is critical when designing a luxury bathroom. Different colors will have different emotional impacts. That means there are significant differences between choosing the color of your primary bathroom versus powder bathroom.
A primary bathroom's psychological goal is relaxation while powder baths' goal may be more varied. Because of this, a "wow-worthy" color or wallpaper works great in a powder bath but is not appropriate for a primary bathroom.
Instead, primary bathrooms should use soothing neutral colors like sand, cream, white, grey, pale blues, and warm wood tones. These organic and natural colors are soothing in part because they remind us of beautiful outdoor destinations like the beach, lakeside, or in a mountain retreat.
We like to use outdoor surroundings to inform the design of the primary bathroom.
Grasscloth can provide the look of stylized greenery for homes situated around trees and shrugs. Blue sky tiles bring the sense of a lakeside bath. Warm wood vanities are reminiscent of mountain retreats. In the end, it's all about color, texture, and materials.
Our clients wanted to turn their bathroom into a luxury experience. With the help of Mr. Steam, we brought their dream to life.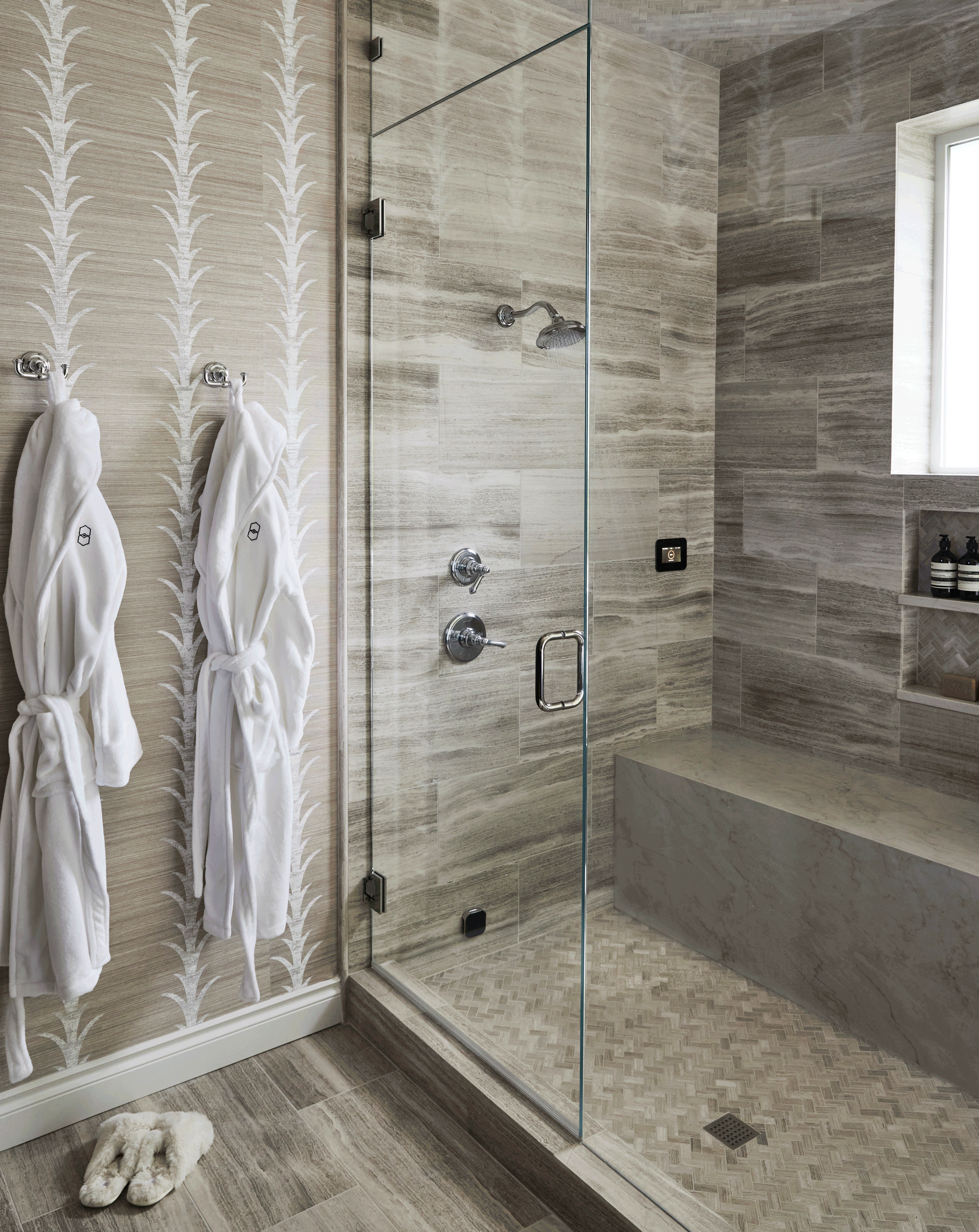 From Lacking to Luxury
The Snoqualmie Ridge residence started with a crowded, awkwardly shaped, and dark bathroom. We opened it up and brought life and sophistication to the space.
The centerpiece, a Mr. Steam shower, gives the bathroom that luxury day-spa feel.
A steam shower brings with it 40+ wellness benefits, categorized under:
Respiratory health
Skin Care
Physical wellness
Well Being
Holistic Health
Installing a steam shower can increase the resale value of a home by up to 31%, so there are also sound economic and wellness reasons to recommend one.
---

Co-founded in 2007 by interior designers Beth Dotolo and Carolina V. Gentry, Pulp Design Studios is an iconic force to be reckoned with in the world of interiors, and the firm brings a sense of adventure to the business of design. See more of Pulp Design Studio's work at pulpdesignstudios.com
The statements in this article are applicable to the author's experience. Your results may vary and may not be representative of the author's experience.