Try Movement, Moderation and Steam Per 96 Year-Old Trainer Moe Carson
---
Feeling good and living well go hand-in-hand with movement and moderation - and especially with steam - according to 96 year-old personal trainer Moe Carson who shares with us his secret to health and wellness in this #TrainerTellsAll article.
Many people give advice, but Carson has nearly a century of proven results to support his claims. Born in 1919, he has lived through the roaring 20s, the Great Depression and World War II. For nearly all of that time, he has done what he continues to do today: exercise.
"I push myself as hard as I possibly can," says the nonagenarian, who regularly does power workouts that include bench presses, squats and 300-pound deadlifts. He even holds the record for most number of chin-ups and parallel bar dips for men 90-years-old and up. You can see for yourself in this 2:30 minute video titled Moe Carson Breaks the Record.
In addition to his personal routine, Carson trains others every morning and has been doing so for several decades. "I can't push my clients as hard as I push myself because they might get hurt," he jokes.
From Kids Fitness Group to Acrobat, Performer, Businessman and Personal Trainer
Carson was introduced to fitness as a 10-year-old boy growing up in Winnipeg, Canada. "There wasn't much to do up there at the time, so the YMCA organized a fitness group for kids called the 'Canadian Aristocrats,'" he recalls. Through the program he learned how to use the high bar, parallel bar and spring board.
Eventually, Carson became fascinated with bodybuilding, which he argues was more effective before the advent of exercise machines. "Today, everyone uses machines that do much of the work," he observes. "That's better than nothing, but free weights are more effective at making you stronger and fit because you have to do the work."
His early introduction to fitness laid the groundwork for his initial career as an acrobat and performer. During World War II, he traveled to the South Pacific with an acrobatic troupe called the Manhattan Trio to entertain the troops on such battlefronts as Guam and Iwo Jima. Carson's strength training came in handy during this act. "I was the 'bottom man' who had to balance and support the other two members," he says.
After the war, Carson entered show business, forming a comedy act called the Jaywalkers. "We used our athletic and acrobatic abilities in many of the acts," says Carson, who adds that his group appeared on the Ed Sullivan Show multiple times in the late 1940s and early 1950s. "We were one of the most requested acts and worked with such stars as Red Skelton, Lena Horne and Rosemary Clooney.
In the following decades, Carson transitioned through various positions, from businessman to Hollywood projectionist, all while maintaining the one role that has largely defined him: that of fitness guru.
"I would always go work out at least four times per week and even owned several gyms for a time," recalls Carson. Gradually, he developed a reputation as a personal fitness trainer, which he maintains to this day.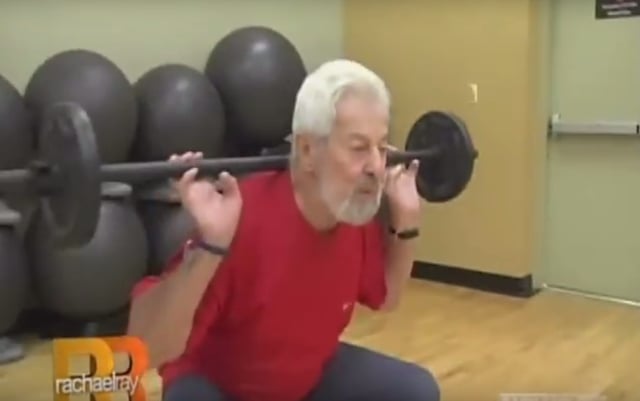 Move Every Day. Exercise Moderation in all Aspects of Your Life.
So how does this nearly century-old bodybuilder keep at it? When asked, Carson constantly harkens back to his motto: Movement and Moderation. "You need to move every day," he advises. "That doesn't necessarily mean suffering through a gym workout if that's not your thing. Go for a swim, play ping pong, take a brisk walk, skip rope…it doesn't matter so long as you are moving. The trick is to find an exercise that you enjoy and will be motivated to do regularly instead of one of those New Year's resolutions that you will be tempted to give up."
>> See Healthy Lifestyle Tips From Martha Orellana's Personal Trainer
>> See Wellness Tips For Staying Healthy During the Holidays
According to Carson, staying healthy isn't just about exercising, it's a more holistic concept that emphasizes moderation in all aspects of life. One of the key areas in which Carson points to moderation is diet. "A proper diet actually eliminates the need for all of those artificial vitamins and supplements," he argues. Instead of eating infrequent, large portions, Carson recommends frequent, small meals.
He also emphasizes the importance of rest and other forms of relaxation, including sleeping between eight and nine hours per day and taking regular steam showers to release bodily toxins.
>> See How To Make Your Workouts Leverage The Benefits Of Steam.
"I took steam sessions for years after my workouts, and they were fantastic for purging my body of impurities," he says. "It would be great if everyone had a steam shower in their home."
>> See 13 Frequently Asked Questions About Steam Showers Answered
One person who can attest to Carson's youthful energy and dedication to leading a healthy lifestyle is his daughter, Liz. "My dad is also my personal trainer," she says. "It's never a boring workout because he mixes up the exercises each time." It all harkens back to one of Carson's main beliefs: you have to enjoy exercise to gain something from it.
This 5:41 minute video of Moe Carson on the Rachael Ray Show offers perspective on Moe's energy and enthusiasm for movement and moderation.
Carson officially retired from personal training in 2014, yet this meant nothing in practice as he continues to train and provide wellness advice. "I just couldn't stay away," he exclaims. Perhaps, more than anything else, this lively attitude keeps him young at heart. (See At 95, Moe Carson retires from personal training.)
It also makes him perfect for motivating every one of us who wants to live well, keep healthy and redefine what it means to live long.
>> See Boomers, Want Better Health and Beauty? Try the Benefits of Steam!
Got a fantastic trainer to share with us? Send us an email with the trainer's name, email and phone number and we'll create a #TrainerTellsAll profile!