Designers Tap MrSteam for Best Product Design Award
---
At the 10th annual Innovation in Design Awards presented by Connecticut Cottages & Gardens, MrSteam proudly took home the Best Product Design award for our Linear SteamHead, aptly described as, "So powerful, but so minimal -- the best of both worlds."
"The judges fell in love with MrSteam's Linear SteamHead because of its seamless design," explained CTC&G editorial director and editor DJ Carey. Carey also serves as chairwoman of the publication's annual Innovation in Design Awards -- which she likens to the Design Grammys. Last month, she presented MrSteam with the 2016 Best Product Design Award at a May 24 ceremony.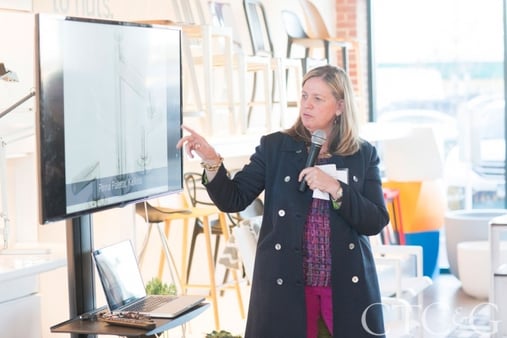 CTC&G Editorial Director D.J. Carey
Photograph by Neil Landino Jr.
Carey said that the distinguished product design panel, comprised of
five interior designers
and two editorial staff members, was very impressed with the minimalist design and reverse waterfall operation.
"The judges just loved it. It was a clear winner among the 120 other product submissions," noted Carey. "The linear design isn't bulky, and every designer in the judging panel felt that homeowners would love it."
"When you think about luxury plumbing, one of the big bummers is that many of the products are so clunky," continues Carey. "With the Linear SteamHead, the profile is so minimal – it won't detract from the tile and other design elements in the space. It's simple and classic."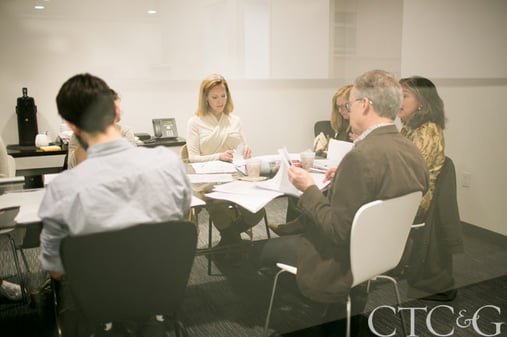 The 10th annual event attracted more than 450 attendees, where awards were also presented for Best Architecture, Interior Design, Small Spaces, Kitchen Design, Bath Design, Landscape Design and Readers' Choice, and Product Design. The winners will be featured in CTC&G's July/August issue.
This isn't the first accolade achieved by our innovative Linear SteamHead; earlier this year, the design took home an Architizer A+ Special Mention in the Bath Fixtures & Fittings category.
>> Read more about the IDAs and winners at CTC&G.
>> See MrSteam Launches Sleek New Linear SteamHead With Unique, Flush-to-the-Wall Design.
>> Read more about the Linear SteamHead's design features.
. TheyC&G Media publications include: CTC&G (Connecticut Cottages & Gardens), HC&G (Hamptons Cottages & Gardens), NYC&G (New York Cottages & Gardens) and SFC&G (San Francisco Cottages & Gardens). They profile the very best in architecture, design, art and antiques, real estate and entertaining to a highly influential readership in Connecticut, the Hamptons, New York (NYC, Westchester, North Shore of Long Island, Hudson Valley) and San Francisco.