Linear SteamHead and AirTempo Control Earn Architizer Awards
---
"There's a lot of bad architecture out there. And then there's some good architecture. But tonight? Tonight's about great architecture," said Martha Stewart during an Architizer A+ Awards Gala, which celebrates the year's top architecture and building products from around the world.
MrSteam is honored to be in the "great" architecture category this year, having earned a 2016 Architizer A+ Award Special Mention for two products: The innovative Linear SteamHead in the Bath Fixtures & Fittings category and the wireless AirTempo Control for steam showers in the Accessories category.
What the Architizer A+ Award Special Mention Means
Such an honor is more than just a recognition; it's an affirmation that MrSteam is a global industry leader for architecture and design. The Architizer A+ Awards received thousands of entries from 100 countries, and less than 15 percent were chosen as Special Mention honorees.
Winners are chosen by a jury of more than 350 industry luminaries such as Denise Scott Brown, Bjarke Ingels and Tom Kundig, as well as personalities from beyond architecture like Tony Hsieh (CEO, Zappos), Yves Behar (Fuseproject), John Edelman (CEO, Design Within Reach), Cameron Sinclair (Architecture for Humanity) and Barry Bergdoll (MoMA). There are a total of 115 award categories in the competition.
The Linear SteamHead from MrSteam
Unlike conventional square and rounded steamheads that protrude into the room and deliver steam from a single exit point, the discreet and unobtrusive Linear SteamHead from MrSteam is set flush to the wall and contained almost entirely within it.
Expressing the timeless philosophy of the Bauhaus school of design, its clean, narrow opening emits a thin, undulating ribbon of steam that flows upward in an even, gentle pace. This "reverse waterfall" naturally distributes steam throughout the room, providing both a focal point and a bit of theater for the steam bather.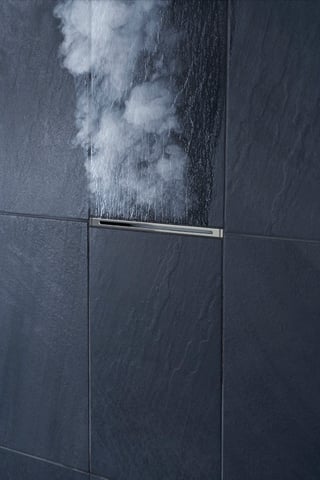 The AirTempo Control for Steam Showers
Powered by replaceable, long-lasting lithium batteries, the AirTempo Control for steam showers communicates wirelessly, eliminating the time, hassle and expense of running a cable from the control to the steam generator. Installation is largely a matter of deciding where to conveniently locate the AirTempo, which mounts in seconds with no tools required.
Because the steam shower control needs no wires, it can be surface-mounted to almost any steam room wall and can be used as a remote control outside the shower for advance activation. The touch-activated glass screen panel responds quickly to user inputs. If left idle, the panel reverts to sleep mode automatically to save energy while still maintaining the programmed temperature.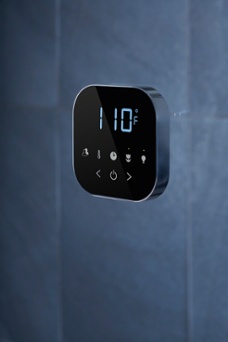 The mission of MrSteam is to incorporate the latest in design and innovation to bring the health and wellness benefits of steam into people's homes.
>> See Architizer A+ 2014 Awards Include iSteam!
The AirTempo Control and Linear SteamHead both further that mission by helping to make steam showers both functional and beautiful. Earning the Architizer A+ Special Mention for these two products represents, most importantly, motivation for continued excellence.