Case Study: Patti Johnson Interiors
---
In a recent blog post, "The Top Six Trending Product Categories to Add to Your Bath Gallery/Showroom," we pointed out some of the top-of-the-line bath products that are making waves in the market today. And after revisiting the case study about how Patti Johnson of Patti Johnson Interiors made a young couple's bath renovation into an extraordinary home spa, we saw just how many of these new trends made it into this bathroom, showing how a designer with her finger on the pulse can make an enormous difference to a redesign!
The project was done for a young couple in their 30s. When they first came to Patti, they had fairly basic requests, simply asking for a more functional bathroom that had greater design flair than their current master bath. They wanted their bath redesign to be bundled into a more comprehensive home renovation, which was to include enlarging their home storage space, particularly in the master bedroom.
But Patti recognized how much more could be done to anticipate and satisfy her clients' needs, by embracing several new bath technologies, including, of course, a steam shower. And by doing so, she demonstrated the difference between a good and a great designer. The best designers today don't just work to gratify a client's design preferences, but they also spend the time necessary to learn more about their lifestyle, including such facts as health issues, work schedules and stress levels, family size and age, and much more. By doing so, they can help their customers to create rooms that transcend the ordinary and elevate every aspect of their lives.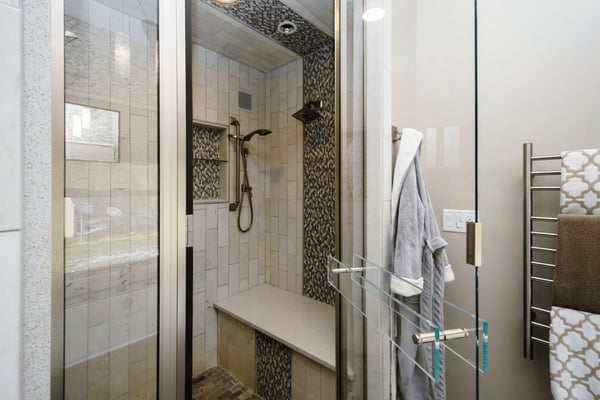 Experiencing the Benefits of Adding Steam
In this case, when Patti learned that the husband suffers from recurrent allergies and sinus flare-ups, she strongly suggested that steam should be part of the master bath renovation even though the couple had not at first envisioned a steam shower as part of the redesign. In another recent blog post, "5 Natural Ways to Survive the Spring Allergy Season," we talked about how prevalent allergies are in the US and beyond – with 40-60 million Americans suffering annually. And unfortunately for those afflicted, allergy seasons are growing longer and more severe as pollen loads increase over more of the year.
Steam, especially when combined with some of the other natural treatments listed in this post, is a potent therapy to combat the irritation that allergies bring in their wake, as steam acts as an expectorant which can help clear mucus and phlegm. Patti reports that her clients are thrilled with this aspect of their new steam shower, which has already alleviated the husband's symptoms to some degree.
Breaking Down the Bathroom Redesign
Patti and her clients faced several obstacles in their quest to include steam in the bathroom. The house was built on a slab, so the concrete floors had to be demolished to relocate the plumbing. The gas furnace had to be shifted as well in order to make room of a greatly enlarged bathroom. But like so many construction projects, especially when both the contractors and clients were both flexible and supportive, these temporary headaches were well worth the final result!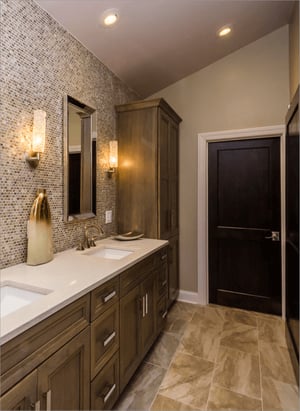 And the final result was full of high-tech bath products that made the revitalized bathroom a true oasis of calm and rejuvenation for the couple. The MrSteam package of choice was the iDream Package, including the award-winning ultimate steam command center iSteam®3, an Aroma Glass SteamHead in white, and tools to help the steam shower's longevity, including AutoFlush®, the automatic cleaning system and a Condensation Pan that protects the generator from water leakage.
Of course, Patti included MrSteam's trio of SteamTherapy features: ChromaTherapy, AromaTherapy, and MusicTherapy, bringing a rainbow of color, stimulating and soothing scent, and the ability to choose personal favorites in music and sound to the steam shower. The music system installed included in-shower music speakers along with MrSteam's AudioSteam3, a combination Bluetooth and FM receiver integrated with a powerful 60 watt amplifier, bringing crystal clear sound to the steam shower.
In addition to these enhancements to the steam shower, Patty equipped the shower with an Aquavision television, allowing the couple to watch their favorite shows while steaming – as well as a fogless shaving mirror by Clear Mirror. The bathroom floors are heated and as a finishing touch of luxury, Patti hung a towel warmer from the MrSteam Metro Collection near both shower and bathtub. With these state-of-the-art innovations, who wouldn't be tempted to spend the entire day in this enticing home spa?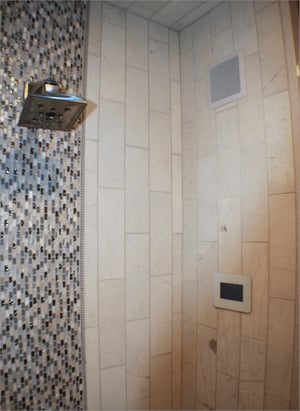 Patti didn't forget the aesthetic qualities that her clients were looking for with their redesign, and here, too, she was exactly on trend. The shower is tiled in white marble and glassed in with open doors that give the shower an airy, spacious look, effectively opening up the small space. The long counter, also in marble, features a double sink that makes it convenient for the couple to share the space. The vanity and shelves are in the currently popular wood tones, completing the up-to-the-minute look and giving the couple considerably more storage than in their original bath.
The couple couldn't be more thrilled, which is a testament to Patti's design acumen and her ability to learn enough about her clients to provide them with an amazing space, one which has actually helped them to adopt a healthier lifestyle. "Their skin certainly glows!" Patti reports. And by exceeding their expectations through steam and the other innovative bath features that she included, Patti has been invited back to work on additional rooms in the house, including their great room, a guest suite, as well as new office space and a first-floor laundry.
To learn more about other MrSteam residences that incorporated steam into their remodeled or new home projects, visit our case studies on our website.