Mr. Steam Answers 15 Towel Warmer Questions
---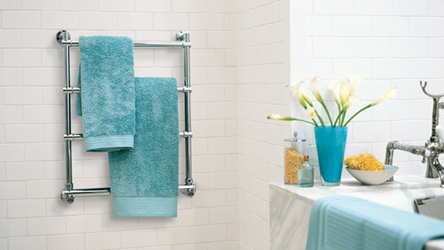 Considering a towel warmer, but still have a few questions about this fabulous way of pampering yourself? In this article, the experts at Mr. Steam along with their professional colleague, Mike Ortiz, P.C. Manager, Dahl Plumbing, Taos, provide some helpful answers to 15 frequently asked towel warmer questions.
1. How do Mr. Steam towel warmers work?
Mr.Steam towel warmers come in free-standing and wall-mounted options. You can heat your towel warmer in two ways:
a. By hydronics, using a residential closed-loop hot water heating supply
b. By electricity, operating on a standard 120v household circuit
2. What are the advantages and disadvantages of using hydronic towel warmers over electric?
Both hydronic and electric models equally provide the pleasure of wrapping yourself in a warm towel. The option of which to choose relates to the type of heating system in your home, scope of work for your renovation if any, and the style and decorative finishes in your space.
If your home is equipped with a central boiler for heating and/or domestic hot water, using the boiler and the hydronic towel warmer for additional comfort in the bathing spaces makes it a more efficient investment, Ortiz points out.
>>An hydronic towel warmer calls for installation by a licensed plumber to connect it to your home's hot water heating system. There is little or no waiting time for it to heat up.
If there is not a central hydronic boiler, electric towel warmers on 24-hour, seven-day timer are a very efficient method for providing on-demand comfort in the bathing space and a warm towel when needed. Electric towel warmers can provide supplemental space heat when sized accordingly, says Ortiz. However the electrical demand and service requirements are an additional planning step and cost.
>>Electric towel warmers have the advantage of being wired by a licensed electrician into your home's electric system and operated by an optional on/off wall switch. You typically wait 20-30 minutes for them to heat up, unless you add a programmable timer which allows you to turn the warmer on and off at preselected times.
A simple plug-in electric towel warmer needs no installation.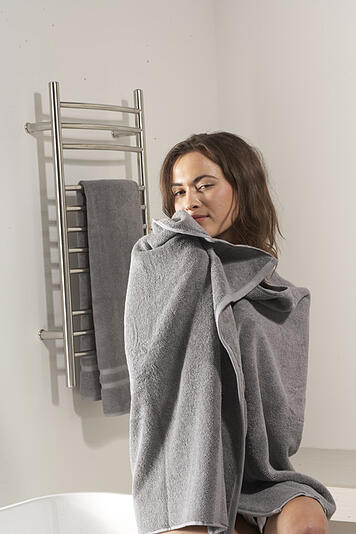 3. Does an hydronic towel warmer only heat up when the central house heat is on?
If the towel warmer has a thermostatic control with an end switch or a contactor, it can give the central heating boiler an independent call for heat to the unit when needed.
Typical installations often utilize a piping scheme which does require some other part of the system to make the call for heat, according to Dahl Plumbing's expert Mike Ortiz. The use of multiport manifolds makes the utilization of radiators much easier since they can give the option to provide higher water temperatures to the towel warmers when required.
4. How does an hydronic towel warmer function in summer months in a house that uses hydronic radiant floor heating?
Ideally the central boiler is also providing domestic hot water through an indirect fired hot water tank. When this is the installation, the boiler would be cycling to maintain the domestic hot water requirements, thus making it available to provide hot water to the hydronic towel warmers, according to Ortiz.
If you are interested in an hydronic towel warmer, Mr. Steam recommends contacting an hydronic heating specialist who can provide the best direction for seamless year round operation in your home.
5. Does a Mr. Steam towel warmer have a thermostat?
All Mr. Steam electric towel warmers are UL listed. Of Mr.Steam's three towel warmer collections, the liquid-filled models in the Broadway and Fifth Avenue Collections use UL-recognized heating elements that have built-in thermostats. The dry wire towel warmers in the Metro Collection are designed with UL-recognized self-regulating heating wire to maintain temperature.
6. Do Mr. Steam towel warmers come with an on/off switch?
Most Mr. Steam electric towel warmers do not come with an on/off switch. A standard wall switch or optional timer installed by a licensed electrician may be used to turn them on or off.
However, the Mr. Steam electric floor-mounted F328 model towel warmer does come with an on/off switch.
Hydronic towel warmers have no electrical components and do not have an on/off switch.
7. Are timers standard or add-on for a towel warmer?
Timers are optional add-ons for Mr.Steam towel warmers. The image to the right shows you the optional towel warmer timer.
If you opt for a towel warmer timer add-on, it will be mounted in-wall and will provide you with a 24-hour electronic timer for pre-start and automatic shut-off of the towel warmer at programmed times.
8. How much energy / watts are needed to use a towel warmer
?
Mr. Steam towel warmers, depending on the model and size, utilize 100 to 400 watts.
9. How many amps circuit is needed for a towel warmer?
Mr. Steam electric towel warmers need a 120volt/1 phase circuit with amps ranging from 0.83 to 3.33 depending on the model.
>>Download the specifications for individual towel wamer models here.
10. Does it cost much to operate a towel warmer?
An electric towel warmer switched on for an hour a day costs only a quarter to operate.
Hydronic towel warmers do not cost anything additional to operate, since they use water that is already being heated for the home heating system.
11. Is it safe to use towel warmers in children's bathrooms?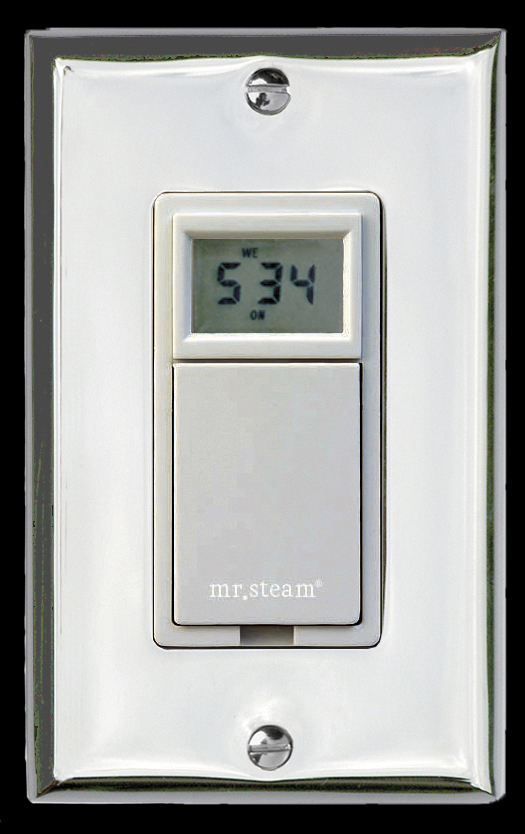 Mr. Steam does not recommend installing towel warmers in bathrooms used by small children.
12. Can a towel warmer be put on a wall above a bathtub
?
It all depends on the type of towel warmer.
An electric towel warmer cannot be installed on a wall above a tub. It cannot be installed inside a shower, sauna or steam room, or within the tub/shower zone either. Be sure that an electric towel warmer is installed by a licensed electrician in accordance with national and local codes.
Since an hydronic towel warmer does not contain any electrical components, it is safe to place it above a bathtub. However, great care should be taken to secure the towel warmer to the wall, in case it is used as a grab bar. The towel warmer should be securely bolted to studs.
13. What size towel warmer should I get for two towels? How do I fold towels so that two fit?
For two towels, Mr. Steam recommends a towel warmer that is longer than 28."
One that would be ideal is a Mr. Steam model that is 49 inches long and 24 inches wide.
A typical bath towel is anywhere from 27 x 52 inches to 30 x 58 inches or about half that when folded. We recommend folding them as shown in the picture here for the best results.
Remember, too, that the closer together the bars of the towel warmer, the more heat reaches the towels.
14. What is the average life expectancy of a towel warmer?