5 Tips for Building a Home Steam Room
---
Having your own home steam room is one of the most exciting renovations you can make to your abode. While you may have put off building your steam shower because you dreaded the construction, you may be surprised that you can not only enjoy the process but ensure it's done properly - if you know what it entails. Following these tips when building your home steam shower will help to ensure you get the features and functionality you desire.
1. Determine the Size and Location of Your Steam Shower and Generator
Having a home steam shower is within reach of virtually every homeowner, from the most compact to the most spacious. It requires as little as a 3-foot x 3-foot space with a minimum ceiling height of 7 feet and a maximum of 8 feet. You can still have a steam shower even if you have very high ceilings, but you'll possibly need to increase the size of your generator to allow for the natural tendency for steam to rise.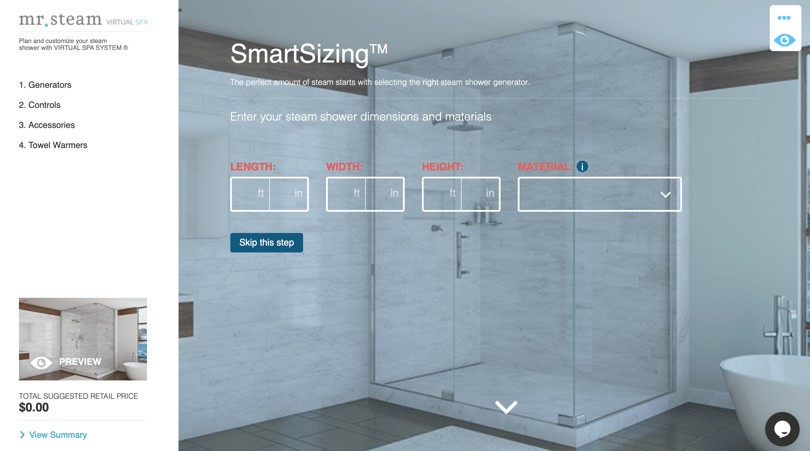 Don't worry about finding room for your generator in your bathroom. It can be up to 60 feet away from the shower. Just be sure to allow at least 12 inches of clearance around the top and sides for easy maintenance. Some potential places where you can install your briefcase-sized generator are in a closet, cabinet, heated attic, basement, or equipment room. You may also place it under the shower floor, a bench, or a vanity.
If you have doubts about whether your small space can accommodate it, consider that some people have chosen to make their whole small bathroom a steam room with only a few modifications. If you decide to go with a full steam room, there are a few things to be aware of:
Replace existing glass windows with double-paned glass
Remove any air conditioning or heating vents from the room
Place the exhaust fan outside the shower
Ensure lighting is vapor sealed
2. Design Your Steam Shower
Now's your chance to indulge your inner designer. Imagine what your ideal spa will look like: What colors will you choose? What materials fit your style? Will you have music, scents, or mood lighting?
The first step is to choose your materials. It is more than just a matter of aesthetics. Your choice of materials for your steam shower can determine the type of generator you need. For instance, while natural stone is beautiful, it is porous and may allow more steam dissipation and heat loss than a non-porous material.
If you love the look of natural materials, consider a look-alike porcelain tile. They come in a wide variety of designs, such as slate, marble, and even wood. Using the non-porous tile results in a more energy-efficient steam shower. Remember that larger tiles are better, as there are fewer grout lines to trap moisture.

3. Update Plumbing and Electrical
When roughing in the plumbing and electrical, a good practice is to run all wiring through protective piping. That step can save a lot of time and money in the future if you need to do any rewiring. It can also prevent rodents from gnawing on your wiring and causing a malfunction or dangerous electrical short.

4. Choose an Enclosure
Once you install the door, you are almost ready to enjoy your new home steam shower. The shower must be completely enclosed by an insulated, water- and vapor-tight door and enclosure. Since you're doing a custom build, the possibilities are endless to create a design that is both beautiful and functional.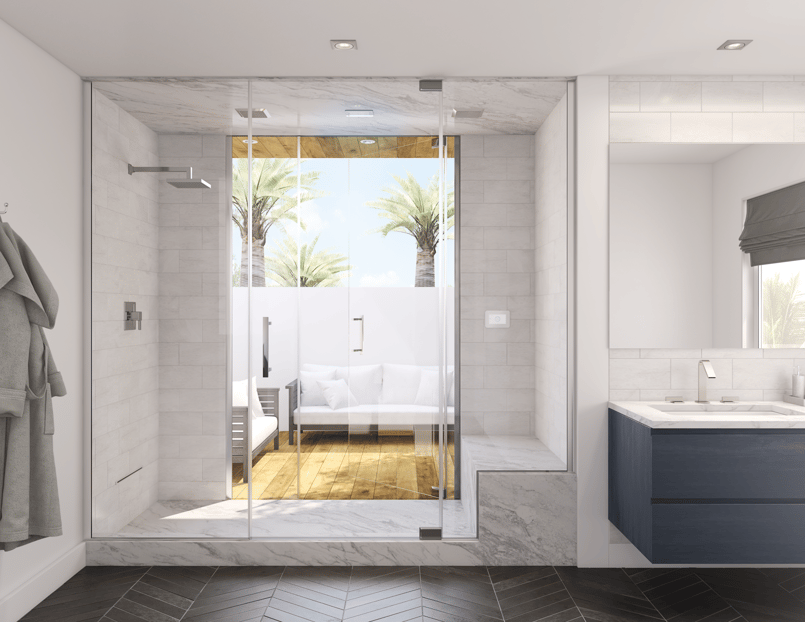 5. Add the Finishing Touches
Choose those finishing touches that will put it over the top and make you the envy of family, friends, and neighbors. You can choose from AromaTherapy, ChromaTherapy, or MusicTherapy. Even better, include all three to achieve the bliss you so greatly need and deserve.
AromaTherapy can boost your mood by stimulating the olfactory nerves that send sensory messages to the brain. ChromaTherapy or light therapy uses different colors of light to invigorate, relax, or otherwise complement the other beneficial features of your steam shower. Whatever mood you want to create, you can use music in your steam shower much the same way.
You Are Only Steps Away From Your Own Home Spa
A home steam shower is an enjoyable experience that can lead to increased wellness and even increase the value of your home. Contrary to what you may think, a steam shower is not just for the affluent. They can accommodate the most modestly sized homes or budgets. Designing your steam shower is as easy as answering a few questions on MrSteam's Virtual Spa tool.
Now that you know how easy it is to plan and design your ideal steam shower, make sure to hire the most qualified contractors, electricians, or plumbers to do the work. Experienced professionals can make building your home spa an easy and exciting time. Before you know it, you'll be relaxing in your private oasis.