15 Tips to Consider Before Installing a Home Steam Shower
---
Bathroom renovations are one of the most exciting projects a homeowner can take on. From getting ready for the day to winding down at the end, we spend ample time every day in the multifunctional space, making it a high-impact, high-value remodel to enjoy for years to come. The bathroom also provides a sanctuary for pampering and recovery for the health-and-wellness-oriented homeowner when equipped with therapies such as a home steam shower. While updating and upgrading a bathroom is exciting, there's also a lot of planning, research and details to work out, which is why the steam-shower-curious often ask: what do I need to know before I install my home steam shower?
To ensure that everything comes together as planned, consider these 15 tips as a checklist when planning your personal spa:
MrSteam's 15 tips
to help you plan for a home steam shower
1. An enclosed and insulated shower space is always needed
When installing a personal steam shower, ensure that the shower will be enclosed and insulated to keep the soothing steam in place. It should be constructed of tile, marble or non-porous materials, and equipped with a water-tight shower door and floor drain.
It's important to note that while the shower space needs to be water-tight, it does not have to be air-tight. In fact, some air infiltration, especially around the shower door, allows you to see the steam form.
Finally, make sure that shower doors are watertight and any windows are double-paned.
2. Maximum ceiling height of eight feet
The ideal steam shower has a maximum ceiling height of eight feet. If your bathroom has a higher ceiling height or vaulted design, you may need a higher-rated (more-powerful) steam generator to fill the additional room volume. We recommend that your shower enclosure be a minimum of 3' x 3' x 7'.
3. Sloped and built-in seating for bather comfort
Seating should be slightly sloped and built-in for bather comfort. Seating style is a personal preference and may depend on the shower room's size.
4. Fold-up seats maximize steam shower space
To maximize space in smaller showers, you might opt for a fold-up seat, such as the MrSteam teak seat, coated for moisture protection.
When space isn't an issue, some users opt for a tiled bench that can be installed diagonally in a corner or along a wall, opposite the steam head.
5. Think slip prevention for the steam shower floor
Safety is always important and especially in a steam shower. Be sure to add anti-skid strips on the steam room floor to prevent slipping.
6. Use vapor sealed lighting fixtures
Use only vapor sealed lighting fixtures that provide protection against moisture entry and that are approved for steam showers. The light is typically protected by a ground fault circuit interrupter (GFCI), which will shut off the power if it detects moisture in the fixture.
MrSteam manufactures both recessed and surface mounted lights that are UL and cETus listed.
7. Pay attention to the steam room installation requirements for materials
For tile steam showers, consult the information available from the Tile Council of America, Inc.
You'll want to use ceramic tile, acrylic, porcelain or other non-porous materials so that steam shower walls don't absorb and rob your body of that sumptuous steam.
TIP: The more porous a material (e.g., marble, shale, granite, glass block, or concrete), the more quickly it will dissipate heat, rather than retaining it.
>> See why materials matter when it comes to steam
8. Decide Where you will install the steam generator
Consider where you will install the steam shower generator. A MrSteam generator can be installed anywhere within 60 feet of your steam room—in a heated attic or basement, closet, vanity etc.
Just note that we recommend leaving 12 inches of excess space on the top and sides for servicing and to ensure adequate ventilation. Do not install the steam generator inside the actual shower enclosure or in an unheated location where the water supply piping might freeze.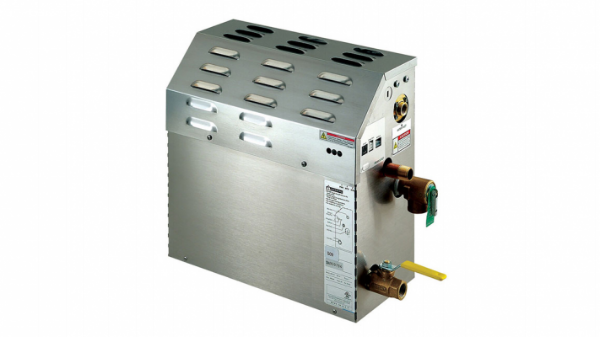 9. The steam head location
The steam head should be located approximately 6-12 inches above the floor of the steam room on a wall opposite the seating area, and away from the entrance/exit area.
We recommend a cool-to-the-touch steam head.
10. The steam shower control location
The optimal location of the in-shower control is inside the steam room 4-5 feet above the floor convenient to the bather and away from direct steam flow. Look for
intuitive controls that make it easy to manage and to enjoy your steam room, including temperature, duration, personal settings,
aroma
and
chroma light
therapies.
Note that you have new options with the AirTempo Steam Shower Control.
11. Details on steam shower plumbing connections
Plumbing connections include a water line to the generator, a steam line from the generator to the steam room and a drain line.
Make sure all plumbing and electrical wiring is performed by a qualified licensed plumber and electrician in accordance with applicable national and local codes.
12. Hire an electrician for the power required for the steam generator
Household electric power is required to operate the generator. Specify 208v. or 240v.
All in-shower controls operate on low voltage. Install a separate circuit breaker between the power supply and the steam generator unit. Be sure to provide a power supply disconnect within sight of the steam generator or one that is capable of being locked into the open position.
13. Use UL listed steam generators only
Look for steam generators that are UL listed.
>> See 18 Questions to Ask When Buying a Steam Shower
14. Never install heating, venting or air conditioning devices in the steam room
In a regular bathroom, an exhaust fan helps vent stale air outside the home. This same principle applies to a steam shower bathroom—in fact, a standard bathroom exhaust fan will do the trick. Installed outside the steam shower enclosure, an exhaust fan will safely remove moist warm air from the room.
Reminder: No heating, venting or air conditioning devices should be installed inside the steam room (e.g., heating air vent).
15. Always use double-pane windows in the steam shower
If your shower or steam room has windows, they will need to be double-paned to prevent any heat or cold from coming in or going out. The editors at Fine Homebuilding magazine also encourage the use of vinyl-clad windows, cement backer board, a waterproof membrane, and a good quality silicone caulk.
>> See How to Seal Your Steam Shower Windows

Let us know if you have questions. Check out this related story: What do Builders Need to Know About Steam Shower Installations?