What to Expect from a Steam Room Experience
---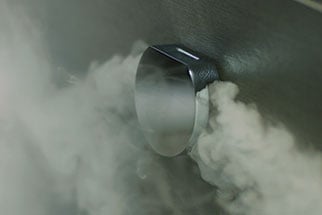 Are you thinking about trying steam for the first time at your gym or spa, but don't know what to expect? Read on for expert guidance for new steam bathers on what to expect from a steam room experience.
A Steam Room For Wellness and Goodness
Imagine. It's the end of a long workday, your shoulder muscles are tight as a drum, and your mind is swirling with responsibilities. Your heart is pounding and your whole body is fatigued. What do you want and need now? 
To feel relaxed. To feel healthy. 
Just for a moment, to feel good.
Your friend told you about the near-magical effect of steam on your sense of well-being and how unbelievably good it feels. But you don't know. You've never tried it… until tonight. As you make your way over to the steam room at your spa or gym, you're wondering, "what is this going to be like?"
We asked Martha Orellana, Vice President of Marketing at MrSteam, what a first-time steam bather can expect. As with anything, if you haven't experienced steam before, you want to know what you're getting yourself into and how it will affect your body.
"The first thing you feel is the moist mist enveloping your entire body," describes Orellana. "Then you begin to feel the heat." Steam room temperatures can reach anywhere from 90° to 120°F. It's that heat that provides many of the benefits of steam, like soothing tired muscles, clearing stuffed nasal passages and opening your pores.
As the heat fills you with a feeling of relaxation, you will wish to get more comfortable. Most spa rooms offer two levels of benches: one higher and one lower. "The higher bench will be hotter, so if this is your first time in a steam bath, use the lower level benches," advises Orellana. "It's also important to find a place that is far from the steam outlet" to avoid excessive heat.
As you sit down, close your eyes and breathe deeply to relax. As you inhale that warm steam, your nasal passages and lungs will open up—eventually, you should reach a point of total relaxation as your stress dissipates into the air.
>> See Steam Bathing 101: Seven Steps For an Effective Steam Bath.
How A Steambath Benefits Your Body
Stress reduction is just one of many steambath benefits. "Since steam helps clear your air passages, it can help alleviate a number of symptoms resulting from overactive sinuses to allergies, and even sore throats and asthma," explains Orellana.
Please note that, while the health benefits associated with steam are many, people with certain conditions like high blood pressure or heart conditions should ask their physician before using a steamroom.
Once you leave a steam room, you will feel so calm and relaxed that you will almost certainly want to experience it again… and again. If you're not keen on sharing this experience with other strangers in a commercial spa, though, you can completely customize your steamy experience with a home steam shower from MrSteam.
>> See Is Your Bathroom Big Enough For A Steam Shower?
A steam shower can be installed in your own home and allows you not only to enjoy the feeling of steam, but also aroma, chroma and music therapies. It's an experience that will indulge nearly all of your senses anytime you want.
>> See How To Install the Chroma Light Cable and Light Up Your Steam Room
>> See Hear the Benefits of Steam with AudioWizard™
>> See How To Connect the AromaSteam System to Your Steam Shower Generator
For more information about steam benefits and how you can set up your own steam shower in the comfort and privacy of your own home, please visit www.mrsteam.com.