The Eco-Friendly Homes of the Future… Have Arrived
---
Among architects, there's plenty of reverence for the masters of Mid Century Modernism—the Mies van der Rohes, the Richard Neutras. But what does the future of residential modernism look like? It is a bridge that links classic mid-century design with contemporary building technology. It's a bridge that connects low energy costs and high-concept aesthetics. It's a bridge that respects the natural world while still providing luxury interiors.
And in at least one case, it's literally a bridge.
MrSteam recently collaborated on a visionary project called The Bridge House—a new, one-of-a-kind, zero-net-energy residence in Los Angeles. For the home, architect Dan Brunn created a design that stretches 210 feet across its environment, straddling a brook.
Eco-Friendly Steam Showers
For this forward-thinking home design, Brunn immediately thought to include steam showers. Unlike traditional showers, which use 2.5 gallons of water per minute, a MrSteam shower system only sips about 1 ½ gallons of water for an entire steamsession. And filling an average tub takes about 70 gallons of water, according to the EPA—more if it's a deep soaking tub. Even a bath every other day adds up to 320 gallons of water, and that is only for one person in the household.
Tack on the energy savings—a steam shower is a mere pennies per use in terms of power costs—and it's easy to see why a residential steam shower system is considered the most responsible choice for today's home builders.
The Master Bath: An Efficient Wellness Retreat
The master bath of the Bridge House features a MrSteam iDream Steam Shower Package, an all-inclusive way to create a personal spa retreat. A sleek, award-winning Linear SteamHead—so low profile as to be nearly invisible in design—provides a whisper-quiet steady flow, surrounding a steam bather in warm, fluffy steam.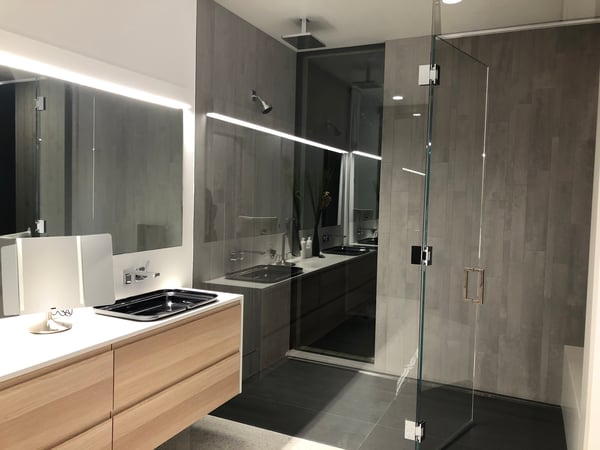 The award-winning iSteam3® touchscreen Steam Shower Control serves as a command center, allowing for personal settings for up to eight steam shower users. Duration, temperature, MrSteam therapy systems and other favorites can be available with a touch. Or start or stop the steam shower from anywhere using a mobile device with SteamLinx, or a verbal command using Just Ask Alexa.
The steam shower experience is further enhanced via AudioSteam®3 and Speakers. A combination Bluetooth and FM receiver brings crystal clear sound to the steam shower, surrounding the steam bather with their choice of sound to soothe body and mind—music, guided meditation, birdsongs and more. This high-quality, vapor-sealed sound system is controlled directly via the iSteam3 control.
The MrSteam shower in the master bath also includes ChromaTherapy, which combines science and design to flood the steam shower enclosure with colored lights, creating a personal sensory experience. Blue light can provide a calming mood, for example, while red light invigorates, and green encourages a sense of harmony. Tapping into one of the hottest trends in wellness, an AromaTherapy System electronically infuses aromatic herbs—such as eucalyptus, lavender, energizing mint, and others—directly into the steam, helping both mind and body, while supporting wellness.
In keeping with the Bridge Home's zero-net-energy status, the compact MS Super2 Generator for the steam shower is energy efficient and engineered, designed and assembled in the U.S. It uses less than 14 gallons of water for a week's worth of 20-minute steam showers, compared to the up to 640 gallons of water a jetted shower system can use, with a homeowner only showering every other day.
Sleek Eco-Elegance in the Guest Bath
For the Bridge House's guest bathroom, MrSteam provided the AirButler Steam Shower Package. The sleek, black, AirTempo® control is wireless and can be mounted anywhere without the constraints of wires. This control can create custom settings for two users' preferences on temperature, time and more. The AirTempo remote control automatically turns off the generator when you don't return the control to its dock within five minutes. That way, any unexpected, unavoidable delays won't result in wasted energy or water.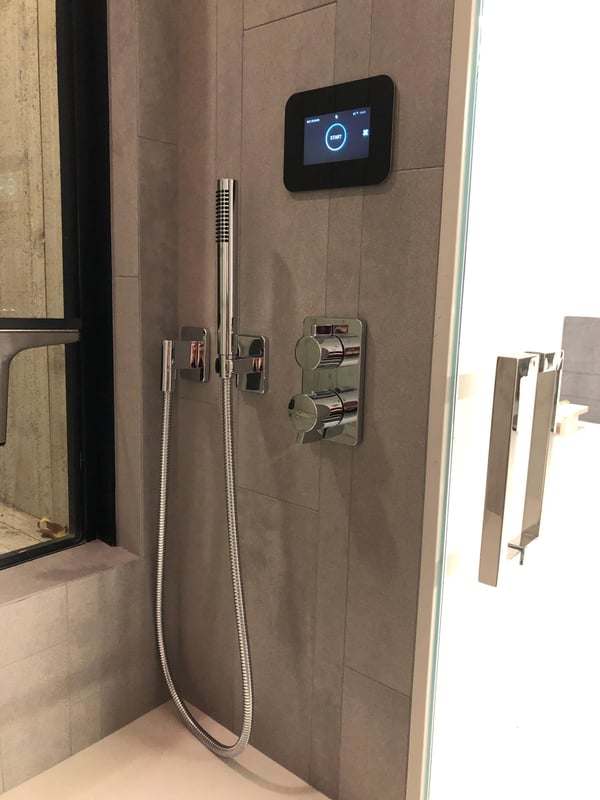 The steamhead in this room's steam shower is an Aroma Glass Steamhead, with a contemporary black glass fascia. Adding a few drops of essential oils into the oil reservoir on the steamhead suffuses the steam for aromatherapy. Chromatherapy—for mood enhancement—is also included as an accessory. And like with the iSteam3 Control, start the steam shower from anywhere using a mobile device with SteamLinx, or Just Ask Alexa.
An MS400 generator uses a mere two gallons of water for a 20-minute steam, and like the Super 2 generator in the master bath, uses only pennies worth of energy during a steam shower session. Both generators also feature AutoFlush systems, which self-flushes the generator after every use, ensuring a clean, fresh steam every time, and enhancing the overall lifespan of the generator.
MrSteam is delighted to partner with the Bridge House to showcase the wellness and lifestyle benefits of steam showers in a residence that is truly groundbreaking. To plan and customize a steam shower for your own eco-friendly home or residential project, use our Virtual Spa System.