Steam Stories: Arianne Bellizaire
---
At Arianne Bellizaire Interiors, our key focus is ensuring our client's homes are an oasis for their health and well-being. Our most important design elements include everything from a steam shower to features that simply help a client relax (a home theatre, library, etc.). 
Over the years, we've honed a method to realizing our client's dreams. It starts with the basics: talking.

Start by Driving the Conversation — What Helps You Feel Good?
When incorporating wellness into a client's home design, you must ask what helps them feel good.
However, not all clients are very forthcoming with that insight.
We often drive the conversation because the questions of 'what helps you feel good?' or 'what do you want?' are overwhelming for many people to answer. 
To get clients to think about themselves — instead of worrying about resale or saying the wrong thing — we've had success with the following practices:
We spend a lot of time thoroughly interviewing clients on their likes, dislikes, expectations, and more before getting started. 
We use visualization tools (i.e., clients close their eyes and walk me through their home. 'What do you see?' 'What are you touching?' 'What do you smell?') to uncover what they want from the project.
What Are Their Answers Telling You?
The responses will subtly reveal much about what your client needs from you.
For instance, if a client answers that they smell lavender, it suggests they require a more personal and peaceful space to call their home.
The smell of eucalyptus could suggest a luxurious, spa-like environment is needed.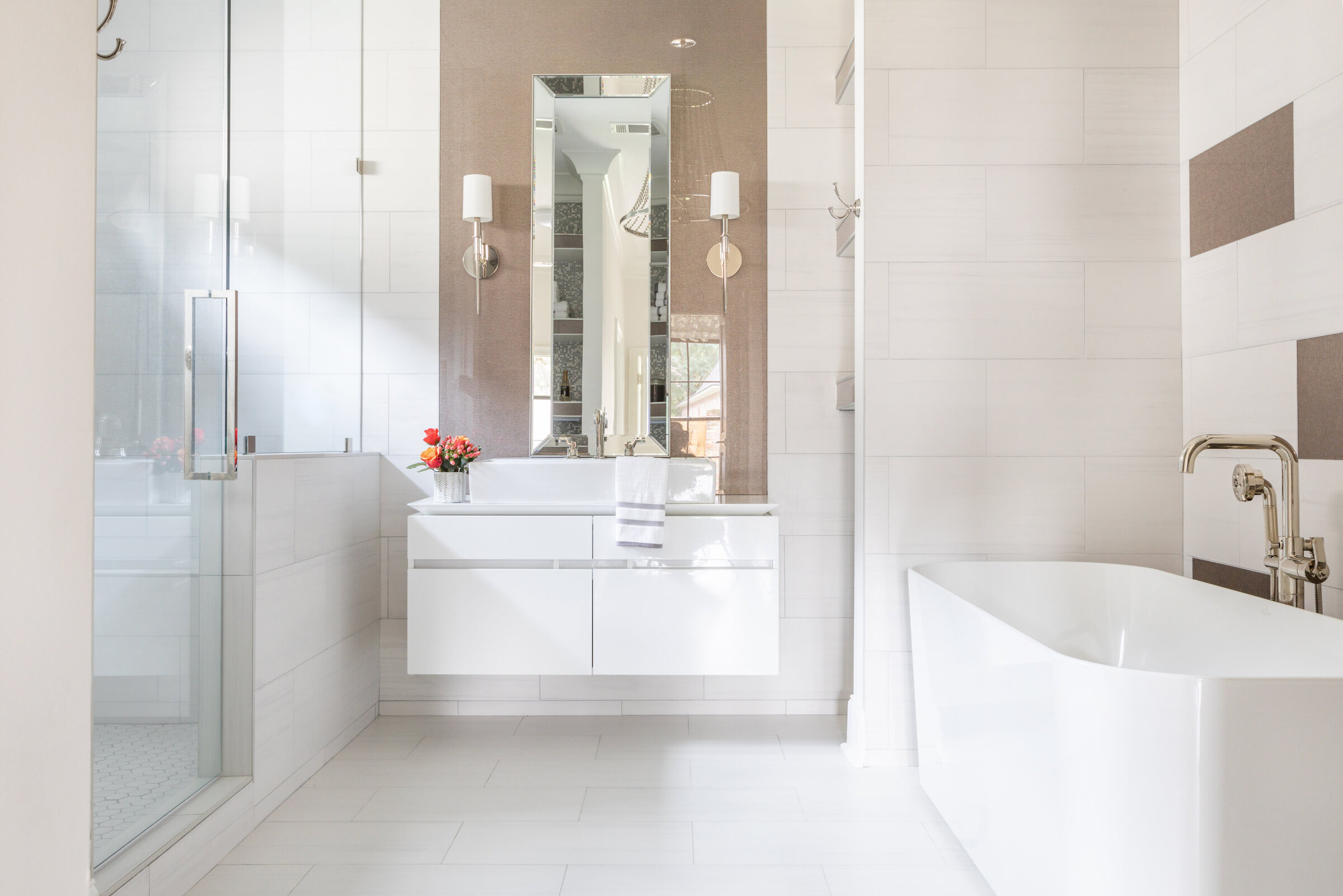 Bringing Wellness Into Bathroom Designs 
Interior designers owe it to their clients to create an environment that promotes healthy living.
Stress and worry plague more than 60% of the nation. One of the many benefits of increasing wellness is the corresponding reduction in stress.
A great example of bringing wellness into our designs is with Dan, our client who wanted to "add the health benefits of having steam into the primary bathroom."
To do this, my team and I incorporated a custom lounge bench into the steam shower.
The combination of steam and a lounge bench brought a soothing and serene environment to a bathroom that was otherwise wholly traditional and free of elements that prioritize happiness and wellness. 
I can personally attest to the wellness benefits of steam showers. I've used Mr. Steam in several projects, including my home, and the results were incredible.
At home, I have an asthmatic daughter and husband. Our steam shower has been extremely helpful during weather snaps. It was incredibly comforting to have during the pandemic when we were homebound! 
Tips for Prioritizing Wellness in the Bathroom
A lot goes into creating a bathroom that embraces health and well-being. Here's how our team incorporates wellness into each aspect:
Lighting — essential seeing while doing your day-to-day tasks like applying makeup or grooming. At the same time, lighting also affects the way materials appear and the perceived cleanliness of a room. 
Color choices — while more and more people are comfortable bringing color into the bathroom, bright, white bathrooms will always read as the cleanest. 
Bringing the outdoors in — we are working on a project now where we are exploring the incorporation of plants and natural light into the "wet room" portion of the bath. We're always looking at new materials and finishes that give the nod to nature. 
Safety — when designing a bathroom, I always like to use a more matted or honed finish on floor tile to prevent slipping. In showers, a smaller format tile allows for more grout lines so that the foot has something to grip while moving around the shower. Lastly, I pay attention to entry points in and out of the tub or shower because this area could cause injury. 
Maintenance — low-maintenance, hypoallergenic products are a staple for the bathrooms I design. 

Products that promote wellness

— steam is such an excellent investment for a bathroom. The health properties alone are attractive, but the extra luxury this feature brings makes the primary bath even more special. I also love exploring the SteamTherapies such as AromaTherapy and ChromaTherapy.


The Importance of Sustainability in the Bathroom
More than 50% of U.S. adults say sustainability is a dream home requirement. This figure continues to increase as more and more people become aware of its importance.
Sustainability is crucial for all areas of the home. For bathrooms specifically, a lot of energy and resources can add to the strain of our current environmental crisis.
Steam showers are one way to prioritize sustainability while bringing wellness to your bathroom.
An eight-minute regular shower consumes 17 gallons. A 20-minute steam shower takes just 1 ½ gallons of water.
That's why we always recommend steam showers to clients with an eye toward eco-friendliness.
---

Arianne Bellizaire is a sought-after media personality and the CEO behind her full-service design firm, Arianne Bellizaire Interiors. Recognized as a leader for the next generation of design, her integrated technology, ROI-focused strategy, and trend-forward work has graced the pages of Architectural Digest, Forbes, and House Beautiful. Based out of Baton Rouge, Louisiana, hospitality is embedded in her firm's DNA and can be felt from the way she designs to how she partners with her clients.
The statements in this article are applicable to the author's experience. Your results may vary and may not be representative of the author's experience.