Space-Efficient Steam Shower Ideal Luxury in Small Bathroom Renovation
---
When people think of steam showers, they often think of the large units that can be found in hotels, resorts or health clubs, rather than as an amenity that can be easily and affordably installed into any home, large or small. In this article, G&G Interior Design describes a small bathroom renovation where a space-efficient steam shower transforms the space into a feel good wellness retreat.
From Dated Whirlpool Tub to Space-Efficient Steam Bath
Ramona Griffin and her husband own design firm G&G Interior Design in Birmingham, Alabama, and have over 20 years of experience in interior design. The husband and wife team never back down from a challenge, so when they were faced with a client with an old house, a small bathroom and interest in installing steam, they knew they had their work cut out for them.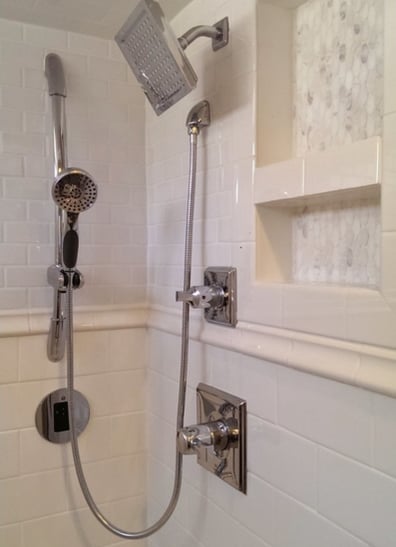 This renovation project done by G&G Interior Design proves that homeowners with small bath spaces can enjoy the same personal luxury and wellness benefits of steam that a hotel or spa resort offers.
"The space just wasn't working for them," says Griffin of the project, a renovation for a client they had worked with in the past. "The small bathroom was nearly 30 years old and very dated, with a large whirlpool tub that took up a lot of room, yet was never used."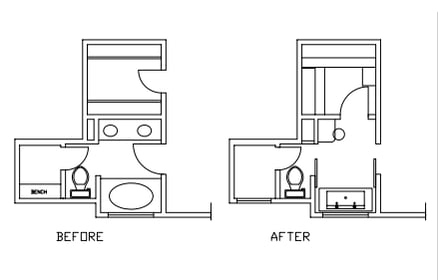 When the project began, her clients hadn't yet considered steam. They started out by looking at showerheads with multiple spray functions to give the shower a relaxing, spa-like atmosphere. When a showroom consultant learned they were looking for a luxurious bathroom space, he suggested steam, and the rest is history.
>> See Steam Showers and the Science of Human Comfort
"We had never installed steam before, so we were excited to try something new," explains Griffin. "Now that we've done it once – and very successfully! – we definitely suggest steam to all of our bathroom remodeling clients. They just love it."
Ensuring a Proper Steam Experience and Bathroom Installation
Since they hadn't originally planned on installing a steam shower, some adjustments had to be made to the remodel in order to ensure a proper install. Griffin had to raise the ceiling and add the necessary slope to avoid condensation.
>> Check out the Top 10 Considerations Before Installing a Steam Shower
"We did a lot of research regarding the slope, and especially the moisture barrier. It is so important to create a moisture-proof space to avoid mold build up," says Griffin. "We used fairly inexpensive tile to stay within the clients' budget, yet still retain heat within the enclosure. We also added a small, double-paned window in the steam shower to provide natural light."
>> See How to Seal Your Steam Shower Windows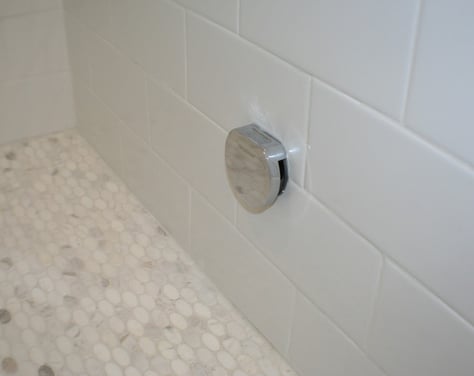 To save floor space in the 3x5 shower enclosure, Griffin installed a freestanding teak bench for her clients to sit on and relax during their steam sessions. They also opted for an AromaSteam steam head to enhance their steam experience with the use of relaxing and invigorating AromaTherapy oils.
Although the house itself is old, the homeowners wanted to incorporate modern technological touches to make the space more enjoyable and increase the value of their home.
Small Bathroom Renovation Delivers Feel Good Space-Efficient Steam Experience
After remedying a few hiccups with the dated electrical and plumbing lines, Griffin was able to create a modestly-sized bathroom that still packed a punch with style and innovation. Her clients love their gorgeous steam room, and although it isn't the typical large, glass-enclosed space you might see at the spa, it's their own little slice of steam paradise perfect for unwinding at the end of a long day.
Griffin and her husband took their 20 years of interior design experience and added a steam room installation to their already impressive list of accomplishments. Although technology proved to be a challenge in this dated home, G&G Design is happy to have steam experience under their belt, and they're ready for the next installation.
>> See Seven Questions to Ask Your Contractor When Installing a Steam Shower
>> See What do Builders Need to Know About Steam Shower Installations?
"Steam is an amenity that is growing in popularity, and for good reason," says Griffin. "You can't beat the beautiful design and functionality of a steam room. And you don't need a huge bathroom space to enjoy it."