How to Set Up the Digital Timer on Your Towel Warmer
---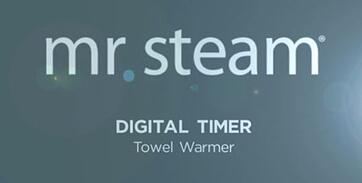 There are few things more enjoyable than wrapping yourself in a warm towel after a relaxing steam shower. It creates a cocoon of warmth that extends the relaxation you gained through steam or warm water, helping you ease back into your day. A Mr.Steam towel warmer with a digital timer can make the entire experience even more effortless by always being ready when you are.
Why Use A Towel Warmer?
Towel warmers definitely warm your towels, making them toasty, delicious and snuggly. Beyond that, they also make sure your towels are always dry -- even if you live in a humid environment, or have a heavily used bathroom and damp conditions.
Mr.Steam not only offers various options for towel warmers, but also digital timers so you can conveniently incorporate this luxury into your daily routine. These wall mounted timers can work with both hydronic or electric models.
>> See Mr. Steam Answers 15 Questions About Towel Warmers and Towel Warmers: Installing Your Favorite New Bath Fixture.
Want a Hot Towel at Home?
Timers automatically preheat your towels according to your personal schedule. Want a warm, toasty towel ready on the other side of your shower? Program the digital timer once and your towels will be heated for your specified time period just in time for your after-workout steam shower routine: warm towels will always be ready and waiting for you!
Here's a quick 1 minute video to show you how easy it is to feel good and warm thanks to a toasty towel.
MrSteam How to: Digital Timer Setup from Mr.Steam on Vimeo.
How To Set Up a Digital Timer for Your Towel Warmer
To help you get the most from your digital timer, follow these simple programming steps:
1. Open the Front Latch:
To open the front latch and reveal the setup keyboard underneath. Pull the key slot out with your fingers or with a small object, such as a paper clip.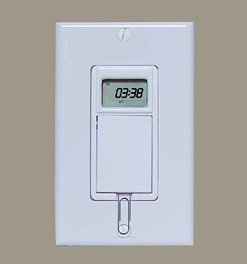 2. Setting the Digital Timer:
Press and hold the CLOCK button.
While holding the CLOCK button: press the HOUR key to adjust the hour; press the MIN key to adjust the minutes; press the DAY key to set the right day.
Release the CLOCK button to store the time you have just set.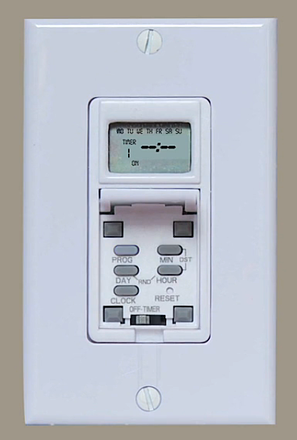 3. Programming the Run Time for the Timer:
Push the PROG button once. The words Timer 1 On will appear on the screen.
Press the HOUR key to adjust the hour of the desired on time.
Press the MIN key to adjust the minutes of the desired on time.
Next, press the PROG button again — to select the off time. The "timer off" will appear on the screen. At that point, press the PROG button followed by the CLOCK button.
Close the latch.
Your Digital Timer is Set Up!
Wall timers come standard with a white cover plate, but designer finishes are also available, including: Polished Chrome, Oil-Rubbed Bronze, Polished Stainless Steel, Brushed Stainless Steel, Polished Nickel and Brushed Nickel. For more information, please visit www.mrsteam.com/towel-warmers.
Now that your timer is set, your towel warmer will always be ready to help you surround yourself in a cocoon of warmth.