'Steamy' During BlogTour Cologne 2013: Discussing Steam Benefits
---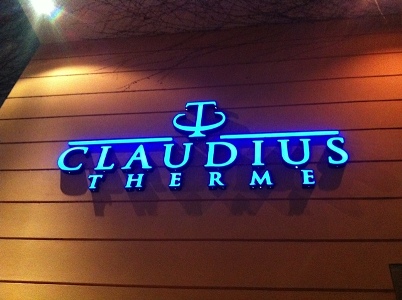 When the word steamy is used, there's a certain inherent knowledge that the event/person/item is maybe provocative, romantic and hot in a way that doesn't involve a bandage and healing ointment.
Picture this: An idyllic German spa setting -aka Claudius Therme - not a mani/pedi spa, but rather a place with salt water pools, hot tubs, saunas, natural stone, waterfalls and relaxation areas. Snow lightly falls in the moonlight in below freezing weather adding a magical element to the outdoor pools and tubs. And 17 design bloggers and entourage on BlogTour float, swim, and experience an incredible evening in the heart of Cologne. Steamy? You bet your little black speedo it was.
So it comes to pass that nine members of the BlogTour Cologne group are in the outdoor hot tub, snow on their cheeks and steam rising from the tub in the cold air. The light is just enough to see glowing, relaxed faces in a deep conversation about…. not sex, not music, not the sights of IMM, but rather steam!
Having this chat in the tub with steam all around was like convincing someone that they may enjoy driving fast as they scream down the German Autobahn at 150 mph looking exhilarated and mentally crossing item off bucket list. Yeah, it was that good.
In the steamy hot tub, the following questions about steam, steam showers and steam benefits were first out of the gate. The same questions may pop into your mind, too. So let's give you a few quick answers….
Q: How do you enclose steam?
To keep the steam in your steam shower, you will need a floor to ceiling enclosure. Typically this means a glass enclosure with a door surrounding shower walls made of natural stone, ceramic or porcelain tile, acrylic, or fiberglass.
[Note, be sure to check out How to Size a Steam Shower Generator? Try Our Virtual Spa System to learn how the choice of materials in a steam shower affect the type of steam shower generator to install.]
Q: Does steam affect other items in your bath with all the moisture?
If your steam shower has been installed correctly, very little steam should escape from the enclosure. Otherwise, a steam shower will not affect your bathroom any differently than a hot shower would.
Q: What other health benefits does a steam shower offer other than helping with breathing issues?
Steam showers offer a lot of benefits for your body! Regular steam sessions can provide a variety of mental, physical and emotional benefits, including:
Beautiful, healthy skin. Warm moisture hydrates your skin and opens your pores, leaving skin softer and more supple. Steamtherapy allows dirt and dead cells to be flushed from the body (through perspiration), and cleanses skin more thoroughly than soap and water. Steam can be a great treatment for acne and some other skin conditions.

Soothes Tired Muscles. Heat is known to be effective against joint and muscular pain. Steam showers may help reduce the lactic acid build-up in your muscles and increase blood circulation so

that

more oxygen and nutrients can reach damaged muscle tissue. A steam session can also be a great way to warm up muscles before a w

ork out.




Promotes Restful Sleep

.

After a chaotic day,

a steam shower

can help reduce stress and

encourage a good night's sleep.

The heat

penetrates your body and tells your muscles to relax, provid

ing

the perfect soothing atmosphere to unwind and

calm

your mind.

Q: Isn't steam just for big, luxury bathrooms? Can steam showers be installed in a "normal" bathroom?
Just about any bathroom has room for a steam shower. The Steam@Home steam shower generator is designed to fit tile showers as small as 3' x 4'. More compact than other steam shower generators, Steam@Home offers a smaller price tag as well, making it perfect for almost any home.
For more information, see Home Steam Showers: Responsible Alternative to Luxury Shower Systems, A Home Steam Room: Straightforward to Install and Yes, You Can Have a Steam Shower in a Small Bathroom.
And what did the #BlogTourCGN contingency think about the benefits of steam? We caught them all raising a glass to the subject and plotting their next steam experience.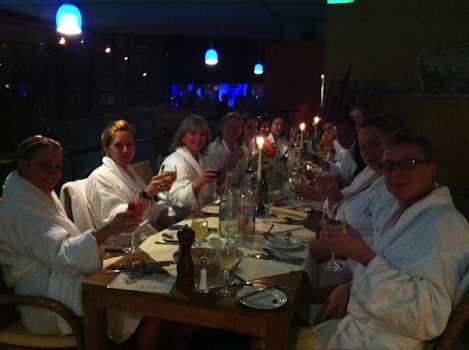 Curious about learning more details about steam showers? Visit the FAQ section of the Mr. Steam website.
Here are links to other BlogTour Cologne perspectives on this intensely steamy experience:
And stay tuned for 'steamy' design related observations from the BlogTour Cologne 2013 participants!