Are you a home builder whose clients ask about home steam showers? We have just the resource that will fully explain how to build a home steam shower.
Download the Professional Edition for Building a Home Steam Shower
When you download the resource kit developed for home builders, you'll find the MrSteam Steam Shower Checklist Home Building Professional Edition.
This 11-page guide outlines everything you need to consider to ensure your steam shower installation truly delights and relaxes your home buyer.
What's even better is that when you download it, you'll also receive the following useful resources:
The MrSteam 2016 Steam Shower and Towel Warmer Price Book
Installation guidelines for MrSteam towel warmers and steam shower systems
Links to other helpful MrSteam references

Why You Need to Know How to Build a Home Steam Shower
As a home builder, you're already aware that bathroom installations are trending larger, more luxurious and more spa-like than ever. Eco-friendly steam showers are rapidly replacing traditional and large jacuzzi tubs that guzzle 75 gallons at a time when the typical 20-minute steam shower consumes only two gallons and costs just pennies to run. They truly improve the value of a home.
>> See Steam Showers: An Eco-Friendly Personal Indulgence
Combine that with the growing focus on health and wellness, particularly among affluent homeowners, and a home steam shower unit becomes a no-brainer. Home buyers are becoming increasingly interested in at-home options that promote well-being and provide a retreat from the stresses of everyday life. They want more than just a bathroom.
>> See Time to Remodel Your Bathroom? Include a Steam Shower in Your Plans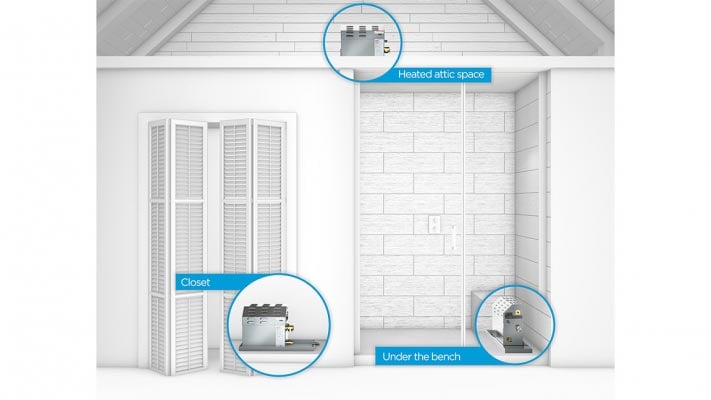 The MrSteam Steam Shower Checklist Home Building Professional Edition provides guidance to builders on what to be aware of when planning for a steam shower installation. These are useful tips, best practices and helpful references so you know how to build a steam shower and are successful when installing them.
As experienced professional Patti Johnson explains in What do Builders Need to Know About Steam Shower Installations?
"Builders need to know that space for the components needs to be planned and budgeted for beforehand. It can decrease the overall size of the finished shower if not planned for in advance. Builders need to have all the specs in hand prior to any framing.
Builders also need to convey to homeowners that much of the extra expense is the quality of these beautiful new fixtures and the extra workings. This includes labor, materials and expertise behind the walls used to create the beautiful shower experience that are not seen in other homes. Any lack of planning can lead to costly overruns."
MrSteam's Martha Orellana specifies in that same article,
"For steam showers, builders will need a 240v. electrical connection with a dedicated circuit breaker. The ceiling and walls in the shower should be water- and vapor-proof. The steam shower requires a water-tight door. The client can use a soffit above a regular size door if they don't want to have a floor to ceiling door. The shower can be constructed of natural stone, ceramic, porcelain or glass tile.
Resources For Builders Installing Steam Showers
We hope you'll find the MrSteam Steam Shower Checklist Home Building Professional Edition helpful and informative.
And, if you're looking for even more resources, here are a few that MrSteam has developed that are relevant to builders focused on steam shower installations: