We suspect you aren't too different from Patricia Davis Brown, who seeks out ways to achieve balance of mind and body and a healthy lifestyle despite her hectic schedule.
Patty, the author of DigThisDesign.net, is no one-dimensional interior designer as you can see from the 15 national design awards she has won. Over a 28 year career in the industry, she has carved a niche in several areas of design. Licensed in interior design and certified in kitchen and bath design, she offers a full menu of design services ranging from whole house interior design, kitchen and bath design, lighting design, full remodels, commercial design and universal design.
We met Patty during BlogTour NOLA 2013 (see High Style, High Tech and SteamTherapy at BlogTour NOLA) and are pleased to share with you her recommendations and recipes for balance and wellness.
An Interior Designer's LIFE on the RUN: Balancing Deadlines and a Healthy Lifestyle
By Patricia Davis Brown, NCIDQ, ASID, CKD, CBD
Being a designer means listening to my clients so I can create a room that feels right to them. I emphasize this philosophy because I believe your space needs to be filled with what comforts you and helps you to decompress. A good life needs to be a recipe of healthy ingredients that will give you a balance of mind and body. Without the balance of both, I always find myself not in harmony.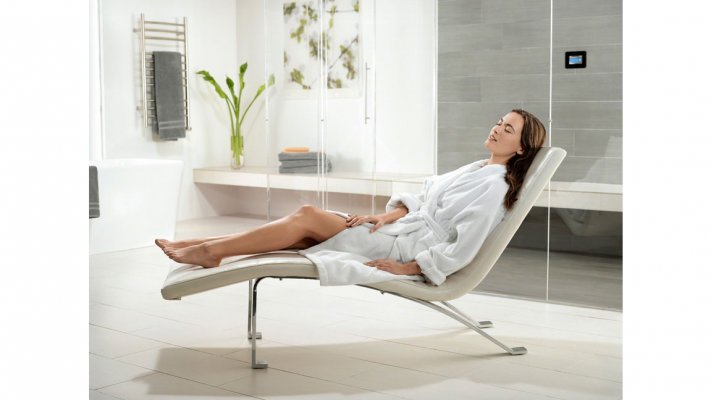 Yoga is my counterbalance to work. It is where I go to find my inner peace and complete my day. Along with work and fitness, it is important for me to retreat to a space in my home that allows me to decompress: my tub room.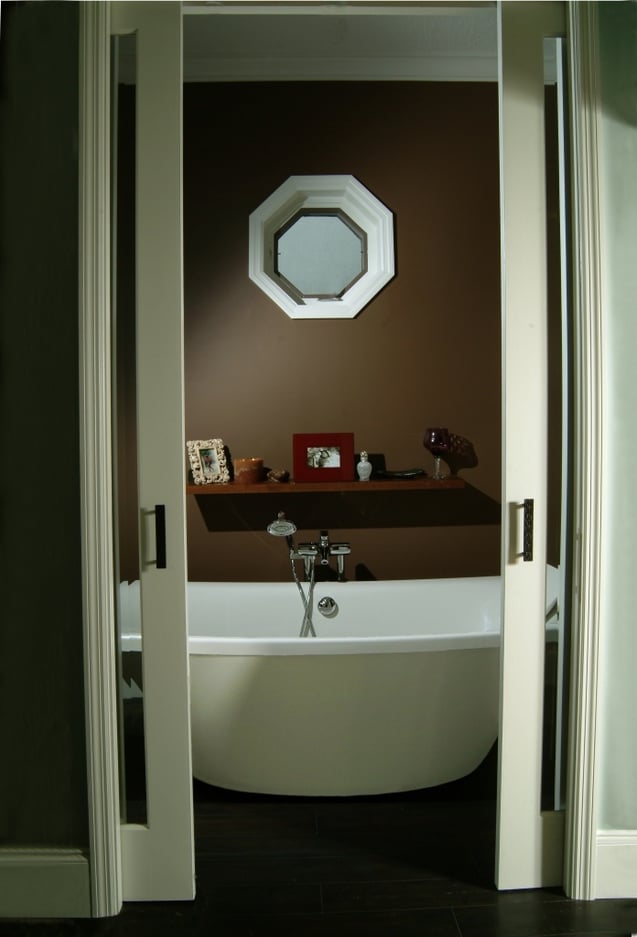 Home spas have become a sought-after luxury in home design by those seeking wellness. Part of wellness is detoxification. The steam shower is my choice for detoxifying, and the added benefits are clearer skin, improved circulation and stress relief.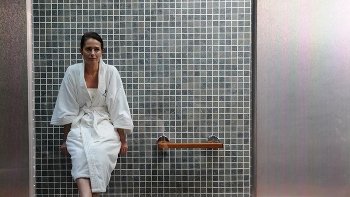 What you put in your body is so important, and for me a healthy diet is a necessity to living a good life. Eating clean is just that, healthy! Even at happy hour, I believe you can make healthy choices. As one of the hosts of "Clean Drink Happy Hour", a show about making healthy cocktails, I believe the natural approach is the only way to go. I'd like share a couple of our most favorite healthy cocktails.
Ginger Blossom Cocktail and Seared Tuna Appetizer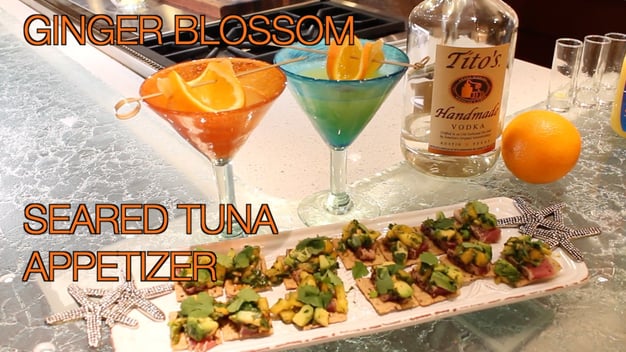 Ingredients:
2 part Tito's Vodka

1 parts Indian River Select® Original Orange juice

1 tsp of sliced fresh ginger – adjust to taste

1 part Pellegrino

Ice
Chill glass with ice. Muddle fresh ginger in shaker with orange juice and vodka. Add ice, cap and shake. Remove ice from glass and pour drink, then top with Pellegrino.
Garnish:
Dried ginger pieces

1 orange
Cut an orange in half and cut a thin slice to get one whole circular piece. Pierce dried ginger pieces through a bamboo pick. Fold orange slice in half and pierce through the middle with the bamboo pick, finish with dried ginger at remaining end.
Makes about 48 pieces
Ingredients:
8-9 oz. fresh tuna fillet

1 tbsp olive, grapeseed, or coconut oil

Sea salt & freshly ground black pepper

¾ cup finely diced fresh pineapple

4 scallions, thinly sliced

2-1/2

tbsp

fresh lime juice

1-1/2

tbsp

soy sauce or soy sauce alternative

1 tsp minced fresh ginger

1 small ripe Hass avocado, finely diced

½ cup fresh cilantro, coarsely chopped. Plus a few whole leaves for garnish

3-4 oz. package of rice or gluten free multi seed crackers
Cut tuna into long, wide, squared off strips, 1" to 1-1/2" thick. Coat tuna with oil and lightly season with salt & pepper. Set a 10" heavy-duty skillet over medium-high heat. After about 2 – 3 minutes when skillet is very hot, sear tuna for about 5 seconds on each side. They should be seared on the surface and rare inside. Transfer to cutting board and cut to 1/4" thick pieces.
In a medium bowl, combine pineapple, scallions, lime juice, soy sauce, and ginger, then add the avocado and gently stir to combine. Add the cilantro and gently stir in.
Set out the rice crackers and place 1 tuna slice on each. Top with a small spoonful of the Tropical Fruit Salsa. Garnish with a whole cilantro leaf.
Love Potion Cocktail and Organic Chocolate Obsession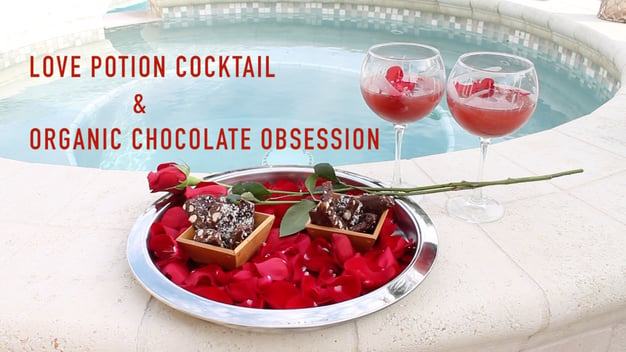 Ingredients:
2 parts Hendrick's gin (this is a rose & cucumber infused gin)

1 part Pomegranate juice

½ lemon, squeezed

1 part of Fresh Indian River Select® Grapefruit Juice

3 dashes of Angostura bitters

1/2 tsp ground Cardamom
Preparation: Add gin, Pom juice, lemon & grapefruit juice, angostura bitters and cardamom in shaker with ice. Shake. Pour in chilled glass.
Organic Chocolate Obsession
Makes about 3 dozen 1 1/2-inch pieces
Ingredients:
2 cups semisweet, bittersweet or milk chocolate chips, melted

1 1/2 cups assorted nuts, such as hazelnuts, almonds and cashews, plus more for garnish,

½ – ¾ cup goji berries

Coconut flakes



Melt chocolate, stirring frequently. Mix in nuts and goji berries into melted chocolate
Line a rimmed baking sheet with foil. (Take care to avoid wrinkles.) Scrape the mixture onto the foil and spread it into an approximate 12-by-9-inch rectangle. Sprinkle with unsweetened coconut flakes & goji berries
Refrigerate until set, about 20 minutes, then transfer the bark and foil to a cutting board. Use a sharp knife to cut into 1 1/2-inch pieces.
-----
Thank you, Patty!
Which of these wellness tips and recipes do you like most? How do you find balance of mind and body? Won't you share your favorite solutions with us in the comments?