MrSteam is honored to announce that the innovative, cutting-edge design of the AirTempo steam shower control has won a 2016 GOOD DESIGN Award--the oldest and most prestigious design recognition in the world.
GOOD DESIGN Award: For Products That Rise Above the Ordinary
Presented by the Chicago Athenaeum Museum of Architecture and Design and Metropolitan Arts Press Ltd., the GOOD DESIGN Award honors those products that rise above the ordinary, achieving the highest standards in form, function, and aesthetics.
Each entry is judged by a distinguished team of design professionals and industry experts on such criteria as human factors, technology and universal design, among many others.
One of the main factors impacting the selection process is whether or not a product can enrich society and people's lives through its design.
AirTempo Control: Smart, Wireless Technology, Versatility, Functionality and Upscale Design
The AirTempo steam room control met these criteria for its smart, wireless technology, versatility, functionality and elegant, upscale design. Ideal for upgrading your steam shower system, the innovative, wireless control can be installed without opening shower walls for wiring.
You can install the AirTempo on almost any steam room surface to enjoy all the health and wellness benefits of steam, including a glass shower door, using its integrated holder. A flush mount option is also available if you desire a seamless appearance or if you are replacing an older MrSteam control.
>> See How to Install the AirTempo Wireless Steam Shower Control
Intuitive to operate, AirTempo technology features a smart, easy-to-read LED display that activates automatically as your hand approaches. Easy-to-understand icons indicate the current status of the optional AromaSteam chakra oil injection system and the ChromaSteam mood lighting system.
To save energy and extend battery life, AirTempo employs a proximity sensor to ensure that the control is only activated when your hand is near the unit, before switching to energy-saving mode.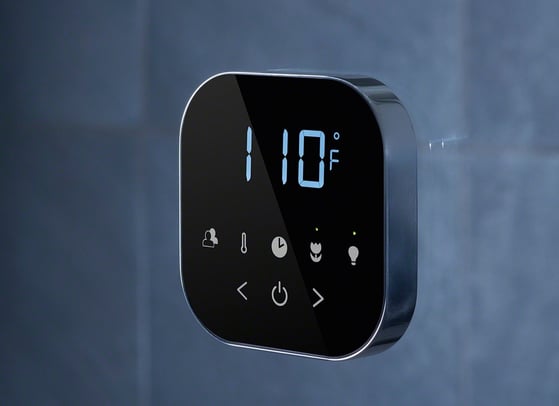 You can also undock the AirTempo steam shower control and use it to activate the steam bath remotely before entering the shower. The generator automatically shuts down if the control is not returned to its dock within five minutes, saving energy in case you are delayed in entering the shower.
AirTempo is powered by two long-lasting lithium cell batteries that provide at least six months of operation when the steam room is operated for one 20-minute session daily. Available in black or white, the steam control comes standard with a polished chrome finish on the trim, and is available in a wide range of additional designer finishes to complement any bath décor.
AirTempo Steam Shower Control Joins Prestigious GOOD DESIGN Award Ranks
The GOOD DESIGN program was founded in Chicago in 1950 by former Museum of Modern Art curator Edgar Kaufmann Jr. and designers Charles and Ray Eames, Russel Wright, George Nelson, and Eero Saarinen. Today, designers and manufacturers in roughly 50 nations enter the competition. Winning products have included everything from environmentally-friendly paper clips to NASA space ships. To date, approximately 40,000 innovative products have won GOOD DESIGN Awards.
MrSteam is pleased to have its AirTempo Control join these prestigious ranks. It also previously won a Platinum ADEX Award for Design Excellence and an Architizer A+ Award Special Mention in the Accessories category.
For more information on this and other MrSteam products, or for general tips and advice regarding steam showers, please visit www.mrsteam.com.