Your Guide to Round-the-Clock Relaxation
---
We understand: all the demands of your day are, well, demanding! From the breakneck pace at work to shuttling the kids to activity after activity — and a seemingly never-ending to-do list at home — it's easy for little things to turn into big deals: energy vortexes that drain your vitality and erode your peace of mind.
But by making a few simple changes to your daily routine, you can cultivate a state of zen-like cool even as meeting requests, event invitations, and other obligations pile up. Take a look at the tips below if you're in need of a relaxation revolution.
Morning Relaxation Tips
Get up 30 minutes earlier. Even if you swear you're not a morning person, we guarantee this routine will make you a believer. Put your devices down, find a private place, and break time up into equal segments:
For the first 10 minutes, sit quietly while enjoying a cup of coffee or tea, looking out the window, or meditating. Even if you're alone, you'll be in good company: some of the world's most successful people (such as Oprah) swear by the restorative power of morning meditation.
For the next 10 minutes, read something pleasurable (not the news or a work report) or write what creativity guru Julia Cameron calls Morning Pages.

Midday Relaxation Tips
Turn off notifications. The science is clear: the pings, chirps, and chimes of our phones are killing our concentration. It might seem harmless to check out what your best friend just posted on Facebook, but most notifications are about as urgent as a slow-growing bonsai tree sprouting a new leaf. It can take the brain up to 25 minutes to get back on track following the interruption of a push notification, so turn off everything but what's necessary.
Have good scents. Just like the smell of freshly baked cookies can make home buyers feel warm and fuzzy about a house, there are essential oils out there that can promote peace and serenity. Try a reed diffuser with lavender, geranium, bergamot, or ylang ylang oil.
Take a quiet lunch. Find a place where you can eat slowly and mindfully in silence. Or, if you prefer, enjoy some downtime with your colleagues — but resist the urge to talk shop.
Late Afternoon Relaxation Tips
Get outside. Connecting with nature reduces stress and anxiety, discourages dwelling on negatives, relieves fatigue, and makes you more creative. As if that weren't enough, outdoor recreation — from an easy stroll or lake paddle to a strenuous hike or run — will help you sleep better, too.
Make a to-do list. Many managers and executives agree that jotting down notes or a task list in the evening clears the day's lingering "mental clutter" and can set you up for a more productive morning.
Be creative. Strum your guitar, doodle, bake scones, or tackle a project with the kids. Creative play makes us better problem solvers and analytical thinkers — but most importantly, it's fun!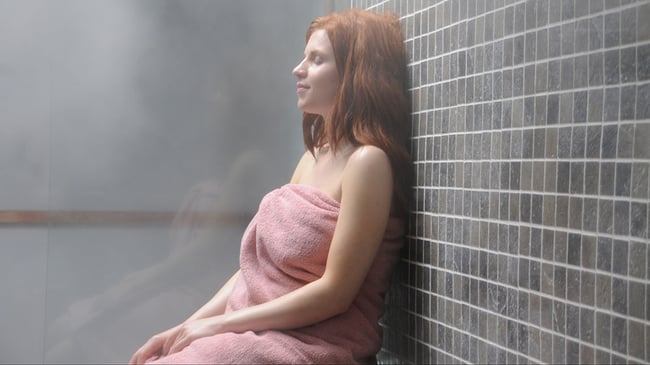 Evening Relaxation Tips
Rest and rejuvenate in your home spa sanctuary. As Shakespeare wrote: "Shall I compare thee to a relaxing steam shower? Thou art more lovely, and more comforting." Alright, maybe he didn't say that, but we're confident that if steam showers had existed in the sixteenth century, he would have waxed poetic about them, too.
Steam doesn't just feel amazing on the skin: it also has several potential wellness benefits, including reducing muscular tension, clearing sinuses, opening pores, releasing toxins, and promoting deeper, more tranquil sleep. Steam showers may also stimulate the senses, especially in tandem with peaceful music or soothing essential oils (as we mentioned above).
Define your wind-down routine. Whether it's watching a movie, reading a book, or listening to a podcast, practicing the same ritual every night will help you get to sleep faster. And remember to put away your phone or tablet no later than two hours before bedtime; exposure to the blue light of your phone or computer screen can disturb the body's circadian rhythms and contribute to a host of health problems.
It takes practice to implement consistent self-care habits, but once you do, you'll find that you feel happier and more relaxed throughout the day, better equipped to take on everyday stressors as well as exciting changes in the future.