Towel Warmers: The Necessary Luxury
---
A towel warmer from MrSteam is the bathroom luxury you don't know you need.
Warm fluffy towels are a simple way to fight off the post-shower shivers. The caress of a warm towel makes you feel pampered and indulged. A heated towel allows you to complete your shower in comfort, bringing the soothing heat of the water with you even as you step out into your cold bathroom.
Even if you don't live in an area with cold temperatures, towel warmers keep your towels dry in a damp, humid environment, ensuring that you're able to dry off comfortably after a relaxing shower.
>> Check out MrSteam Answers 15 Towel Warmer Questions.
How do towel warmers work?
MrSteam towel warmers are aesthetically pleasing and functional, adding a unique touch to the design of any bathroom space while also supplementing the heat in your bathroom, making it cozier and more comfortable. Powered by either hydronics (hot water) or an electrical heating element, these wall-mounted or freestanding units can preheat one or two towels, a favorite robe, a blanket or even pajamas.
With freestanding models, you have the flexibility to place them in different locations within the bathroom – or even in different rooms!
>> See Have You Tried a Freestanding Towel Warmer for Swimming Season?
Alternatively, because hydronic units are integrated into your home's hot water plumbing, guests are never left waiting for a toasty, warm towel.
How else might you use your towel warmer?
Some unique uses for towel warmers include:
In the kitchen -- dry hand towels that are frequently in use.

In the bathroom -- warm up your robe in the early morning hours, or have it toasty warm when getting out of the shower.

In the pool house -- hang wet towels so they are warm and dry for wear after the next round of swimming.

Warm your blankets on cold winter nights to help with a comfortable night's sleep free of shivers.
Three distinct collections from MrSteam
Our towel warmers are offered in three distinct collections: Broadway for a touch of elegance, Metro for added style and Fifth Avenue for a sophisticated look.
Each collection is available in the most popular bathroom finishes (Polished Chrome, White and Oil-Rubbed Bronze). Need help installing and controlling your new towel warmer?
>> Check out these tips for your favorite new bath fixture.
Enhance your towel warmer experience with add-ons
Towel warmers can be supplemented with several add-ons, including aromatherapy. Scented oils are available for your steam system, and you can incorporate those oils into your towel routine for added relaxation.
>> See how aromatherapy can spice up your life and uplift your senses!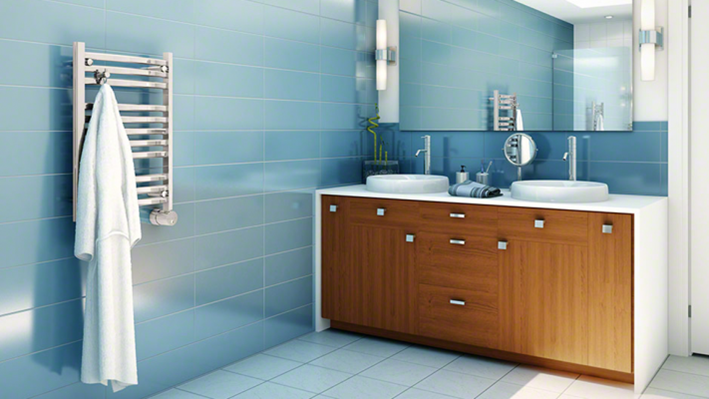 The most popular add-on is the timer, which is seamlessly mounted in your wall and allows you to program your warmer to turn on and off in sync with your shower schedule. If you bathe everyday before work, you can program the warmer to have your towel ready right after your shower.
>> See How to Set Up the Digital Timer on Your Towel Warmer
Once you start drying off with warm towels, you'll wonder how you ever lived without a MrSteam towel warmer.
Be sure to download MrSteam's Towel Warmer Buying Guide for tips on choosing your favorite new bathroom accessory!