The Best Ideas in Smart Home Technology
---
The popularity of smart homes is soaring. According to a report by Zion Market Research, the global smart home market is expected to reach approximately $53.45 billion by 2022, growing at an annual rate of slightly above 14.5% between 2017 and 2022.
What exactly is a smart home? It means that systems like the lighting, air conditioning, and entertainment are connected via smart home technology. This may include using remotes, smartphones, tablets, or linking devices together with a central hub or controller like Amazon Alexa, Google Home or Apple Homekit.
The resulting connectivity enhances comfort, safety, energy efficiency and convenience for homeowners. Picture a Crock-Pot that starts cooking the roast before the homeowner even drives home from work. Window coverings that automatically swivel into position to provide privacy as the sun sets. Security systems, audio systems, irrigation systems, thermostats—all these and more can be controlled in a smart home. No wonder smart home features are highly sought-after in new residential projects.
For builders, designers and architects, smart homes offer creative and enticing ways to attract consumers. Let's look at a few smart home technology trends.
It Starts at the Front Door
The quest for simplicity and ease starts at the welcome mat. Front doors featuring smart locks provide convenience and security. With a smart lock, no one has to worry about a lost key, and access can be temporarily granted to workers or guests. A few models of smart locks even feature fingerprint sensors. For home buyers interested in possibly renting out a property via Airbnb, these smart locks can integrate directly with that company's booking system.
Video Doorbells make homes safer, letting the homeowner know who is at the door before they decide whether or not to open it. Motion detectors in the doorbells start a recording when they sense someone is at the door, so even when homeowners are not present, they can keep track of package deliveries, helping deter porch pirates.
To keep homeowners feeling safe from intruders, install a smart home security system that provides traditional alarm features and can also serve as a hub to connect other devices in the home, such as the thermostat. ADT was a top pick in the article "The Best Smart Home Devices for 2021."
Robo-Cleaners
"I want a dirty house," said no one, ever. Yet for today's busy consumer, keeping a home tidy can feel impossible, especially when pets or kids are involved. Automating the cleaning, on the other hand, means the house is always spic and span. What once seemed futuristic—like robot vacuum cleaners—has become a reality.
Robot Vacuums suck up dirt, pet hair and crumbs, carefully maneuvering around furniture and walls. Most are programmed via smartphone apps; Dyson took it a step further and has voice controls. "Alexa, ask Dyson robot to start cleaning." If only Alexa could train Fluffy not to shed.
For hard floor surfaces, robot mops first perform a dry sweep, then mop using either plain water or a cleaning solution. Really stubborn stains may still require a human, but a robot mop is an easy way to ensure kitchen and bathroom floors are shiny and hygienic.
"I don't do windows." Well, this robot does. A Winbot suctions onto a window—think lamprey—and whirs away, using pads and a built-in squeegee, to polish the windows until they gleam. This type of device is especially useful on windows that would otherwise be inaccessible.
Demand High for Smart Thermostats
Not too hot, and not too cold. The best new smart thermostats use wireless sensors in rooms, keeping tabs on the temperature and humidity—even knowing if someone is present in the home or not—to maximize energy efficiency. Smart thermostats work with a home system, like Amazon Alexa or Google Home, or can be controlled via a mobile phone; some even have fancy features like a speaker and Spotify support, which turns them into a little music system. (What are a thermostat's favorite tunes? "Hot in Herre" and "Baby It's Cold Outside.")
Smart home devices that control the amount of light—and the energy bill—have the biggest share of the smart home market, according to Zion Market Research. Smart light switches are another emerging development in smart home technology. They may look like regular switches or dimmer switches but have high-tech features such as ambient light sensors, to prevent the lights being left on during the day; motion sensors, flipping the lights on when someone enters the room; and voice-activated technology, responding to verbal commands.
Smart Steam Shower Systems
For home buyers interested in health and wellness, smart steam shower technology enhances the appeal of a bathroom.
As Dan DiClerico, a home expert and smart home strategist, told Plumbing & Mechanical magazine, smart technology in bathrooms provides "benefits for consumers across all generations. For millennials, there's now the expectation of technology and innovation; builders are paying attention. For older homeowners, a lot of this technology is part of the strategy that will help them stay in their homes longer. Then the Gen Xers, that's my generation, who are in prime child-rearing years, these innovations can be a huge help."
The latest in mobile steam shower technology, SteamLinx allows steam bathers to control their steam room experience from anywhere, at any time. It's a wireless interface that includes a smartphone app, and two transmitter modules that connect to a MrSteam E-series generator and the home's internet router. The transmitters are what allows the user to set the temperature and duration of their steam shower, via a tap of their smartphone.
Or enable the Alexa Skill for MrSteam when SteamLinx is installed, which allows you to "talk" to your steam shower. You can turn the steam generator on and off, and set the time and duration of the steaming session, just by giving Alexa commands. You can also Just Ask Alexa for updates, like "What's the temperature in the steam shower?"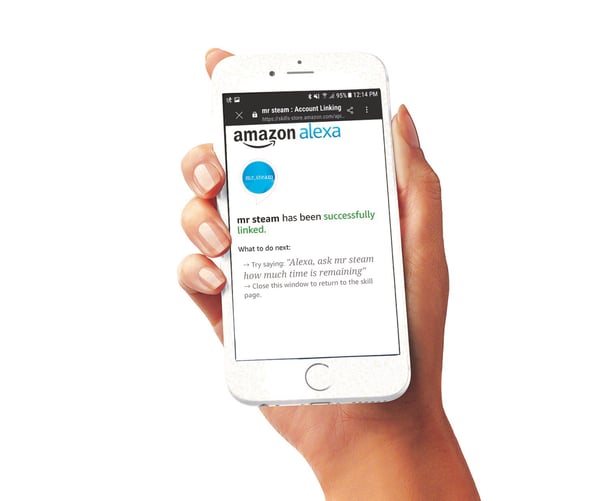 SteamLinx is compatible with all of the MrSteam SteamShower Controls, such as iSteam3, iTempoPlus and Airtempo, and is included in all MrSteam Dream and Butler Packages.
Home steam showers can also be enhanced with MusicTherapy, ChromaSteam3 mood lighting and AromaSteam essential oil delivery.
For even more ways to bring smart home concepts into the bathroom, read Bathroom Tech: The Role Technology Can Play to Enhance Your Bathroom.
What's on the Horizon?
Companies are working on evolving even more smart home gadgets, such as noise canceling systems for those working from home and more mobile robots that will not only clean the house but also keep us company. We'll see greater home conferencing options, finally giving us the video calling we've long seen in movies about the future. As for steam showers? Next Gyn, a site that specializes in smart home technology, predicts that "someday spa-like experiences will be featured in most homes," and thinks that highly personalized aromatherapy will come to market.
With the robot vacuum cleaning the living room and the smart refrigerator planning recipes for the week, homeowners will have more free time to invest in personal relaxation and wellness—something we can all aspire to. For more tips, see A Practical Guide to Adding a Steam Shower to Your New Build.