Simplify your Steam Shower Planning with the New VirtualSpa
---
Just like selecting your "must have" options for that dream car, or tailoring a laptop to best suit your specific needs, our upgraded steam shower configuration tool allows you to easily browse and select which components are right for you.
Four Simple Steps for Planning your Steam Shower
The newly upgraded MrSteam VirtualSpa will quickly guide you through the simple steps -- as well as available choices -- so that you and your bathroom remodeling professionals can turn your dream spa bathroom into reality. The VirtualSpa is as simple and blissful as the steam shower experience itself.
>> 15 Tips to Consider Before Installing a Home Steam Shower
The VirtualSpa configuration tool will take you step-by-step through the selection process, from sizing your steam room generator and choosing the right steam shower control, to helping you choose options like AromaTherapy, MusicTherapy and ChromaTherapy.
Whether you're a homeowner, designer or installer, our configuration tool will streamline your experience so you can swiftly move from wishing to indulging in the many possible wellness benefits of steam.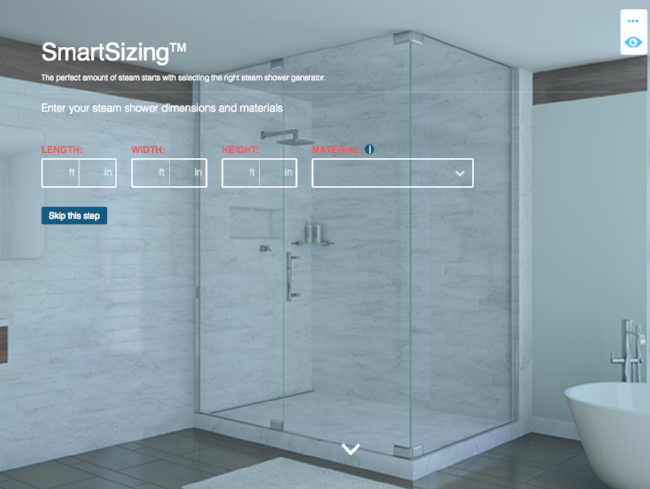 1. Start by sizing your steam generator
The first step is sizing your steam shower generator.
Simply enter the dimensions of your steam shower enclosure (width x length x height) and the type of finish material you plan to use. The VirtualSpa calculator factors them together and recommends the MrSteam steam generator that will work best in your space.
This process will ensure you get the perfect amount of steam every time!
>> See Tile Steam Shower? Marble Steam Shower? What's the Difference?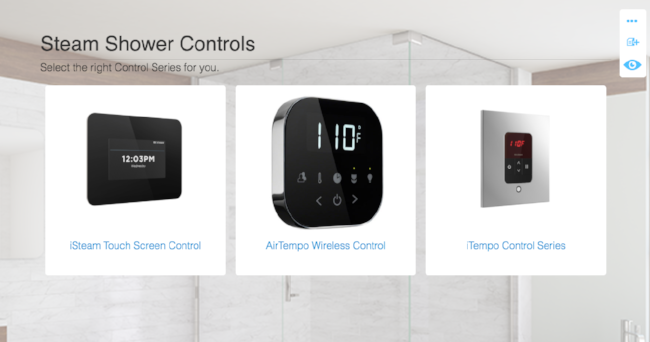 2. Select the steam control you prefer
Next, the VirtualSpa will walk you through the different steam controls available and help you select which model best suits your family's lifestyle.
Once you choose a control, you can then tailor your control package based on available features and accessories.
By bundling all of the control accessories into a single package, we make it easier (and cost less) than purchasing these options separately. There are different steam head options, designer finishes, colors and add-ons for each package, and the VirtualSpa will provide you with all the information you need to select the right options.
>> Discover the Best Steam Shower Control Package for You
3. Add your favorite spa therapies
Once you properly size your steam generator and choose your steam control package, it's time for options and therapies!
MrSteam offers a wide variety of options, like ChromaTherapy, Aromatherapy and MusicTherapy, to help enhance your experience and relaxation journey.
>> How To Add AromaTherapy To Your Steam Shower To Invigorate Mind And Body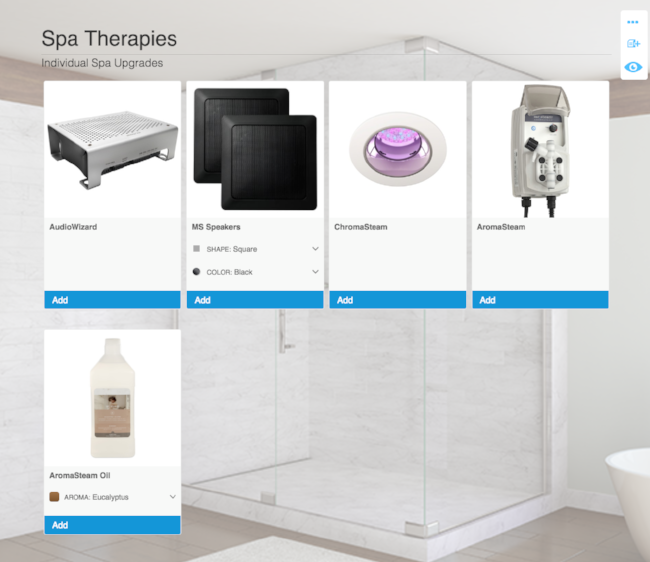 4. Review your dream steam package and share it with your contractor or designer
After you've chosen everything you want in your own private steam room, the VirtualSpa will provide a full review of your choices with the list pricing information and product specifications so that you can print and email it to up to 10 different peopel.
You can then share the detailed specifications with your contractor, interior designer or builder so they know exactly what you want.
We also offer a convenient dealer locator, so you can connect with a professional in your area who can help you with all your bathroom remodel product needs.
From Virtual Steam Shower Planning to the Steam Spa of your Dreams in Four Simple Steps!
Taking the first step toward creating your personal steam shower has never been easier! In mere minutes, you can easily select all of the elements needed to bring the rejuvenating, healthful benefits of steam home for you and your family. So what are you waiting for to use the MrSteam VirtualSpa?